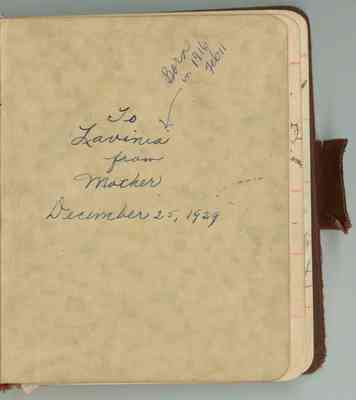 To Lavina - Born in 1916 Feb 11 from Mother December 25, 1929
Last edit 12 months ago by
annedevlin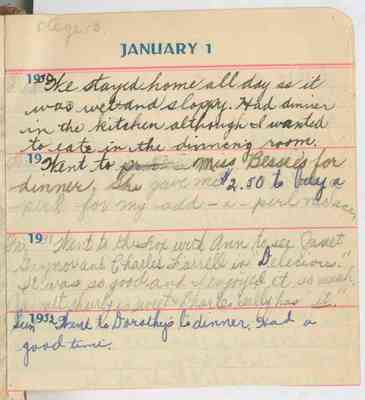 January 1
Age 13
Wed 1930 We stayed home all day as it was wet and sloppy. Had dinner in the kitchen although I wanted to eat in the dinning room.
Thur Went to Miss Bessie's for dinner. She gave me $2.50 to buy a perl for my add - a - perl neclace.
Fri 1931 Went to the Fox with Ann to see Janet Gaynor and Charles Farrell in "Delecious." It was so good and I enjoyed it so much. Janet shurly is sweet and Charles really has "it."
Sun 1932 Went to Dorothy's to dinner. Had a good time.
Last edit 7 months ago by
njdupree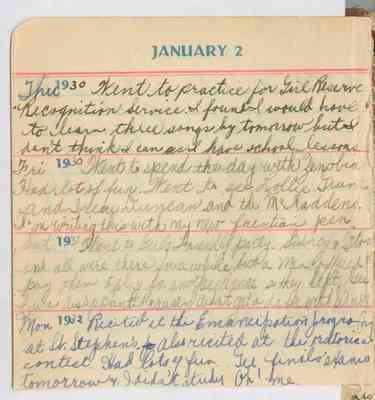 January 2
Thu 1930 Went to practice for Girl Reserve Recognition Service. I found I would have to learn three songs by tomorrow but I don't think I can as I have school lessons.
Fri 1930 Went to spend the day with Zenobia Had lots of fun. Went to see Lollie Grant and Irene Duncan and the McFaddens. I'm writing this with my new fountain pen.
Sat 1931 Went to Girls Friendly party. Sidney & Glos and all were there for a while but a man offered to pay them to play for another dance so they left. Gee I was disappointed 'cause I didn't get a dance with Sidney.
Mon 1932 Recited at the Emancipation program at St. Stephen's. Also recited at the oratorical contest. Had lots of fun. Gee finals exams tomorrow & I didn't study Oh! me.
Last edit 7 months ago by
njdupree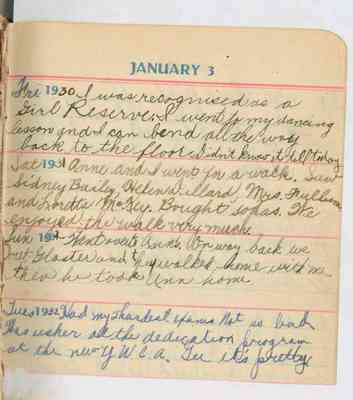 January 3
Fri 1930 I was recognized as a Girl Reserve. I went to my dancing lesson and I can bend all the way back to the floor. Didn't know it till today.
Sat 1931 Anne and I went for a walk. Saw Sidney Bailey, Helen Dillard, Mrs. Fullum and Loretta McKey. Bought sodas. We enjoyed the walk very much.
Sun 1932 Went over to Ann's. On way back we met Gloster and they walked home with me then he took Ann home.
Tues 1932 Had my 2 hardest exams. Not so bad. Was usher at the dedication program at the new Y.W.C.A. Gee it's pretty.
Last edit 7 months ago by
njdupree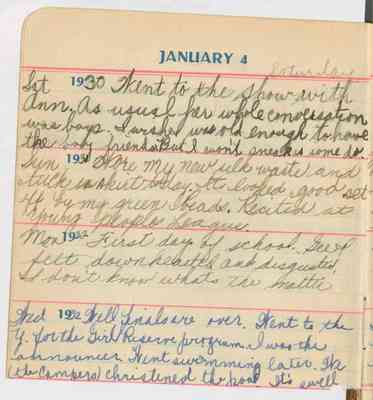 January 4
Sat 1930 Went to the show with Ann. As usual her whole conversation was boys. I wish I was old enough to have the boy friends. But I won't sneak as some do.
Sun 1931 Wore my new silk waste and tuck in skirt today. It looked good set off by my green beads. Recited at Young People League.
Mon 1932 First day of school. Gee I felt downhearted and disgusted, I don't know whats the matter.
Wed 1932 Well finals are over. Went to the Y for the Girl Reserve program. I was the announcer. Went swimming later. We (the Campers) Christened the pool. It's swell.
Last edit 7 months ago by
njdupree
Displaying Page 1 - 5 of 363 in total