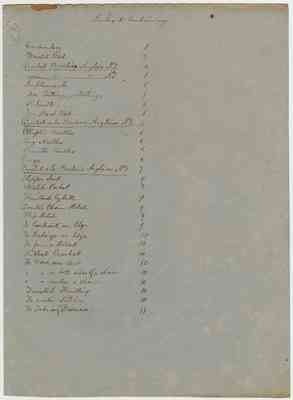 Index to Embroidery
Embroidery 1
Worsted Work 3
Crochet Broderie Anglais N2 4
" " N5 5
Implements 5
For Tatting, Netting, 5
A [Svelte] 5
For Bead Work 5
Crochet a la Broderie Anglaise N1. 6
Elliptic Needles 6
[Ring] Needles 6
Chenille Needles 6
Gauge 6
Crochet a la Broderie Anglaise N3 7
Slipper Sock 8
Watch Pocket 8
Knitted Eyletts 9
Double Chain Stitch 9
Slip Stitch 9
To Contrast an Edge 9
To Enlarge an Edge 10
To Join a Thread 10
Ribbed Crochet 10
To Work over Cord 10
" " in both sides of a chain 10
" " under a chain 10
Twisted Knitting 10
To make Stitches 10
To Take in (Decrease) 11
Last edit 12 days ago by
sh7ts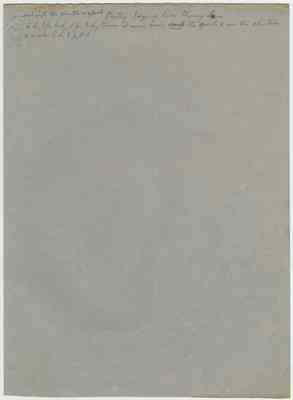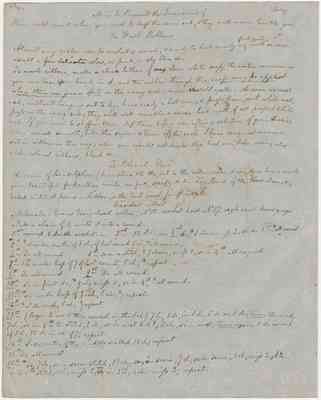 62 Godey
Mice to Prevent the Incursions of Strew wild mint where you wish to keep the mice out, [and] they will never trouble you.
To Wash Ribbons
Almost any ribbon can be washed [and] [rinsed?], and made to look nearly as [of not] quite [as] well as new. Except a few delicate colors, as pink, or sky blue [etc?]
To wash ribbons, make a clea[r or n] lather of clean white soap, the water as warm as you can bear your hands in it; rub the ribbon through this, soap may be applied where there are grease spots on the wrong side; rinse in cold water. As soon as wash -ed, without hanging out to dry, have ready a hot iron, [and] press them out while wet; press on the wrong side; They will will wrinkle [and] never look well, if not pressed while wet. If you wish to stiffen them dip them before ironing, in a solution of gum Arabic; when ironed smooth, take the scissors [and] trim off the ends. I have renewed narrow satin ribbons in this way when you would not know they had ever been worn; also wide colored ribbons, black [etc?]
To Bleach Yarn
An ounce of [lac?] sulphur (brimstone) to the [cut] is the allowance, [and] readily home made yarn beautiful for knitting hoods, comforts, scarfs, [? ?]. The Bark of the Horse chesnut, boiled until it forms a lather, is the best wash for flannels.
Crochet Mat
Materials, Evans boar's-head cotton, N10. crochet hook N17; eagle cardboard guage. Make a chain of 3; unite it into a round.
1st round 6 double crochet. - 2nd 12 d.c. - 3rd [s]c, *5 chain miss 2, sc on 3rd, *all round
4th * sc under centre of 5 ch, of last round 5 ch, *all round.
5th Dc all round. 6th sc on a stitch, * 7 chain, miss 3, sc [in] 4th all round.
7th 3 Tc under loop of 7 of last round; 5 ch; * repeat.
8th Tc all round. 9th Dc all round.
10th Sc in first dc, * 9 ch, miss 3, sc in 4th, * all round.
11th * sc under loop of 9 ch, 5 ch, *; repeat.
12th * 5 dc on ch, 1 ch; *; repeat
13th (Begin to work this round in the 1ch) 7 tc, 1 dc, in 1 ch, 5 dc on 5 dc, turn the work, 7 ch, sc in 4th tc stitch, 5 ch, sc in next but 1, 5 ch, sc in next; turn again, 8 dc in each of 5 ch, 13 dc in ch of 7; repeat.
14th Sc on centre of the middle scallop, 13 ch; repeat.
15th Dc all round.
16th * sc, 7 ch, sc in [same] stitch, 13 ch, [sc, in same], 7 ch, sc in same, 3 ch, miss 2, [1] tc into 3rd stitch, 3 ch, miss 2, tc in 3rd, 3 ch, miss 2; repeat.
Last edit 12 days ago by
sh7ts