About
The East documents were found in an abandoned building near Cherrystone Creek in the early 1970s, and include one empty envelope addressed to John C. East and one letter (with envelope) from George W. East to Thomas C. East.
George W. East enlisted in the 53rd VA Infantry, Company I, when he was seventeen years old. He travelled from Chatham to Suffolk to join his unit, then fell sick and was hospitalized at Suffolk in March 1862. Apparently he was recovered enough to join his regiment and write this letter home on August 6, 1862. He was hospitalized with "typhoid pneumonia" at Chimborazo Hospital in Richmond Feb 16, 1863, then transferred to a hospital in Danville April 18, 1863 where he was released on sick furlough to his home.
He returned to duty on the 28 May, participated in Pickett's Charge and was captured at Gettysburg July 3, 1863. He was imprisoned at Ft. Delaware, Del. July "5/12" 1863, then was transferred to Point Lookout, MD Oct 26, 1863. There he died of typhoid pneumonia on Feb 6, 1864.
Thomas C. East filed a claim for $215 with the Confederate War Dept. on deceased George W. East on Jan 10, 1865. This was approved, then rejected by the paymaster in Chatham on the grounds that Thomas had provided no evidence of his son's death. Thomas re-filed, including a letter from George's fellow-POW Shemi Watson mentioning the death of George East. The claim was paid March 1865.
Works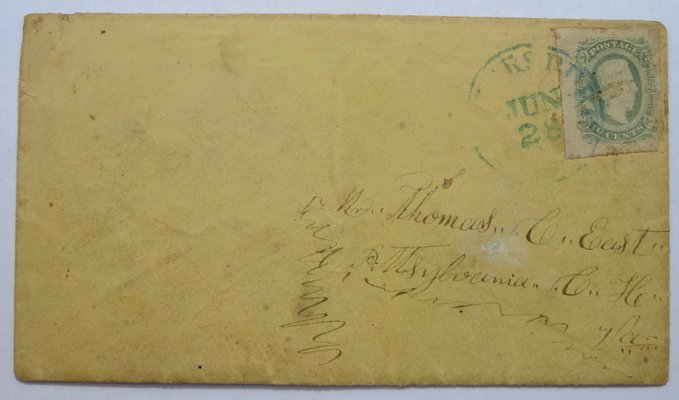 Letter from George East to Thomas East
2 pages: 100% complete (0% indexed, 0% translated)
Subject Categories