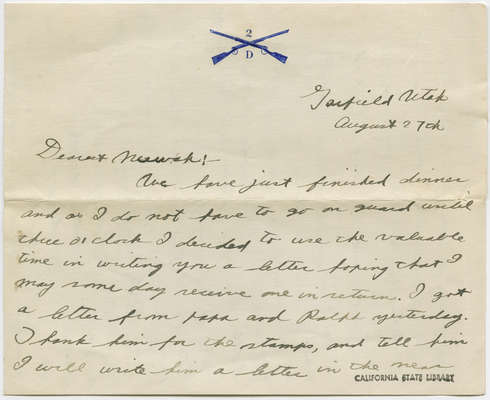 August 27th
Dearest [Mearah?]!-
We have just finished dinner and as I do not have to go on guard until three o'clock I decided to use the valuable time in writing you a letter hoping that I may some day receive one in return. I got a letter from papa and Ralph yesterday. Thank him for the stamps, and tell him I will write him a letter in the near
Last edit 10 months ago by
California State Library
future, I am getting to be a regular guy when it comes to writing letters since I have been here. I cannot say the same about receiving them.
Last night we had one of the biggest electrical storms that I ever want to have a chance to see. I went on guard at nine o'clock, with the sky a little bit cloudy, but with little idea of a storm, and consequently I didn't take my poncho or overcoat with me. I had no more than got on port, when it began to thunder and rain. The lightening would light up the sky for minutes at a time. I didn't mind that with the rain and thunder so much, as I knew I would have to get used to it, but when the lightening struck a power house not more than forty feet from me and the sparks seemed to fly all around, with the thunder deafening and the rain coming down in torrents -- well I began to wonder if my insurance policy was paid up. It wasn't many minutes before another bolt struck the power house, and all the lights in the plant went out. I was over three hundred feet from it, but just the same I wouldn't have given very much for my life at that time. (I guess you can tell I am using my fountain pen.) The storm last night makes the second one we've had since the company arrived. The other was "tame" to the one last night. When I was relieved at 12 o'clock I looked like a drowned rat, but am none the worse from the experience. You can take it from me that California lightening will never make me the least bit nervous after that session. Today the sun is
Last edit 10 months ago by
California State Library
shining bright as usual, and we are roasting. To look at things now you would never know there had been a storm.
A bunch of us from headquarters are going to Salt Air tomorrow night again. It is ceratinly a good place to have a good time. Tomorow they have a big moonlight dance all night. It is a special night every week, and a big crowd is always in attendance from Salt Lake City. This will be a very select crowd with us.
We drilled today for the first time since we came. There was only one squad, that is eight men, and we couldn't execute many movements with such a small number of men, but we did pretty well, I just this minute received an invitation to a birthday party for tonight. We certainly have an awful "drag" in this village. This will be a pretty swell affair and will be held at the club house. Well honey bunch I have to go on a guard in a little while so will have to end this.
How is mama?
Love to all. "Duke"
Write soon.
Last edit 10 months ago by
California State Library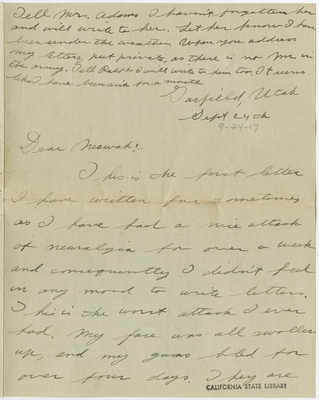 Tell Mrs. Adams I haven't forgotten her and will write to her. Let her know I have been under the weather. When you address my letters, put private, as there is no Mr. in the army. Tell Ralph I will write to him too. It seems like I have been sick for a month.
Garfield, Utah Sept 24th [9-24-17]
Dear Neewah:This is the first letter I have written for sometime, as I have had a nice attack of neuralgia for over a week and consequently I didn't feel in any mood to write letters. This is the worst attack I ever had. My face was all swollen up, and my gums bled for over four days. They are
Last edit 9 months ago by
California State Library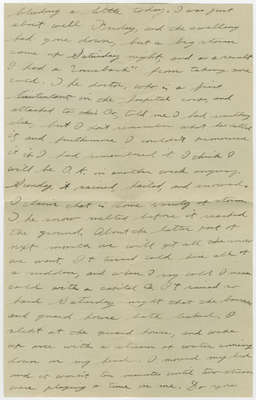 bleeding a little today. I was just about well Friday, and the swelling had gone down, but a big storm came up Saturday night, and as a result I had a "comeback" from taking more cold. The doctor, who is a first lieutentant in the hospital corps, and attached to this Co., told me I had something else, but I don't remember what he called it, and furthermore I couldn't pronounce it if I had remembered it. I think I will be O.K. in another week anyway. Sunday, it rained, hailed, and snowed. I claim that is some variety of storm. The snow melted before it reached the ground. About the latter part of next month we will get all the snow we want. It turned cold here all of a sudden, and when I say cold I mean cold with a capital C. It rained so hard Saturday night that the barracks and guard house both leaked. I slept at the guard house, and woke up once with a stream of water coming down on my head. I moved my bed and it wasn't ten minutes until two streams were playing a tune on me. Do you
Last edit 10 months ago by
California State Library