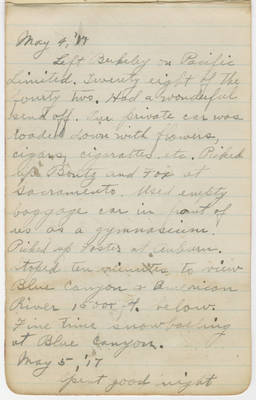 May 4, '17
Left Berkeley on Pacific Limited. Twenty eight of the fourty two. Had a wonderful send off. Our private car was loaded down with flowers, cigars, cigarettes, etc. Picked up Boutz and Fox at Sacramento. Used empty baggage car in front of us as a gymnasium. Picked up Foster at Auburn. Stoped ten minutes to view Blue Canyon & American River 1500+ ft. below. Fine time snowballing at Blue Canyon.
May 5, '17
Spent good night
Last edit over 1 year ago by
California State Library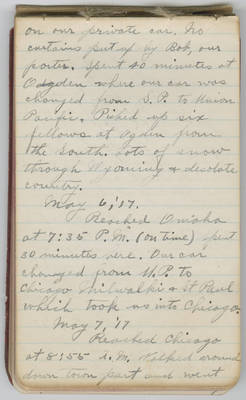 on our private car. No curtains put up by Bob, our porter. Spent 40 minutes at Ogden where our car was changed from S.P. to Union Pacific. Picked up six fellows at Ogden from the South. Lots of snow through Wyoming & desolate country.
May 6, '17
Reached Omaha at 7:35 P.M. (on time) Spent 30 minutes here. Our car changed from U.P. to Chicago Milwalki & St Paul which took us into Chicago.
May 7, '17
Reached Chicago at 8:55 A.M. Walked around down town part and went
Last edit over 1 year ago by
California State Library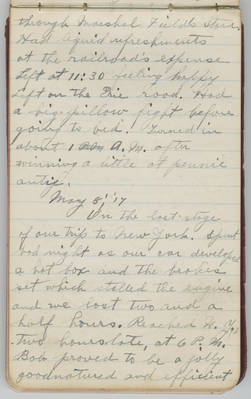 through Marshal Field's Store. Had liquid refreshments at the railroad's expense. Left at 11:30 feeling happy Left on the Erie road. Had a big pillow fight before going to bed. Turned in about 1 A.M. After winning a little at pennie antiy.
May 8, '17
On the last stage of our trip to New York. Spent bad night as our car developed a hot box and the brakes set which stalled the engine and we lost two and a half hours. Reached N. Y. two hours late, at 6 P.M. Bob proved to be a jolly goodnatured and efficient
Last edit over 1 year ago by
California State Library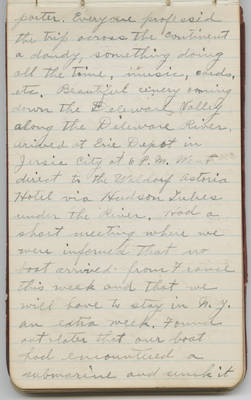 porter. Everyone professid the trip across the continent a dandy, something doing all the time, music, cards, etc. Beautiful cinery coming down the Deleware Valley along the Deleware River. Arived at Erie Depot in Jersie City[Jersey City] at 6 P.M. Went direct to the Waldorf Astoria Hotel via Hudson Tubes under the River. Had a short meeting where we were informed that no boat arrived from France this week and that we will have to stay in N.Y. an extra week. Found out later that our boat had encountered a submarine and sunk it.
Last edit over 1 year ago by
California State Library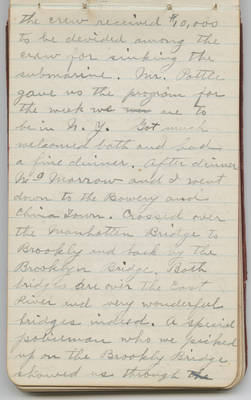 The crew received $10,000 to be devided among the crew for sinking the submarine. Mr. Pottle gave us the program for the week we are to be in N.Y. Got much welcomed both and had a fine dinner. After dinner McMarrow and I went down to the Bowery and China Town. Crossed over the Manhatten Bridge to Brookly and back by The Brooklyn Bridge. Both bridges are over the East River and very wonderful bridges indeed. A special policeman who we picked up on the Brookly Bridge showed us through
Last edit over 1 year ago by
California State Library
Displaying Page 1 - 5 of 121 in total