About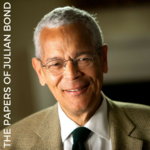 * Please note that as of July 2020, there are no more documents available online for transcription. Due to the ongoing health crisis, we are unable to photograph and upload to this site additional documents for transcription until our libraries re-open to the public. We thank you for your continued support of and interest in this project. *
About the Project:
Following the death of civil rights leader Julian H. Bond on August 15, 2015, the University of Virginia acquired the entirety of his papers and moved them to the Albert and Shirley Small Special Collections Library for preservation. In an effort to make the papers accessible to the public, the Carter G. Woodson Institute partnered with the Center for Digital Editing (CDE) beginning in 2017 to create a scholarly edition of his papers.
Starting in August 2018, the CDE and Woodson Institute invited the public to participate in editorial work on the project. Since then, hundreds of pages of Julian Bond's speeches and interviews have been transcribed as a result of volunteer work. The work of these volunteers will be a crucial to the development of the future scholarly edition, "The Essential Julian Bond."
Since the onset of the transcription project, we have received inquiries from many individuals in the public, who wish to become involved, and whose efforts we welcome and need. Those interested in contributing can start today by transcribing documents. Simply create an account on FromThePage and follow the transcription instructions provided below. Volunteers can also participate in the early stages of the editorial process, such as tagging metadata and digitizing materials, by filling out this form.
For updates about the project, follow us online by looking for #TranscribeBond.
How to Help Transcribe Documents:
Under "Works" below, look for your location in the list of documents: Online Participant, Carter Woodson, McCue Center, Scholars' Lab, Shenandoah Joe, or VCB.
Select a document by clicking on its title.
A list of pages from that document available for transcription will appear. Select one from the list and get started!
When you have finished transcribing a page, click "Save Changes" in the top right corner of the page.
The transcription conventions, or "rules," are located at the bottom of every page in the transcription view. Additional help can be found here:
https://fromthepage.com/centerfordigitalediting/the-papers-of-julian-bond/sample-document/help
. A sample transcription is also available, see
https://fromthepage.com/centerfordigitalediting/the-papers-of-julian-bond/sample-document
.
Photo Credits: Dan Addison, UVA
Works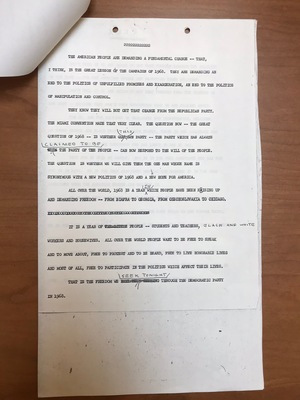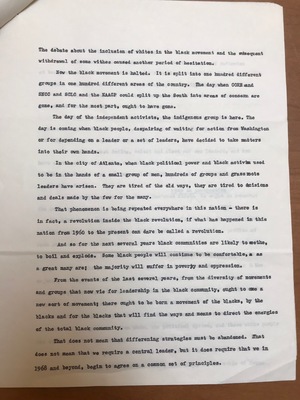 6 pages: 100% transcribed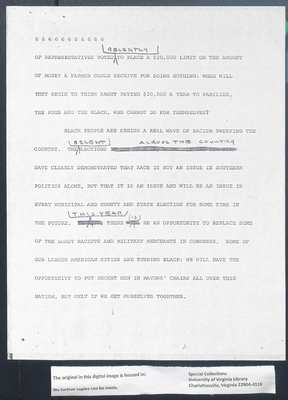 15 pages: 100% transcribed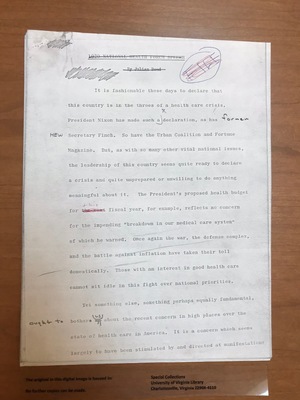 31 pages: 100% transcribed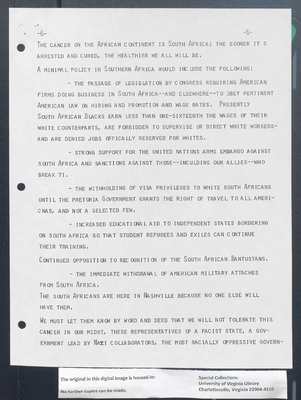 16 pages: 100% transcribed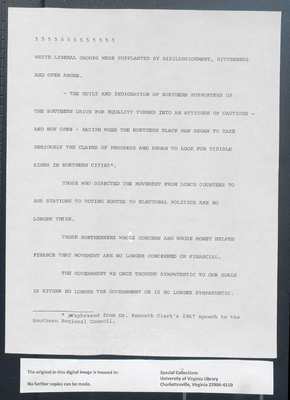 13 pages: 100% transcribed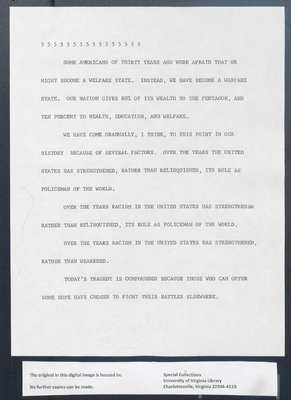 14 pages: 100% transcribed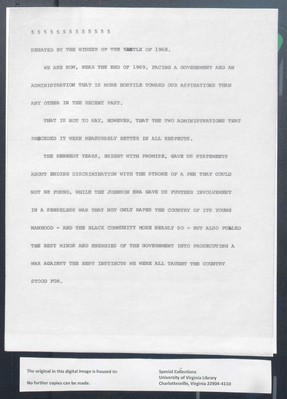 12 pages: 100% transcribed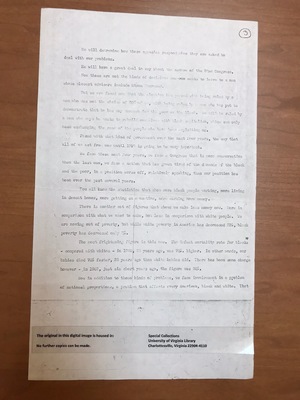 8 pages: 100% transcribed
Displaying Work 1 - 10 of 635 in total