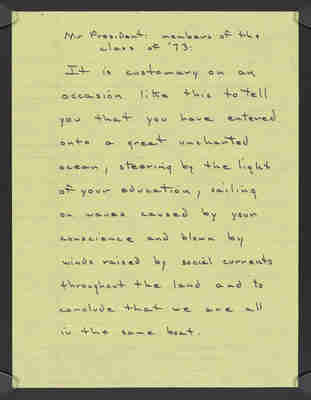 Mr President: members of the class of '73:
It is customary on an occasion like this to tell you that you have entered onto a great uncharted ocean, stearing by the light of your education, sailing on waves caused by your conscience and blown by winds raised by social currents throughout the land and to conclude that we are all in the same boat.
Last edit 9 months ago by
BB Vincelette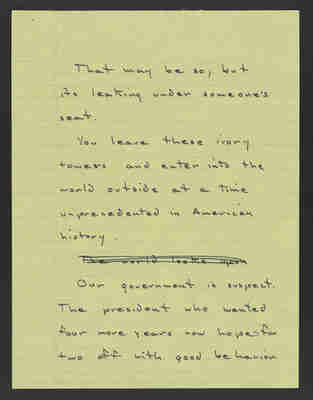 That way be so, but its leaking under someone's seat.
You leave these ivory towers and enter into the world outside at a time unprecedented in American history.
Our government is suspect. The president who wanted four more years now hopes for two off with good behavior.
Last edit 9 months ago by
BB Vincelette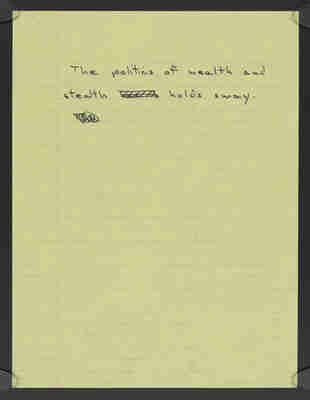 The politics of wealth and stealth holds sway.
Last edit 9 months ago by
BB Vincelette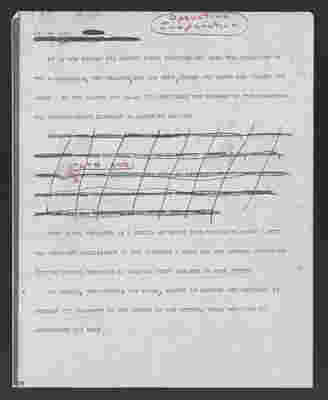 Julian Bond
Operative Inoperative
IT IS NOW NEARLY SIX MONTHS SINCE ELECTION DAY WHEN THE COALITION OF THE COMFORTABLE, THE CALLOUS, AND THE SMUG, CLOSED ITS RANKS AND CLOSED ITS HEART - TO THE CLAIMS AND CALLS TO CONSCIENCE PUT FORWARD BY THE FORGOTTEN AND UNREPRESENTED ELEMENTS IN AMERICAN SOCIETY.
THAT BLOW, FOLLOWED BY A SERIES OF MOVES FROM THE WHITE HOUSE - WITH THE IMPOTENT ACQUIESENCE OF THE CONGRESS - HAVE HAD THE GENERAL EFFECT OF CUTTING SOCIAL SERVICES AS HIGH AS SIXTY PERCENT IN SOME STATES.
AS ALWAYS, THE VETOES, CUT BACKS, SHIFTS IN SHARING AND REVERSES IN REVENUE CUT SHARPEST AT THE PEOPLE AT THE BOTTOM, THOSE WHO LOOK TO GOVERNMENT FOR HELP.
Last edit 9 months ago by
BB Vincelette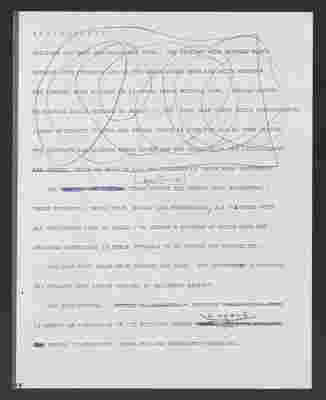 THE YEARS before TAUGHT THE LESSON THAT GOVERNMENT - UNDER PRESSURE - WOULD MOVE, SLOWLY AND PONDEROUSLY, ALL TOO OFTEN WITH ALL DELIBERATE LACK OF SPEED - TO BECOME A PARTNER OF SORTS WITH THE AMERICAN UNDERCLASS IN THEIR STRUGGLE TO DO BETTER FOR THEMSELVES.
THE LAST FIVE YEARS HAVE CHANGED ALL THAT. THE GOVERNMENT'S ATTITUDE HAS CHANGED FROM BENIGN CONCERN TO MALIGNANT NEGLECT.
THE PRESIDENTIAL - ATTITUDE IS MERELY AN INDICATION OF ITS ATTITUDE TOWARD anyone UNABLE TO ADEQUATELY SPEAK FOR AND REPRESENT THEMSELVES.
Last edit 9 months ago by
BB Vincelette