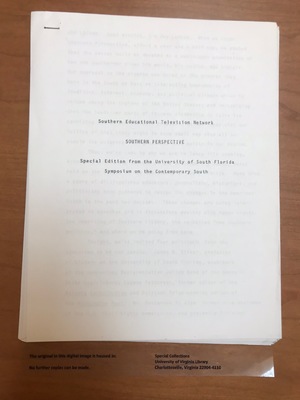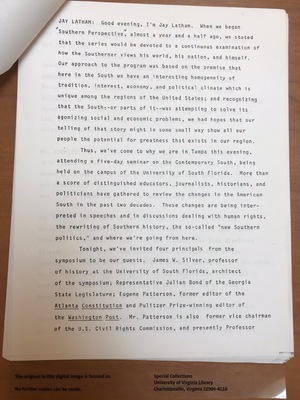 JAY LATHAM: Good evening, I'm Jay Latham. When we began "Southern Perspective," almost a year and a half ago, we stated that the series would be devoted to a continuous examination of how the Southerner views his world, his nation, and himself. Our approach to the program was based on the premise that here in the South we have an interesting homogeneity of tradition, interest, economy, and political climate which is unique among the regions of the United States; and recognizing that the South -- or parts of it -- was attempting to solve its agonizing social and economic problems, we had hopes that our telling of that story might in some small way show all our people the potential for greatness that exists in our region.
Thus, we've come to why we are in Tampa this evening, attending a five-day seminar on the Contemporary South, being held on the campus of the University of South Florida. More than a score of distinguished educators, journalists, historians, and politicians have gathered to review the changes in the American South in the past two decades. These changes are being interpreted in speeches and in discussions dealing with human rights, the rewriting of Southern history, the so-called "new Southern politics," and where we're going from here.
Tonight, we've invited four principals from the symposium to be our guests. James W. Silver, professor of history at the University of South Florida, architect of the symposium; Representative Julian Bond of the Georgia State Legislature; Eugene Patterson, former editor of the Atlanta Constitution and Pulitzer Prize-winning editor of the Washington Post. Mr. Patterson is also former vice chairman of the U.S. Civil Rights Commission, and presently Professor
Last edit about 1 month ago by
Jannyp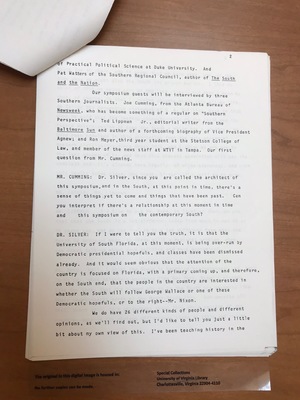 2
of Practical Political Science at Duke University. And Pat Watters of the Southern Regional Council, author of The South and the Nation.
Our symposium guests will be interviewed by three Southern journalists. Joe Cumming, from the Atlanta Bureau of Newsweek, who has become something of a regular on "Southern Perspective"; Ted Lippman Jr., editorial writer from the Baltimore Sun and author of a forthcoming biography of Vice President Agnew; and Ron Meyer, third year student at the Stetson College of Law, and member of the news staff at WTVT in Tampa. Our first question is from Mr. Cumming.
MR. CUMMING: Dr. Silver, since you are called the architect of this symposium, and in the South, at this point in time, there's a sense of things yet to come and things that have been past. Can you interpret if there's a relationship at this moment in time and this symposium on the contemporary South?
DR. SILVER: If I were to tell you the truth, it is that the University of South Florida, at this moment, is being over-run by Democratic presidential hopefuls, and classes have been dismissed already. And it would seem obvious that the attention of the country is focused on Florida, with a primary coming up, and therefore, on the South end, that the people in the country are interested in whether the South will follow George Wallace or one of these Democratic hopefuls, or to the right -- Mr. Nixon.
We do have 26 different kinds of people and different opinions, as we'll find out, but I'd like to tell you just a little bit about my own view of this. I've been teaching history in the
Last edit about 1 month ago by
Jannyp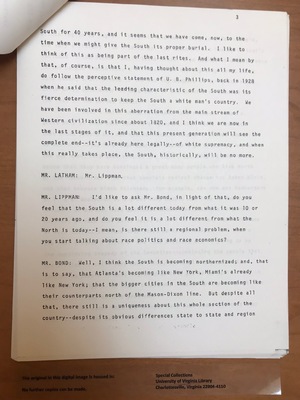 3
South for 40 years, and it seems that we have come, now, to the time when we might give the South its proper burial. I like to think of this as being part of the last rites. And what I mean by that, of course, is that I, having thought about this all my life, do follow the perceptive statement of U. B. Phillips, back in 1928 when he said that the leading characteristic of the South was its fierce determination to keep the South a white man's country. We have been involved in this aberration from the main stream of Western civilization since about 1820, and I think we are now in the last stages of it, and that this present generation will see the complete end -- it's already here legally -- of white supremacy, and when this really takes place, the South, historically, will be no more.
MR. LATHAM: Mr. Lippman.
MR. LIPPMAN: I'd like to ask Mr. Bond, in light of that, do you feel that the South is a lot different today from what it was 10 or 20 years ago, and do you feel it is a lot different from what the North is today -- I mean, is there still a regional problem, when you start talking about race politics and race economics?
MR. BOND: Well, I think the South becoming northernized; and, that is to say, that Atlanta's becoming like New York, Miami's already like New York; that the bigger cities in the South are becoming like their counterparts north of the Mason-Dixon line. But despite all that, there still is a uniqueness about this whole section of the country -- despite its obvious differences state to state and region
Last edit about 1 month ago by
Jannyp
4
within region to region. Virginia and North Carolina, for example, are very different from Mississippi and Alabama, and Texas, if that's included in the South. So, I think there is an appreciable difference in the people themselves, a difference in the way they think about each other, a difference in the way the members of different races think about each other in this part of the country as opposed to the rest of the United States.
And, I think there have been some changes. Now, a great many of them have been more apparent than real. The fact that black people can now eat at lunch counters in places where we couldn't vote, in places where we couldn't go to school is, on the one hand, very good and, on the other, bad. They're bad in the sense that they have convinced a great many people who live north of the Mason-Dixon line that complete radical change has taken place, and that because black Atlantans, for example, can now eat hamburgers at F. & W. Woolworth's, a great many people who live in New York, Chicago, or Boston, have convinced themselves that the very real problems of race that exist here, as well as the very real problems of race that exist where they live, no longer exist. And that's the real tragedy I think of the late Sixties, and is going to be the continuing tragedy of the Seventies -- convincing the people that the problem is still very much alive, and still very evident; convincing people in this region that it's got to be dealt with, in the final analysis, by they, themselves he federal government has taken itself out of this problem.
I agree that the changes have been made, but that they just haven't been made enough.
Last edit about 1 month ago by
Jannyp