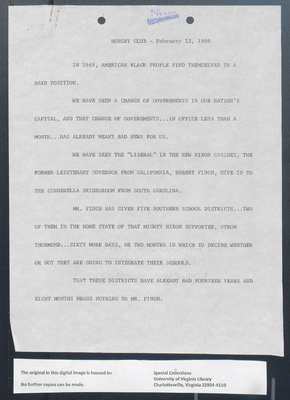 HUNGRY CLUB - FEBRURY 12, 1969
In 1969, AMERICAN BLACK PEOPLE FIND THEMSELVES IN A HARD POSITION.
WE HAVE SEEN A CHANGE OF GOVERNMENTS . . . IN OFFICE LESS THAN A
MONTH . . . HAS ALREADY MEANT BAD NEWS FOR US.
WE HAVE SEEN THE "LIBERAL" IN THE NEW NIXON CABINET, THE
FORMER LIEUTENANT GOVERNOR FROM CALIFORNIA, ROBERT FINCH, GIVE IN
TO CINDERELLA BRIDEGROOM FROM SOUTH CAROLINA.
MR. FINCH HAS GIVEN FIVE SOUTHERN SCHOOL DISTRICTS . . .TWO OF THEM
IN THE HOME STATE OF THAT MIGHTY NIXON SUPPORTER, STROM THURMOND,
SIXTY MORE DAYS, OR TWO MONTHS IN WHICH TO DECIDE WHETHER OR NOT
THEY ARE GOING TO INTEGRATE THEIR SCHOOLS.
THAT THESE DISTRICTS HAVE ALREADY HAD FOURTEEN YEARS AND EIGHT
MONTHS MEANS NOTHING TO MR. FINCH.
Last edit over 1 year ago by
Deborah McDowell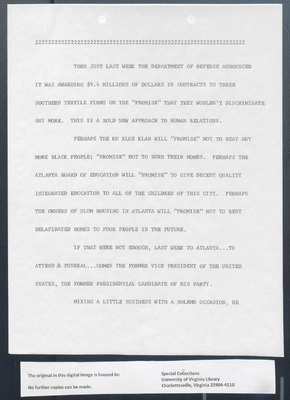 THEN JUST LAST WEEK THE DEPEARTMENT OF DEFENSE ANNOUNCED
IT WAS AWARDING $9.4 MILLIONS OF DOLLARS IN CONTRACTS TO THREE
SOUTHERN TEXTILE FIRMS ON THE "PROMISE" THAT THEY WOULDN'T
DISCRIMINATE ANY MORE. THIS IS A BOLD NEW APPROACH TO HUMAN
RELATIONS.
PERHAPS THE KU KLUX KLAN WILL "PROMISE" NOT TO BEAT ANY MORE
BLACK PEOPLE; " PROMISE" NOT TO BURN THEIR HOMES. PERHAPS
THE ATLANTA BOARD OF EDUCATION WILL "PROMISE" TO GIVE DECENT
QUALITY INTEGRATED EDUCATION TO ALL OF THE CHILDREN OF THIS CITY.
PERHAPS THE OWNERS OF SLUM HOUSING IN ATLANTA WILL "PROMISE" NOT
DELAPIDATED [SIC] HOMES TO POOR PEOPLE IN THE FUTURE.
IF THAT WERE NOT ENOUGH, LAST WEEK TO ATLANTA . . . TO ATTEND A
FUNERAL . . . . COME THE FORMER VICE PRESIDENT OF THE UNITED STATES,
THE FORMER PRESIDENTIAL CANDIDATE OF HIS PARTY.
MIXING A LITTLE BUSINESS WITH A SOLEMN OCCASION, HE
Last edit over 1 year ago by
Deborah McDowell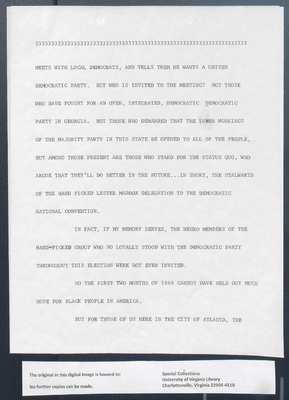 MEETS WITH LOCAL DEMOCRATS, AND TELLS THEM HE WANT A UNITED
DEMOCRATIC PARTY. BUT WHO IS INVITED TO THE MEETING? NOT THOSE
WHO HAVE FOUGHT FOR AN OPEN, INTEGRATED, DEMOCRATIC PARTY IN
GEORGIA. NOT THOSE WHO DEMANDED THAT THE INNER WORKINGS OF THE
MAJORITY PARTY IN THIS STATE BE OPENED TO ALL OF THE PEOPLE, BUT
AMONG THOSE PRESENT ARE THOSE WHO STAND FOR THE STATUS QUO, WHO
ARGUE THAT THEY'LL DO BETTER IN THE FUTURE . . . . IN SHORT, THE
STALWARTS OF THE HAND PICKED LESTER MADDOX DELEGATION TO THE
DEMOCRATIC NATIONAL CONVENTION.
IF FACT, IF MY MEMORY SERVES, THE NEGRO MEMBERS OF THE HAND-
PICKED GROUP WHO SO LOYALLY STOOD WITH THE DEMOCRATIC PARTY
THROUGHOUT THIS ELECTION WERE NOT INVITED.
SO THE FIRST TWO MONTHS OF 1969 CANNOT HAVE HELD OUT MUCH HOPE
FOR BLACK PEOPLE IN AMERICA.
BUT FOR THOSE OF US HERE IN THE CITY OF ATLANTA, THE
Last edit over 1 year ago by
Deborah McDowell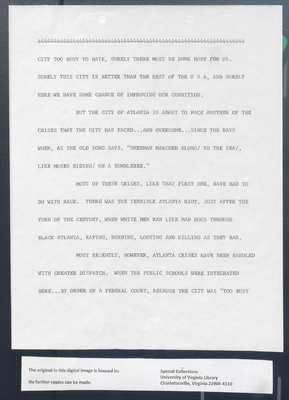 CITY TOO BUSY TO HATE, SURELY THERE MUST BE SOME HOPE FOR US.
SURELY THIS CITY IS BETTER THAN THE REST OF THE USA, AND SURELY HERE
WE HAVE SOME CHANCE OF IMPROVING OUR CONDITION.
BUT THE CITY OF ATLANTA IS ABOUT TO FACE ANOTHER OF THE CRISES
THAT THE CITY HAS FACED . . . AND OVERCOME . . . . SINCE THE DAYS WHEN, AS
THE OLD SONG SAYS, "SHERMAN MARCHED ALONG/TO THE SEA/, LIKE MOSES
RIDING/ON A BUMBLEBEE."
MOST OF THESE CRISES, LIKE THAT FIRST ONE, HAVE HA TO DO WITH
RACE. THERE WAS A TERRIBLE ATLANTA RIOT, JUST AFTER THE TURN OF THE
CENTURY, WHEN WHITE MEN RAN LIKE MAD DOGS THROUGH BLACK
ATLANTA, RAPING, BURNING, LOOTING AND KILLING AS THEY RAN.
MOST RECENTLY, HOWEVER, ATLANTA CRISES HAVE BEEN HANDLED WITH
GREATER DISPATCH. WHEN THE PUBLIC SCHOOLS WERE INTEGRATED HERE . . . BY ORDER OF A FEERAL COURT, BECAUSE THE CITY WAS "TOO BUSY TO
Last edit over 1 year ago by
Deborah McDowell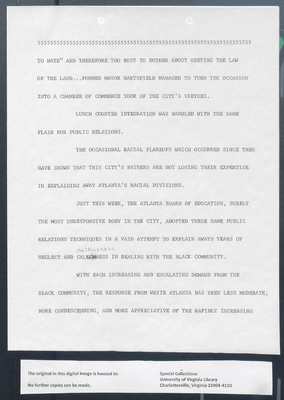 TO HATE" AND THEREFORE TOO BUSY TO BOTHER ABOUT OBEYING THE LAW
OF THE LAND . . . FORMER MAYOR HARTSFIELD MANAGED TO TURN THE
OCCASION INTO A CHAMBER OF COMMERCE TOUR OF THE CITY'S VIRTUES.
LUNCH COUNTER INTEGRATION WAS HANDLED WITH THE SAME FLAIR
FOR PUBLIC RELATIONS.
THE OCCASIONAL RACIAL FLAREUPS WHICH OCCURRED SINCE THEN
HAVE SHOWN THAT THIS CITY'S FATHERS ARE NOT LOSING THEIR EXPERTISE
IN EXPLAIING AWAY ATLANTA'S RACIAL DIVISIONS.
JUST THIS WEEK, THE ATLANTA BOARD OF EDUCATION, SURELY THE MOST
UNRESPONSIVE BODY IN THE CITY, ADOPTED THESE SAME PUBLIC RELATIONS
TECHNIQUES IN A VAIN ATTEMPT TO EXPLAIN AWAYS [SIC] YEARS OF NEGLECT
AND CALLOUSNESS IN DEALING WITH THE BLACK COMMUNITY.
WITH EACH INCREASING AND ESCALATING DEMAND FROM THE BLACK
COMMUNITY, THE RESPONSE FROM WHITE ATLANTA HAS BEEN LESS
MODERATE MORE CONDESCENDING, AND MORE APPRECIATIVE OF THE
RAPIDLY INCREASING
Last edit over 1 year ago by
Deborah McDowell