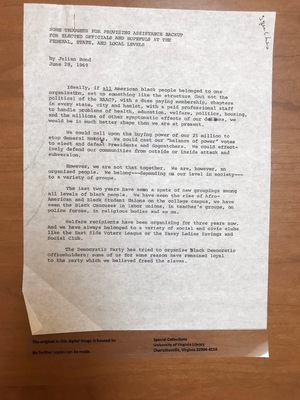 SOME THOUGHTS FOR PROVIDING ASSISTANCE BACKUP FOR ELECTED OFFICIALS AND HOPEFULS AT THE FEDERAL, STATE, AND LOCAL LEVELS
by Julian Bond June 28, 1969
Ideally, if all American black people belonged to one organization, set up something like the structure (but not the politics) of the NAACP, with a dues paying membership, chapters in every state, city and hamlet, with a paid professional staff to handle problems of health, education, welfare, politics, housing, and the millions of other symptomatic effects of our dilemna, we would be in much better shape than we are at present.
We could call upon the buying power of our 25 million to stop General Motors. We could cast our "balance of power" votes to elect and defeat Presidents and dogcatchers. We could effectively defend our communities from outside or inside attack and subversion.
However, we are not that together. We are, however, an organized people. We belong --- depending on our level in society --to a variety of groups.
The last two years have seen a spate of new groupings among all levels of black people. We have seen the rise of Afro-American and Black Student Unions on the college campus, we have seen the Black Caucuses in labor unions, in teacher's groups, on police forces, in religious bodies and so on.
Welfare recipients have been organizing for three years now. And we have always belonged to a variety of social and civic clubs like the East Side Voters League or the Sassy Ladies Savings and Social Club.
The Democratic Party has tried to organise Black Democratic officeholders; some of us for some reason have remained loyal to the party which we believed freed the slaves.
Last edit 4 days ago by
Jannyp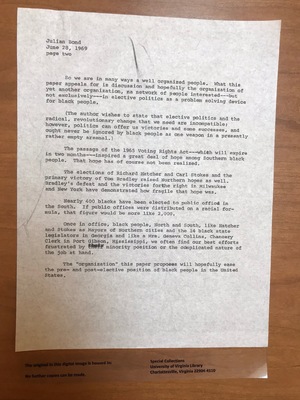 Julian Bond June 28, 1969 page two
So we are in many ways a well organized people. What this paper appeals for is discussion and hopefully the organization of yet another organization, na network of people interested --- but not exclusively --- in elective politics as a problem solving device for black people.
(The author wishes to state that elective polictics and the radical, revolutionary change that we need are incompatible; however, politics can offer us victories and some successes, and ought never be ignored by black people as one weapon in a presently rather empty arsenal.)
The passage of the 1965 Voting Rights Act --- which will expire in two months --- inspired a great deal of hope among Southern black people. That hope has of course not been realized.
The elections of Richard Hatcher and Carl Stokes and the primary victory of Tom Bradley raised Northern hopes as well. Bradley's defeat and the victories for the right in Milwaukee and New York have demonstrated how fragile that hope was.
Nearly 400 blacks have been elected to public office in the South. If public offices were distributed on a racial formula, that figure would be more like 2,000.
Once in office, black people, North and South, like Hatcher and Stokes as Mayors of Northern cities and the 14 black state legislators in Georgia and like a Mrs. Geneva Collins, Chancery Clerk in Port Gibson, Mississippi, we often find our best efforts frustrated by their minority position or the complicated nature of the job at hand.
The "organization" this paper proposes will hopefully ease the pre- and post-elective position of black people in the United States.
Last edit 4 days ago by
Jannyp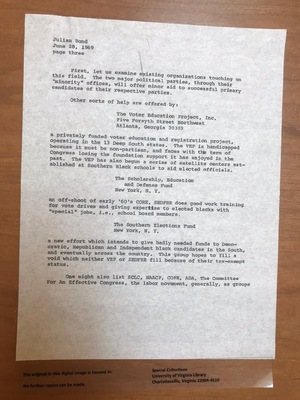 Julian Bond June 28, 1969 page three
First, let us examine existing organizations touching on this field. The two major political parties, through their "minority" offices, will offer minor aid to successful primary candidates of their respective parties.
Other sorts of help are offered by:
The Voter Education Project, Inc. Five Forsyth Street Northwest Atlanta, Georgia 30303
a privately funded voter education and registration project, operating in the 13 Deep South states. The VEP is handicapped because it must be non-partisan, and faces with this term of Congress losing the foundation support it has enjoyed in the past. The VEP has also begun a series of satellite centers established at Southern Black schools to aid elected officials.
The Scholarship, Education and Defense Fund New York, N.Y.
an off-shoot of early '60s CORE, SEDFRE does good work training for vote drives and giving expertise to elected blacks with "special" jobs, i.e., school board members.
The Southern Elections Fund New York, N.Y.
a new effort which intends to give badly needed funds to Democratic, Republican and Independent black candidates in the South, and eventually across the country. This group hopes to fill a void which neither the VEP or SEDFRE fill because of their tax-exempt status.
One might also list SCLC, NAACP, COPE, ADA, The Committee For An Effective Congress, the labor movement, generally, as groups
Last edit 4 days ago by
Jannyp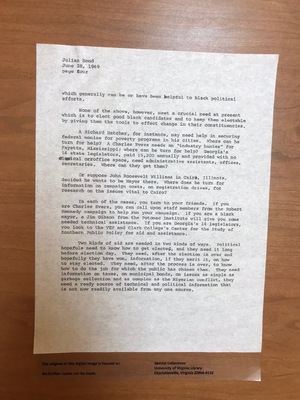 Julian Bond June 28, 2969 page four
which generally can be or have been helpful to black political efforts.
None of the above, however, meet a crucial need at present which is to elect good black candidates and to keep them electable by giving them the tools to effect change in their constituencies.
A Richard Hatcher, for instance, may need help in securing federal monies for poverty programs in his cities. Where can he turn for help? A Charles Evers needs an "industry hunter" for Fayette, Mississippi; where can he turn for help? Georgia's 14 state legislators, paid $5,200 annually and provided with no clerical orroffice space, need administrative assistants, offices, secretaries. Where can they get them?
Or suppose John Roosevelt Williams in Cairo, Illinois, decided he wants to be Mayor there. Where does he turn for information on campaign costs, on registration drives, for research on the issues vital to Cairo?
In each of the cases, you turn to your friends. If you are Charles Evers, you can call upon staff members from the Robert Kennedy campaign to help run your campaign. If you are a black mayor, a Jim Gibson from the Potomac Institute will give you some needed technical assistance. If you are Georgia's 14 legislators, you look into the VEP and Clark College's Center for the study of Southern Public Policy for aid and assistance.
Two kinds of aid are needed in two kinds of ways. Political hopefuls need to know how to get elected, and they need it long before election day. They need, after the election is over and hopefully they have won, information, if they merit it, on how to stay elected. They need, after the process is over, to know how to do the job for which the public has chosen them. They need information on taxes, on municipal bonds, on issues as simple as garbage collection and as complex as the Nigerian conflict, they need a ready source of technical and political information that is not now readily available from any one source.
Last edit almost 2 years ago by
Trayc F.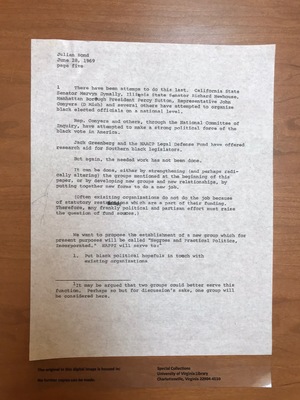 Julian Bond June 28, 1969 page five
1 There have been attemps to do this last. California State Senator Marvyn Dymally, Illinois State Senator Richard Newhouse, Manhattan Borough President Percy Sutton, Representative John Conyers (D Mich) and several others have attempted to organize black elected officials on a national level.
Rep. Conyers and others, through the National Committee of Inquiry, have attempted to make a strong political force of the black vote in America.
Jack Greenberg and the NAACP Legal Defense Fund have offered research aid for Southern black legistlators.
But again, the needed work has not been done.
It can be done, either by strengthening (and perhaps radically altering) the groups mentioned at the beginning of this paper, or by developing new groups and new relationships, by putting together new forms to do a new job.
(Often existing organizations do not do the job because of statutory restrictions which are a part of their funding. Therefore, any frankly political and partisan effort must raise the question of fund sources.)
We want to propose the establisment of a new group which for present purposes will be called "Negroes and Practical Politics, Incorporated." NAPPI will serve to: 1. Put black political hopefuls in touch with existing organizations
1It may be argued that two groups could better serve this function. Perhaps so but for discussion's sake, one group will be considered here.
Last edit almost 2 years ago by
Trayc F.