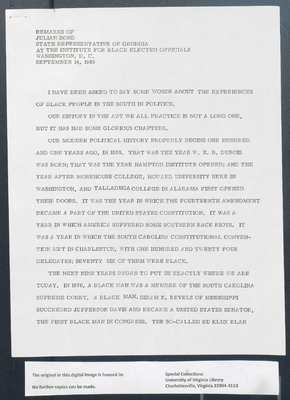 REMARKS OF JULIAN BOND STATE REPRESENTATIVE OF GEORGIA AT THE INSTITUTE FOR BLACK ELECTED OFFICIALS WASHINGTON, D. C. SEPTEMBER 14, 1969
I HAVE BEEN ASKED TO SAY SOME WORDS ABOUT THE EXPERIENCES OF BLACK PEOPLE IN THE SOUTH IN POLITICS.
OUR HISTORY IN THE ART WE ALL PRACTICE IS NOT A LONG ONE, BUT IT HAS HAD SOME GLORIOUS CHAPTERS.
OUR MODERN POLITICAL HISTORY PROPERLY BEGINS ONE HUNDRED AND ONE YEARS AGO, IN 1868. THAT WAS THE YEAR W. E. B. DUBOIS WAS BORN; THAT WAS THE YEAR HAMPTON INSTITUE OPENED; AND THE YEAR AFTER MOREHOUSE COLLEGE, HOWARD UNIVERSITY HERE IN WASHINGTON, AND TALLADEGA COLLEGE IN ALABAMA FIRST OPENED THEIR DOORS. IT WAS THE YEAR IN WHICH THE FOURTEEENTH AMENDMENT BECAME A PART OF THE UNITED STATES CONSTITUTION. IT WAS A YEAR IN WHICH AMERICA SUFFERED SOME SOUTHERN RACE RIOTS. IT WAS A YEAR IN WHCH THE SOUTH CAROLINA CONSTITUTIONAL CONVENTION MET IN CHARLESTON, WITH ONE HUNDERD AND TWENTY FOUR DELEGATES; SEVENTY SIX OF THEM WERE BLACK.
THE NEXT NIVE YEAR BEGAN TO PUT US EXACTLY WHERE WE ARE TODAY. IN 1870, A BLACK MAN WAS A MEMBER OF THE SOUTH CAROLINA SUPREME CORT. A BLACK MAN, HIRAM K. REVELS OF MISSISSIPPI SUCCEEDED JEFFERSON DAVIS AND BECAME A UNITED STATES SENATOR, THE FIRST BLACK MAN IN CONGRESS. THE SO-CALLED KU KLUX KLAN
Last edit over 1 year ago by
wnmartin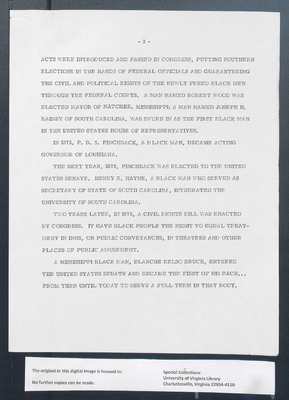 ACTS WERE INTRODUCED AND PASSED IN CONGRESS, PUTTING SOUTHERN ELECTION IN THE HANDS OF FEDERAL OFFICIALS AND GUARANTEERING THE CIVIL AND POLITICAL RIGHTS OF THE NEWLY FREED BLACK MEN THROUGH THE FEDERAL COURTS. A MAN NAMED ROBERT WOOD WAS ELECTED MAYOR OF NATCHEZ, MISSISSIPPI; A MAN NAMED JOSEPH H. RAINEY OF COUTH CAROLINA, WAS SWORN IN AS THE FIRST BLACK MAN IN THE UNITED STATES HOUSE OF REPRESENTATIVES.
IN 1872, P. B. S. PINCHBACK, A BLACK MAN, BECAME ACTING GOVERNOR OF LOUSIANA.
THE NEXT YEAR, 1873, PINCHBACK WAS ELECTED TO THE UNITED STATES SENATE. HENRY E. HAYNE, A BLACK MAN WHO SERVED AS SECRETARY OF STATE OF SOUTH CAROLINA, INTEGRATED THE UNIVERSITY OF SOUTH CAROLINA.
TWO YEARS LATER, IN 1875, A CIVIL RIGHTS BILL WAS ENACTED BY CONGRESS. IT GAVE BLACK PEOPLE THE RIGHT TO EQUAL TREATMENT IN INNS, ON PUBLIC CONVEYANCES, IN THEATRES AND OTHER PLACES OF PUBLIC AMUSEMENT.
A MISSISSIPPI BLACK MAN, BLANCHE KELSO BRUCE, ENTERED THE UNITED STATES SENATE AND BECAME THE FIRST OF HIS RACE... FROM THE UNTIL TODAY TO SERVE A FULL TERM IN THAT BODY.
Last edit over 1 year ago by
wnmartin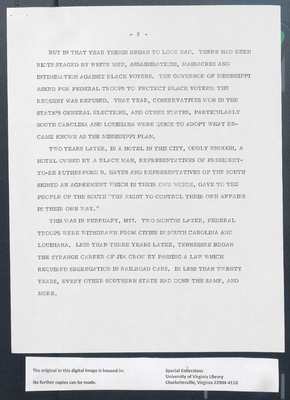 BUT IN THAT YEAR THINGS BEGAN TO LOOK BAD. THERE HAD BEEN RIOTS STAGED BY WHITE MEN, ASSASSINATIONS, MASSACRES AND INTIMIDATION AGAINST BLACK VOTERS. THE GOVERNOR OF MISSISSIPPI ASKED FOR FEDERAL TROOP TO PROTECT BLACK VOTERS; THE REQUEST WAS REFUSED. THAT YEAR, CONSERVATIVE WON IN THE STATE'S GENERAL ELECTIONS, AND OTHER STATES, PARTICULARLY SOUTH CAROLINA AND LOUISIANA WERE QUICK TO ADOPT WHAT BECAME KNOW AS THE MISSISSIPPI PLAN.
TWO YEAR LATE, IN A HOTEL IN THE CITY, ODDLY ENOUGH, A HOTEL OWNED BY A BLACK MAN, REPRESENTATIVE OF PRESIDENTTO-BE RUTHERFORD B. HAYES AND REPRESENTATIVE OF THE SOUTH SIGNED AN AGREEMENT WHICH IN THEIR OWN WORDS, GAVE TO THE PEOPLE OF THE SOUTH "THE RIGHT TO CONTROL THEIR OWN AFFAIRS IN THEIR OWN WAY."
THIS WAS FEBRUARY, 1877. TWO MONTHS LATER, FEDERAL TROOPS WERE WITHDRAWN FROM CITIES IN SOUTH CAROLINA AND LOUISIANA. LESS THAT THREE YEARS LATER, TENNESSEE BEGAN THE STRANGE CAREER OF JIM CROW BY PASSING A LAW WHICH REQUIRED SEGREGATION IN RAILROAD CARS. IN LESS THAN TWENTY YEARS, EVERY OTHER SOUTHERN STATE HAD DONE THE SAME, AND MORE.
Last edit over 1 year ago by
wnmartin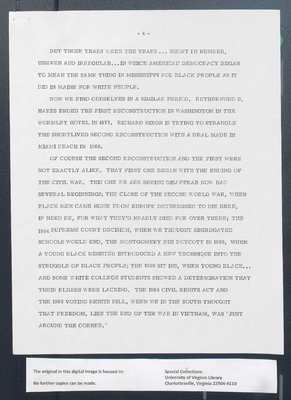 BUT THOSE WERE THE YEARS ... SHORT IN NUMBER, UNEVEN AND IRREGULAR ... IN WHICH AMERICAN DEMOCRACY BEGAN TO MEAN THE SAME THING IN MISSISSIPPI FOR BLACK PEOPLE AS IT DID IN MAINE FOR WHITE PEOPLE.
NOW WE FIND OURSELVES IN A SIMILAR PERIOD. RUTHERFORD B. HAYES ENDED THE FIRST RECONSTRUCTION IN WASHINGTON IN THE WORMLEY HOTEL IN 1877. RICHARD NIXON IS TRYING TO STRANGLE THE SHORTLIVED SECOND RECONSTRUCTION WITH A DEAL MADE IN MIAMI BEACH IN 1968.
OF COURSE THE SECOND RECONSTRUCTION AND THE FIRST WERE NOT EXACTLY ALIKE. THAT FIRST ONE BEGAN WITH THE ENDING OF THE CIVIL WAR. THIS ONE WE ARE SEEING DISAPPEAR NOW HAD WEVERAL BEGINNINGS; THE CLOSE OF THE SECOND WORLD WAR, WHEN BLACK MEN CAME HOME FROM EUROPE DETERMINED TO DIE HERE, IF NEED BE, FOR WHAT THEY'D NEARLY DIED FOR OVER THERE; THE 1954 SUPREME COURT DECISION, WHEN WE THOUGHT SEGREGATED SCHOOLS WOULD END, THE MONTGOMERY BUS BOYCOTT IN 1956, WHEN A YOUNG BLACK MINISTER INTRODUCED A NEW TECHNIQUE INTO THE STRUGGLE OF BLACK PEOPLE; THE 1960 SIT INS, WHEN YOUNG BLACK ... AND SOME WHITE COLLEGE STUDENTS SHWOWED A DETERMINATION THAT THERE ELDERS WERE LACKING. THE 1964 CIVIL RIGHTS ACT AND THE 1965 VOTING RIGHTS BILL, WHEN WE IN THE SOUTH THOUGHT THAT FREEDOM, LIKE THE END OF THE WAR IN VIETNAM, WAS "JUST AROUND THE CORNER."
Last edit over 1 year ago by
wnmartin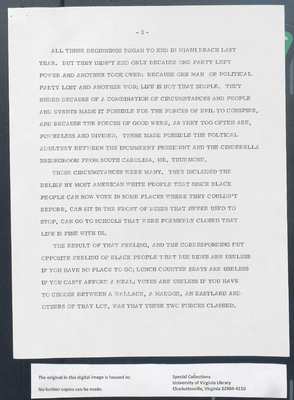 ALL THESE BEGINNINGS BEGAN TO END IN MIAMI BEACH LAST YEAR. BUT THEY DIDN'T END ONLY BECAUSE ONE PARTY LEFT POWER AND ANOTHER TOOK OVER: BECAUSE ONE MAN OR POLITICAL PARTY LOST AND ANOTHER WON: LIFE IS NOT THAT SIMPLE. THEY ENDED BECAUSE OF A COMBINATION OF CIRCUMSTANCES AND PEOPLE AND EVENTS MADE IT POSSIBLE FOR THE FORCES OF EVIL TO CONSPIRE, AND BECAUSE THE FORCES OF GOOD WERE, AS THEY TOO OFTEN ARE, POWERLESS AND DIVIDED. THESE MADE POSSIBLE THE POLITICAL ADULTERY BETWEEN THE INCUMBENT PRESIDENT AND THE CINDERLLA BRIDGEROOM FROM SOUTH CAROLINA, MR. THURMOND.
THOSE CIRCUMSTANCES WERE MANY. THEY INCLUDED THE BELIEF BY MOST AMERICAN WHHITE PEOPLE THAT SINCE BLACK PEOPLE CAN NOW VOTE IN SOME PLACES WHERE THEY COULDN'T BEFORE, CAN SIT IN THE FRONT OF BUSES THAT NEVER USED TO STOP, CAN GO TO SCHOOLS THAT WERE FORMERLY CLOSED THAT LIFE IS FINE WITH US.
THE RESULT OF THAT FEELING, AND THE CORRESPONDING BUT OPPOSITE FEELING OF BLACK PEOPLE THAT BUS RIDES ARE USELESS IF YOU HAVE NO PLACE TO GO; LUNCH COUNTER SEATS ARE USELESS IF YOU CAN'T AFFORD A MEAL; VOTES ARE USELESS IF YOU HAVE TO CHOOSE BETWEEN A WALLACE, A MADDOX, AN EASTLAND AND OTHERS OF THAT LOT, WAS THAT THESE TWO FORCES CLASHED.
Last edit about 1 year ago by
Johanna Moncada Sosa