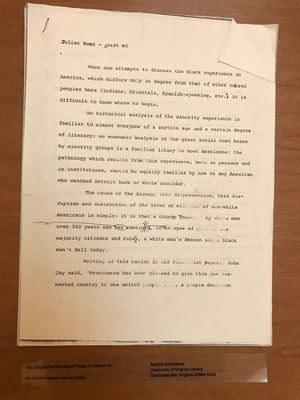 Julian Bond - draft #2
When one attempts to discuss the Black experience in America, which differs only in degree from that of other colored peoples here (Indians, Orientals, Spanish-speaking, etc.) it is difficult to know where to begin.
An historical analysis of the minority experience is familiar to almost everyone of a certain age and a certain degree of literacy; an economic analysis of the great social cost borne by minority groups is a familiar litany to most Americans; the pathology which results from this experience, both in persons in institutions, should be equally familiar by now to any American who watched Detroit burn or Watts smoulder.
The cause of the dismay, this dispossession, this disruption and destruction of the lives of millions of non-white Americans in simple: it is that country "founded" by white men over 300 years ago remains in the eyes of most of its majority citizens and rulers, a white man's Heaven and a black man's Hell today.
Writing of this nation in his Federalist Papers, John Jay said, "Providence has been pleased to give this one connected country to one united people. . . . a people descended
Last edit 7 months ago by
Jannyp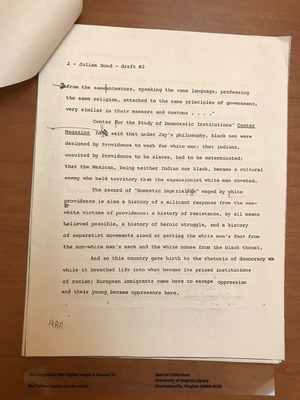 2 - Julian Bond - draft #2
from the same ancestors, speaking the same language, professing the same religion, attached to the same principles of government, very similar in their manners and customs . . . ."
Center For the Study of Democratic Institutions' Center Magazine has said that under Jay's philosophy, black men were designed by Providence to work for white men; that Indians, unsuited by Providence to be slaves, had to be exterminated; that the Mexican, being neither Indian nor black, became a cultural enemy who held territory that the expansionist white man coveted.
The record of "domestic imperialism" waged by White Providence is also a history of a militant response from the nonwhite victims of providence: a history of resistance, by all means believed possible, a history of heroic struggle, and a history of separatist movements aimed at getting the white man's foot from the non-white man's neck and the white noose from the black throat.
And so this country gave birth to the rhetoric of demorcracy while it breathed life into what became its prized institutions of racism; European immigrants came here to escape oppression and their young became oppressors here.
Last edit 7 months ago by
Jannyp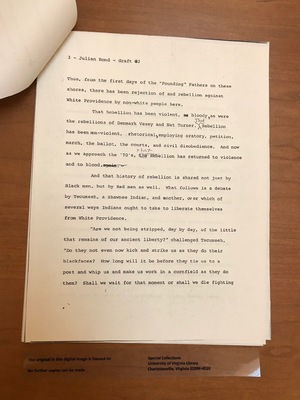 3 - Julian Bond - draft #2
Thus, from the first days of the "Founding" Fathers on these shores, there has been rejection of and rebellion against White Provedence by non-white people here.
That Rebellion has been violent, bloody, as were the rebellions of Denmark Vesey and Nat Turner. That Rebellion has been non-violent, rhetorical, employing oratory, petition, march, the ballot, the courts, and civil disobedience. And now as we approach the '70's that Rebellion has returned to violence and to blood.
And that history of rebellion is shared not just by Black men, but by Red men as well. What follows is a debate by Tecumseh, a Shawnee Indian, and another, over which of several ways Indians ought to take to liberate themselves from White Providence.
"Are we not being stripped, day by day, of the little that remains of our ancient liberty?" challenged Tecumseh. "Do they not even now kick and strike us as they do their blackfaces? How long will it be before they tie us to a post and whip us and make us work in a cornfield as they do them? Shall we wait for that moment or shall we die fighting
Last edit 7 months ago by
Jannyp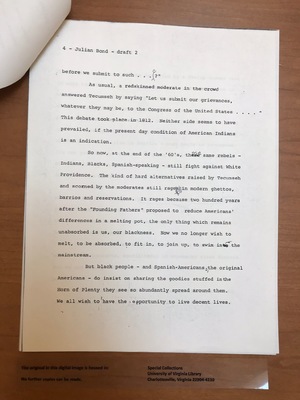 4 - Julian Bond - draft 2
before we submit to such ....?"
As usual, a redskinned moderate in the crowd answered Tecumseh by saying "Let us submit our grievances, whatever they may be, to the Congress of the United States . . . . " This debate took place in 1812. Neither side seems to have prevailed, if the present day condition of American Indians is an indication.
So now, at the end of the '60's, those same rebels Indians, Blacks, Spanish-speaking - still fight against White Providence. The kind of hard alternatives raised by Tecumseh and scorned by the moderates still rages in modern ghettos, barrios and reservations. It rages because two hundred years after the "Founding Fathers" proposed to reduce Americans' differences in a melting pot, the only thing which remains unabsorbed is us, our blackness. Now we no longer wish to melt, to be absorbed, to fit in, to join up, to swim in the mainstream.
But black people - and Spanish-Americans, the original Americans - do insist on sharing the goodies stuffed in the Horn of Plenty they see so abundantly spread around them. We all wish to have the opportunity to live decent lives.
Last edit 7 months ago by
Jannyp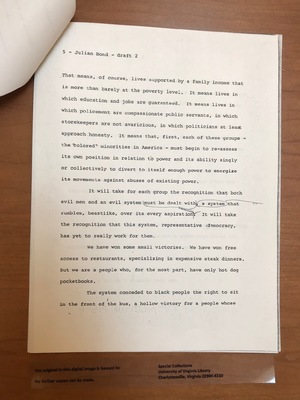 5 - Julian Bond - draft 2
That means, of course, lives supported by a family income that is more than barely at the poverty level. It means lives in which education and jobs are guaranteed. It means lives in which policement are compassionate public servants, in which storekeepers are not avaricious, in which politicians at least approach honesty. It means that, first, each of these groups the "colored" minorities in America - must begin to re-assess its own position in relation to power and its ability singly or collectively to divert to itself enough power to energize its movements against abuses of existing power.
It will take for each group the recognition that both evil men and an evil system must be dealt with, a system that rumbles, beastlike, over its every aspiration. It will take the recognition that this system, representative democracy, has yet to really work for them.
We have won some small victories. We have won free access to restaurants, specializing in expensive steak dinners. But we are a people who, for the most part, have only hot dog pocketbooks.
The system conceded to black people the right to sit in the front of the bus, a hollow victory for the people whose
Last edit 7 months ago by
Jannyp
Displaying Page 1 - 5 of 110 in total