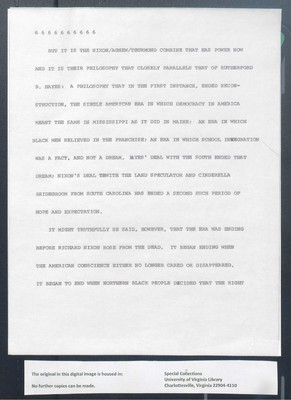 6 6 6 6 6 6 6 6 6 6
BUT IT IS THE NIXON/AGNEW/THURMOND COMBINE THAT HAS POWER NOW AND IT IS THEIR PHILOSOPHY THAT CLOSELY PARALLELS THAT OF RUTHERFORD B. HAYES: A PHILOSOPHY THAT IN THE FIRST INSTANCE, ENDED RECONSTRUCTION, THE SINGLE AMERIAN ERA IN WHICH DEMOCRACY IN AMERICA MEANT THE SAME IN MISSISSIPPI AS IT DID IN MAINE; AN ERA IN WHICH BLACK MEN BELIEVED IN THE FRANCHISE; AN ERA IN WHICH SCHOOL INTEGRATION WAS A FACT, AND NOT A DREAM. HAYES' DEAL WITH THE SOUTH ENDED THAT DREAM: NIXON'S DEAL THWITH THE LAND SPECULATION AND CINDERELLA BRIDEGROOM FROM SOUTH CAROLINA HAS ENDED A SECOND SUCH PERIOD OF HOPE AND EXPECTATION.
IT MIGHT TRUTHFULLY BE SAID, HOWEVER, THAT THE ERA WAS ENDING BEFORE RICHARD NIXON ROSE FROM THE DEAD. IT BEGAN ENDING WHEN THE AMERICAN CONSCIENCE EITHER NO LONGER CARED OR DISAPPEARED. IT BEGAN TO END WHEN NORTHERN BLACK PEOPLE DECIDED THAT THE RIGHT
Last edit 12 months ago by
LB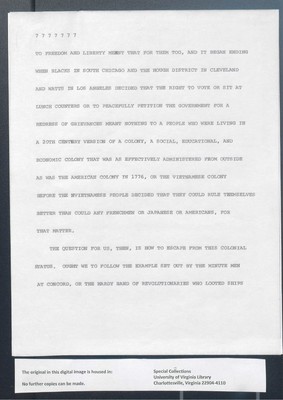 7 7 7 7 7 7 7
TO FREEDOM AND LIBERTY MEANT THAT FOR THEM TOO, AND IT BEGAN ENDING WHEN BLACKS IN SOUTH CHICAGO AND THE HOUGH DISTRICT IN CLEVELAND AND WATTS IN LOS ANGELES DECIDED THAT THE RIGHT TO VOTE OR SIT AT LUNCH COUNTERS OR TO PEACEFULLY PETITION THE GOVERNMENT FOR A REDRESS OF GRIEVANCES MEANT NOTHING TO A PEOPLE WHO WERE LIVING IN A 20TH CENTURY VERSION OF A COLONY, A SOCIAL, EDUCATIONAL, AND ECONOMIC COLONY THAT WAS AS EFFECTIVEL ADMINISTERED FROM OUTSIDE AS WAS THE AMERICAN COLONY IN 1776, OR THE VIETNAMESE COLONY BEFORE THE NVIETNAMESE PEOPLE DECIDED THAT THEY COULD RULE THEMSELVES BETTER THAN COULD ANY FRENCHMEN OR JAPANESE OR AMERICANS, FOR THAT MATTER.
THE QUESTION FOR US, THEN, IS HOW TO ESCAPE FROM THIS COLONIAL STATUS. OUTGH WE TO FOLLOW THE EXAMPLE SET OUT BY THE MINUTE MEN AT CONCORD, OR THE HARDY BAND OF REVOLUNTIONARIES WHO LOOTED SHIPS
Last edit 12 months ago by
LB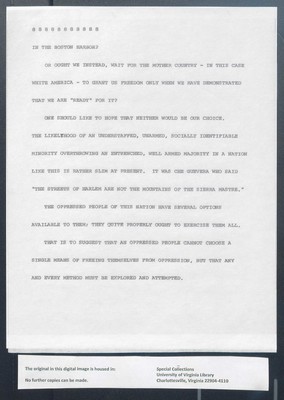 8 8 8 8 8 8 8 8 8 8 8
IN THE BOSTON HARBOR?
OR OUGHT WE INSTEAD, WAIT FOR THE MOTHER COUNTRY - IN THIS CASE WHITE AMERICA - TO GRANT US FREEDOME ONLY WHEN WE HAVE DEMONSTRATED THAT WE ARE "READY" FOR IT?
ONE SHOULD LIKE TO HOPE THAT NEITHER WOULD BE OUR CHOICE. THE LIKELYHOOD OF AN UNDERSTAFFED, UNARMED, SOCIALLY IDENTIFIABLE MINORITY OVERTHROWING AN ENTRENCHED, WELL ARMED MAJORITY IN A NATION LIKE THIS IS RATHER SLIM AT PRESENT. IT WAS CHE GUEVERA WHO SAID "THE STREETS OF HARLEM ARE NOT THE MOUNTAINS OF THE SIERRA MASTRE."
THE OPPRESSED PEOPLE OF THIS NATION HAVE SEVERAL OPTIONS AVAILABLE TO THEM; THEY QUITE PROPERLY OUGHT TO EXERCIS THEM ALL.
THAT IS TO SUGGEST THAT AN OPPRESSED PEOPLE CANNOT CHOOSE A SINGLE MEANS OF FREEING THEMSELVES FROM OPPRESSION, BUT THAT ANY AND EVERY METHOD MUST BE EXPLORED AND ATTEMPTED.
Last edit 12 months ago by
LB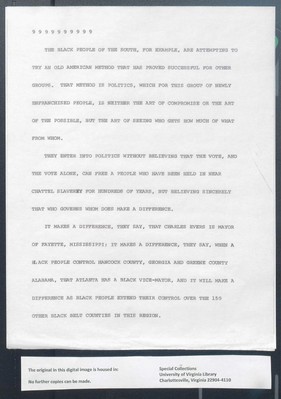 9 9 9 9 9 9 9 9 9 9
THE BLACK PEOPLE OF THE SOUTH, FOR EXAMPLE, ARE ATTEMPTING TO TRY AND OLD AMERICAN METHOD THAT HAS PROVED SUCCESSFUL FOR OTHER GROUPS. THAT METHOD IS POLITICS, WHICH FOR THIS GROUP OF NEWLY ENFRANCHISED PEOPLE, IS NEITHER THE ART OF COMPROMISE OR THE ART OF THE POSSIBLE, BUT THE ART OF SEEING WHO GETS HOW MUCH OF WHAT FROM WHOM.
THEY ENTER INTO POLITICS WITHOUT BELIEVING THAT THE VOTE, AND THE VOTE ALONE, CAN FREE A PEOPLE WHO HAVE BEEN HELD IN NEAR CHATTEL SLAVERY FOR HUNDREDS OF YEARS, BUT BELIEVING SINCERELY THAT WHO GOVERNS WHOM DOES MAKE A DIFFERENCE.
IT MAKES A DIFFERENCE, THEY SAY, THAT CHARLES EVERS IS MAYOR OF FAYETTE, MISSISSIPPI; IT MAKES A DIFFERENCE, THEY SAY, WHEN A BLACK PEOPLE CONTROL HANCOCK COUNTY, GEORGIA AND GREENE COUNTY ALABAMA, THAT ATLANTA HAS A BLACK VICE-MAYOR, AND IT WILL MAKE A DIFFERENCE AS BLACK PEOPLE EXTEND THEIR CONTROL OVER THE 150 OTHER BLACK BELT COUNTIES IN THIS REGION.
Last edit 12 months ago by
LB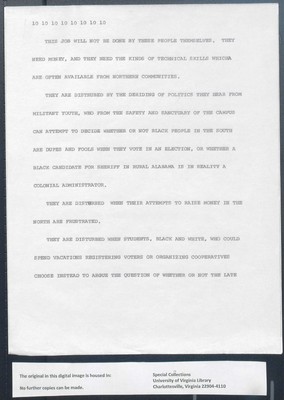 10 10 10 10 10 10 10 10
THIS JOB WILL NOT BE DONE BY THESE PEOPLE THEMSELVES. THEY NEED MONEY, AND THEY NEED THE KINDS OF TECHNICAL SKILS WHICH ARE OFTEN AVAILABLE FROM NORTHERN COMMUNITIES.
THEY ARE DISTRUBED BY THE DERIDING OF POLITICS THEY HEAR FROM MILITANT YOUTH, WHO FROM THE SAFETY AND SANCTUARY OF THE CAMPUS CAN ATTEMPT TO DECIDE WHETHER OR NOT BLACK PEOPLE IN THE SOUTH ARE DUPES AND FOOLS WHEN THEY VOTE IN AN ELECTION, OR WHETHER A BLACK CANDIDATE FOR SHERIFF IN RURAL ALABAMA IS IN REALITY A COLONIAL ADMINISTRATOR.
THEY ARE DISTURBED WHEN THEIR ATTEMPTS TO RAISE MONEY IN THE NORTH ARE FRUSTRATED.
THEY ARE DISTURBED WHEN STUDENTS, BLACK AND WHITE, WHO COULD SPEND VACATIONS REGISTERING VOTERS OR ORGANIZING COOPERATIVES CHOOSE INSTEAD TO ARGUE THE QUESTION OF WHETHER OR NOT THE LATE
Last edit 12 months ago by
LB