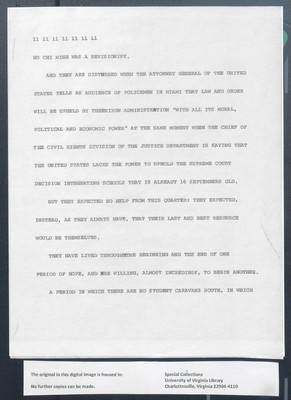 11 11 11 11 11 11 11
HO CHI MINH WAS A REVISIONIST.
AND THEY ARE DISTURBED WHEN THE ATTORNEY GENERAL OF THE UNITED STATES TELLS AN AUDIENCE OF POLICEMEN IN MIAMI THAT LAW AND ORDER WILL BE UPHELD BY THE NIXON ADMINISTRATION "WITH ALL ITS MORAL, POLITICAL AND ECONOMIC POWER" AT THE SAME MOMENT WHEN THE CHIEF OF THE CIVIL RIGHTS DIVISION OF THE JUSTICE DEPARTMENT IS SAYING THAT THE UNITED STATES LACKS THE POWER TO UPHOLD THE SUPREME COURT DECISION INTEGRATING SCHOOLS THAT IS ALREADY 16 SEPTEMBERS OLD.
BUT THEY EXPECTED NO HELP FROM THIS QUARTER; THEY EXPECTED, INSTEAD, AS THEY ALWAYS HAVE, THAT THEIR LAST AND BEST RESOURCE WOULD BE THEMSELVES.
THEY HAVE LIVED THROUGH THE BEGINNING AND TE END OF ONE PERIOD OF HOPE, AND ARE WILLING, ALMOST INCREDIBLY, TO BEGIN ANOTHER.
A PERIOD IN WHICH THERE ARE NO STUDENT CARAVANS SOUTH, IN WHICH
Last edit 11 months ago by
LB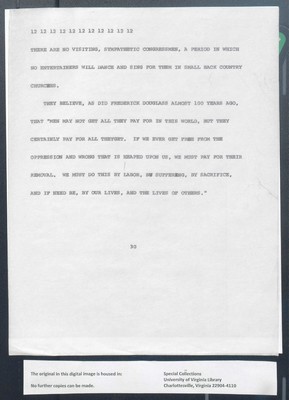 12 12 12 12 12 12 12 12 12 12 12
THERE ARE NO VISITING, SYMPATHETIC CONGRESSMEN, A PERIOD IN WHICH NO ENTERTAINERS WILL DANCE AND SING FOR THEM IN SMALL BACK COUNTRY CHURCHES.
THEY BELIEVE, AS DID FREDERICK DOUGLASS ALMOST 100 YEARS AGO, THAT "MEN MAY NOT GET ALL THEY PAY FOR IN THIS WORLD, BUT THEY CERTAINLY PAY FOR ALL THEY GET. IF WE EVER GET FREE FROM THE OPPRESSION AND WRONG THAT IS HEAPED UPON US, WE MUST PAY FOR THEIR REMOVAL. WE MUST DO THIS BY LABOR, BY SUFFERING, BY SACRIFICE, AND IF NEED BE, BY OUR LIVES, AND THE LIVES OF OTHERS."
Last edit 11 months ago by
LB