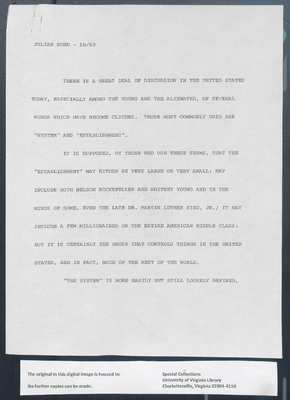 JULIAN BOND -- 10/69
THERE IS A GREAT DEAL OF DISCUSSION IN THE UNITED STATES TODAY, ESPECIALLY AMONG THE YOUNG AND THE ALIENATED, OF SEVERAL WORDS WHICH HAVE BECOME CLICHES. THOSE MOST COMMONLY USED ARE "SYSTEM" AND "ESTABLISHMENT".
IT IS SUPPOSED, BY THOSE WHO USE THESE TERMS, THAT THE "ESTABLISHMENT" MAY EITHER BE VERY LARGE OR VERY SMALL; MAY INCLUDE BOTH NELSON ROCKEFELLER AND WHITNEY YOUNG AND IN THE MINDS OF SOME, EVEN THE LATE DR. MARTIN LUTHER KING, JR.; IT MAY INCLUDE A FEW MILLIONAIRES OR THE ENTIRE AMERICAN MIDDLE CLASS: BUT IT IS CERTAINLY THE GROUP THAT CONTROLS THINGS IN THE UNITED STATES, AND IN FACT, MUCH OF THE REST OF THE WORLD.
"THE SYSTEM" IS MORE EASILY BUT STILL LOOSELY DEFINED,
Last edit 9 months ago by
LB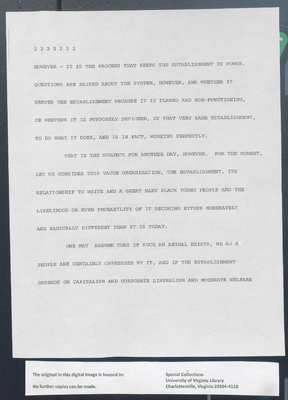 2 2 2 2 2 2 2
HOWEVER -- IT IS THE PROCESS THAT KEEPS THE ESTABLISHMENT IN POWER. QUESTIONS ARE RAISED ABOUT THE SYSTEM, HOWEVER, AND WHETHER IT SERVES THE ESTABLISHMENT BECAUSE IT IS FLAWED AND NON-FUNCTIONING, OR WHETHER IT IS PURPOSELY DESIGNED, BY THAT VERY SAME ESTABLISHMENT, TO DO WHAT IT DOES, AND IS IN FACT, WORKING PERFECTLY.
THAT IS THE SUBJECT FOR ANOTHER DAY, HOWEVER. FOR THE MOMENT, LET US CONSIDER THIS VAGUE ORGANIZATION, THE ESTABLISHMENT, ITS RELATIONSHIP TO WHITE AND A GREAT MANY BLACK YOUNG PEOPLE AND THE LIKELIHOOD OR EVEN PROBABILITY OF IT BECOMING EITHER MODERATELY AND RADICALLY DIFFERENT THAN IT IS TODAY.
ONE MAY ASSUME THAT IF SUCH AN ANIMAL EXISTS, WE AS A PEOPLE ARE CERTAINLY OPPRESSED BY IT, AND IF THE ESTABLISHMENT DEPENDS ON CAPITALISM AND CORPORATE LIBERALISM AND MODERATE WELFARE
Last edit 9 months ago by
LB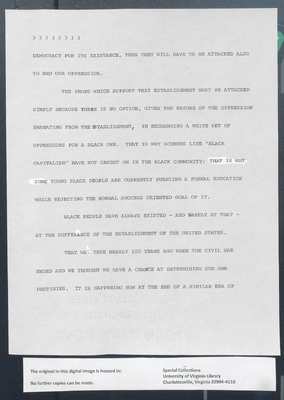 3 3 3 3 3 3 3 3
DEMOCRACY FOR ITS EXISTANCE, THEN THEY WILL HAVE TO BE ATTACKED ALSO TO END OUR OPPRESSION.
THE PROPS WHICH SUPPORT THIS ESTABLISHMENT MUST BE ATTACKED SIMPLY BECAUSE THERE IS NO OPTION, GIVEN THE NATURE OF THE OPPRESSION EMANATING FROM THE ESTABLISHMENT, IN EXCHANGING A WHITE SET OF OPPRESSORS FOR A BLACK ONE. THAT IS WHY SCHEMES LIKE "BLACK CAPITALISM" HAVE NOT CAUGHT ON IN THE BLACK COMMUNITY; THAT IS WHY SOME YOUNG BLACK PEOPLE ARE CURRENTLY PURSUING A FORMAL EDUCATION WHILE REJECTING THE NORMAL SUCCESS ORIENTED GOAL OF IT.
BLACK PEOPLE HAVE ALWAYS EXISTED -- AND BARELY AT THAT -AT THE SUFFERANCE OF THE ESTABLISHMENT OF THE UNITED STATES.
THAT WAS TRUE NEARLY 100 YEARS AGO WHEN THE CIVIL WAR ENDED AND WE THOUGHT WE HAVE A CHANCE AT DETERMINING OUR OWN DESTINIES. IT IS HAPPENING NOW AT THE END OF A SIMILAR ERA OF
Last edit 9 months ago by
LB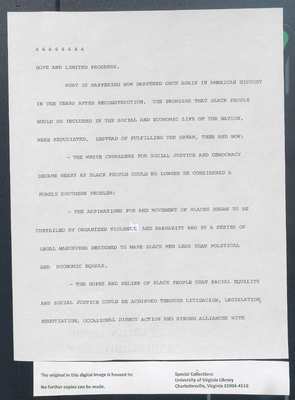 4 4 4 4 4 4 4 4
HOPE AND LIMITED PROGRESS.
WHAT IS HAPPENING NOW HAPPENED ONCE AGAIN IN AMERICAN HISTORY IN THE YEARS AFTER RECONSTRUCTION. THE PROMISES THAT BLACK PEOPLE WOULD BE INCLUDED IN THE SOCIAL AND ECONOMIC LIFE OF THE NATION, WERE REPUDIATED. INSTEAD OF FULFILLING THE DREAM, THEN AND NOW:
-- THE WHITE CRUSADERS FOR SOCIAL JUSTICE AND DEMOCRACY BECAME WEARY AS BLACK PEOPLE COULD NO LONGER BE CONSIDERED A PURELY SOUTHERN PROBLEM;
- THE ASPIRATIONS FOR AND MOVEMENT OF BLACKS BEGAN TO BE CURTAILED BY ORGANIZED VIOLENCE AND BARBARITY AND BY A SERIES OF LEGAL MANUEVERS DESIGNED TO MAKE BLACK MEN LESS THAN POLITICAL AND ECONOMIC EQUALS.
-- THE HOPES AND BELIEF OF BLACK PEOPLE THAT RACIAL EQUALITY AND SOCIAL JUSTICE COULD BE ACHIEVED THROUGH LITIGATION, LEGISLATION, NEGOTIATION, OCCASIONAL DIRECT ACTION AND STRONG ALLIANCES WITH
Last edit 9 months ago by
LB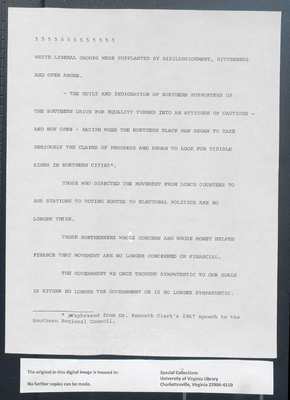 5 5 5 5 5 5 5 5 5 5 5 5 5
WHITE LIBERAL GROUPS WERE SUPPLANTED BY DISILLUSIONMENT, BITTERNESS AND OPEN ANGER.
-- THE GUILT AND INDIGNATION OF NORTHERN SUPPORTERS OF THE SOUTHERN DRIVE FOR EQUALITY TURNED INTO AN ATTITUDE OF CAUTIOUS -AND NOW OPEN -- RACISM WHEN THE NORTHERN BLACK MAN BEGAN TO TAKE SERIOUSLY THE CLAIMS OF PROGRESS AND BEGAN TO LOOK FOR VISIBLE SIGNS IN NORTHERN CITIES*.
THOSE WHO DIRECTED THE MOVEMENT FROM LUNCH COUNTERS TO BUS STATIONS TO VOTING BOOTHS TO ELECTORAL POLITICS ARE NO LONGER THERE.
THOSE NORTHERNERS WHOSE CONCERN AND WHOSE MONEY HELPED FINANCE THAT MOVEMENT ARE NO LONGER CONCERNED OR FINANCIAL.
THE GOVERNMENT WE ONCE THOUGHT SYMPATHETIC TO OUR GOALS IS EITHER NO LONGER THE GOVERNMENT OR IS NO LONGER SYMPATHETIC.
______________________ * paraphrased from Dr. Kenneth Clark's 1967 speech to the Southern Regional Council.
Last edit 9 months ago by
LB