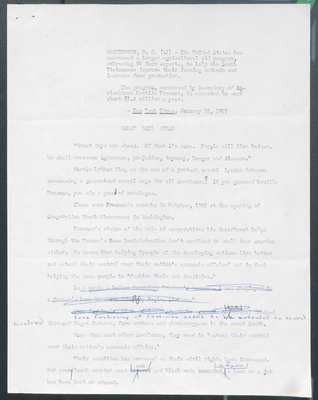 Washington, D.C (AP) - The United States has announced a larger agricultural aid program, embracing 90 farm experts, to help the South Vietnamese improve their farming methods and increase food production.
The program, announced by Secretary of Agriculture Orville Freeman, is expected to cost about $1.4 million a year.
-New York Times, January 15, 1967
GREAT DAYS AHEAD
"Great days are ahead. Of that I'm sure. People will live better. We shall overcome ignorance, prejudice, tryanny, hunger and disease."
Martin Luther King at the end of a protest march? Lyndon Johnson announcing a guaranteed annual wage for all Americans? If you guessed Orville Freeman, you win a pound of rutabagas.
Those were Freeman's remarks in October, 1966 at the opening of Cooperative Month Observence in Washington.
Freeman's vision of the role of cooperatives his department helps through the Farmer's Home Daministration isn't confined to small town America either. He seens them helping "people of the developing nations live better and extend their control over their nation's economic affairs" and in fact helping the same people to "fashion their own destinies."
Some fashioning of destinies needs to extended to several hundred thousand Negro farmers, farm workers and sharecroppers in the rural South.
More than most other Americans, they need to "extend their control over their nation's economic affairs."
Their condition has worsened as their civil rights have increased. For every lunch counter seat won and black vote [illegible], a farm a home or a job has been lost or erased.
Last edit almost 2 years ago by
Ariel Ankrah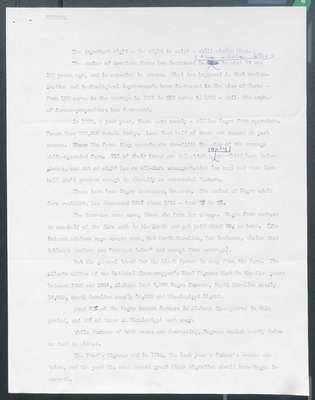 2222222
The important right - the right to exist- still eludes them. The number of American farms has decreased in the middle 60's to what it was 100 years ago, and is expected to worsen. What has happened is that mechanization and technological improvements have increased in the size of farms from 150 acres on the average in 1875 to 359 acres in 1966 - while the number of farmer-propreitors has decreased.
In 1920, a peak year, there were nearly a million Negro farm operators. Fewer than 200,000 remain today. Less than half of these are owners or part owners. The farms they operate are one-fifth the size of the average white-operated farm. 71% of their home are delapidated, only one-third have telephones, one out of eight has no off-farm transportation (no car) and more than half don't produce enough to classify as commercial farmers.
There have been Negro increases, however. The number of Negro adult farm residents has 250% since 1946 - from 2% to 7%.
The increase came among those who farm for a wage. Negro farm workers do one-half of the farm wok in the South and get paid about 80₵ an hour. (The federal minimum wage covers some, but North Carolina, for instance, claims that tobacca workers are "contret labor" and exempt from coverage).
But the general trend for the black farmer is away from the farm. The Atlanta office of the National Sharecropper's Fund figures that in the five years between 1959 and 1964, Alabama lost 9,000 Negro farmers, North Carolina nearly 14,000, South Carolina nearly 10,000 and Mississippi 11,000.
Over 50% of the Negro tenant farmers in Alabama dissapeared in this period, and 45% of those in Mississippi went away.
While farmers of both races are decreasing, Negros vanish nearly twice as fast as whites.
The Fund's figures end in 1964, the last year a farmer's census was taken, and the year the most recent great black migration should have begun in earnest.
Last edit 12 months ago by
LB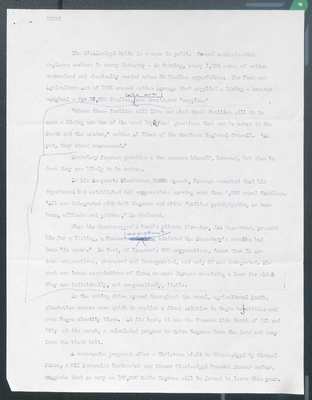 33333
The Mississippi Delta is a case in point. Normal mechanization replaces workers in every industry - farmng, every 1,000 acreas of cotton mechanized and chemically weeded makes 50 familes superfolous. The Food and Agriculture Act of 1965 erased cotton agreage that supplied a living - however marginal - 15,400 families, who are now considered "surplus."
"Where these families will live and what these families will do to earn a living are two of the most imp, ortant questions that can be asked in the South and the nation," writes Al Ulmer of Southern Regional Council. "As yet, they stand unanswered."
Secretary Freeman provides a few answers himself, however, but when he does they are like to be untrue.
In his Cooperate Observance Month speech, Freeman remarked that his department had established 600 copperatives serving more than 8,000 rural families. "All are integrated with both Negroes and white families participating as members, officers and patrons," he declared.
When the Sharecropper's Fund's Atlanta Director, Jac Wasserman, pressed him for a listing, a Freeman assistant admitted the secretary's remarks had been "in error." In fact, Freeman's 600 cooperatives, fewer than 30 are true cooperatives, chartered and incorporated, and only 28 ae integrated. The rest are loose associations of three or more farmers receiving a loan for which they are individually, not cooperatively, liable.
As the voting drive spread throughout the rural, argicultural South, plantation owers were quick to realize a final solution to Negro majorities and even Negro minority bloes. At its best it was the Freedom Ride North of '61 and '62; at its worst, a calculated program to drive Negros from the land and away from the black belt.
A memorandum prepared after a Christmas visit to Mississippi by Michael Piore, a MIT Economics Instructor and former Mississippi Freedom Summer worker, suggests that as many as 100,000 Delta Negroes will be forced to leave this year.
Last edit 12 months ago by
LB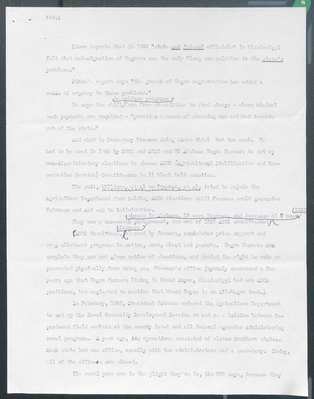 44444
Fiore reports that in 1964 "state and federal officials" in Mississippi felt that out-migration of Negroes was the only "long run solution to the state's problems."
Piore's report says "the growth of Negro registration has added a sense of urgency to these problems."
He says the shift in welfare programs from free comodities to food stamps - where minimal cash payments are required - "provides a means of starving the evicted tenants out of the state."
And what is Secretary Freeman doing about this? Not too much. He had to be sued in 1966 by SNCC and SCLC and 37 Alabama Negro farmers to set up non-discriminatory elections to choose ASCS (Argicultural Stablilization and Conservation Services) Committeemen in 11 black belt countries.
The suit, Williams, et al vs. Freeman, et al, tried to enjoin the Argriculture Department from holding ASCS elections until Freeman could guarantee fairness and and end to intimidation.
They won a one-month postponment, and out of 1827 ASCS committeemen chosen in Alabama, 18 were Negroes, and increase of 7 over 1965
() ASCS Committee, farmers elected by farmers, administer price support and crop allotment programs in cotton, corn, wheat and peanuts. Negro farmers complain they are not given notice of elections, and denied the right to vote or prevented physically from doing so. Freeman's office joyously announced a few years ago that Negro farmers living in Mound Bayou, Mississippi had won ASCS positions, but neglected to mention that Mound Bayou is an all-Negro town.)
In February, 1965, President Johnson ordered the Agriculture Department to set up the Rural Community Development Service to act as a laision between Department field workers at the county level and all federal agencies administering rual programs. A year ago, its operations consisted of eleven Southern states. Each state had one office, usually with two administrators and a secretary. Today, all of the offices are closed.
The rural poor are in the plight they're in, the OEO says, because they
Last edit 12 months ago by
LB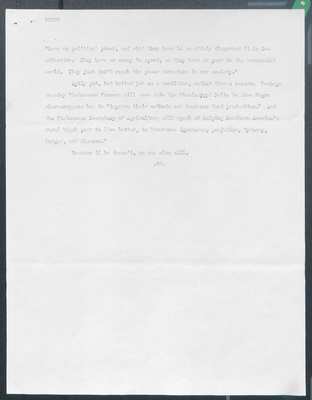 55555
"have no political power, and what they have is so widely dispersed it is ineffective. They have no money to spend, so they have no pwer in the commercial world. They just don't reach the power structure in our society."
Aptly put, but better put as a condition, rather than a reason. Perhaps, someday Vietnamese farmers will come into the Mississippi Delta to show Negro sharecroppers how to "improve their methods and increase food production." And the Vietnamese Secretary of Agriculture will speak of helping Southern America's rural black poor to live better, to "overcome ignorance, prejudice, tyranny, hunger, and disease."
Because if he doesn't, no one else will.
-30-
Last edit 12 months ago by
LB