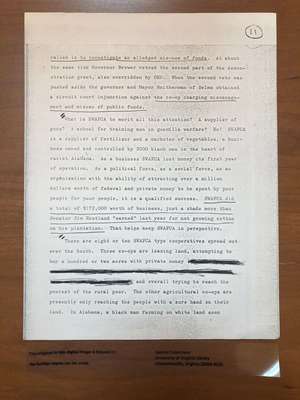 11 called in to investigate an alledged mis-use of funds. At about the same time Governor Brewer vetoed the second part of the demonstration grant, also overridden by OEO. When the second veto was pushed aside the governor and Mayor Smitherman of Selma obtained a circuit court injunction against the co-op charging mismanagement and misuse of public funds.
What is SWAFCA to merit all this attention? A supplier of guns? A school for training men in guerilla warfare? No! SWAFCA is a supplier of fertilizer and a marketer of vegetables, a business owned and controlled by 2000 black men in the heart of racist Alabama. As a business SWAFCA lost money its first year of operation. As a political force, as a social force, as an organization with the ability of attracting over a million dollars worth of federal and private money to be spent by poor people for poor people it is a qualified success. SWAFCA did a total of $172,000 worth of business, just a shade more than Senator Jim Eastland "earned" last year for not growing cotton on his plantation. That helps keep SWAFCA in perspective.
There are eight or ten SWAFCA type cooperatives spread out over the South. Three co-ops are leasing land, attempting to buy a hundred or two acres with private money and overall trying to reach the poorest of the rural poor. The other agricultural co-ops are presently only reaching the people with a sure hand on their land. In Alabama, a black man farming on white land soon
Last edit 4 months ago by
Jannyp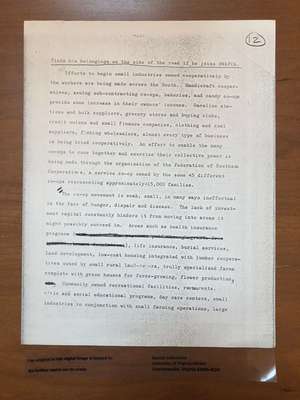 12 finds his belongings on the side of the road if he joins SWAFCA.
Efforts to begin small industries owned cooperatively by the workers are being made across the South. Handicraft cooperatives, sewing sub-contracting co-ops, bakeries, and candy co-ops provide some increase in their owners' incomes. Gasoline stations and bulk suppliers, grocery stores and buying clubs, credit unions and small finance companies, clothing and coal suppliers, fishing wholesalers, almost every type of business is being tried cooperatively. An effort to enable the many co-ops to come together and exercise their collective power is being made through the organization of the Federation of Southern Cooperatives, a service co-op owned by some 45 different co-ops representing approximately 15,000 families.
The co-op movement is weak, small, in many ways ineffectual in the face of hunger, dispair and disease. The lack of investment capital constantly hinders it from moving into areas it might possibly succeed in. Areas such as health insurance programs, life insurance, burial services, land develpment, low-cost housing integrated with lumber cooperatives owned by small rural land-owners, trully specialized farms complete with green houses for force-growing, flower production, Community owned recreational facilities, restaurants, civic and social educational programs, day care centers, small industries in conjunction with small farming operations, large
Last edit 4 months ago by
Jannyp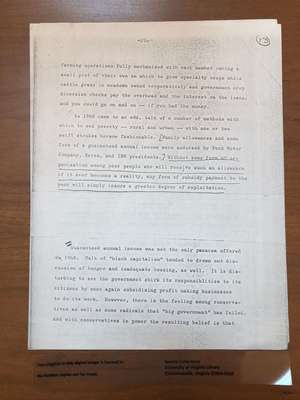 -17- 13
farming operations fully mechanized with each member owning a small plot of their own on which to grow specialty crops while cattle graze in meadows owned cooperatively and government crop diversion checks pay the overhead and the interest on the loans and you could go on and on -- if you had the money.
As 1968 came to an end, talk of a number of methods with which to end poverty -- rural and urban -- with one or two swift strokes became fashionable. [Family allowances and some form of a guaranteed annual income were endorsed by Ford Motor Company, Xerox, and the IBM presidents.] Without some form of organization among poor people who will receive such an allowance if it ever becomes a reality, any form of subsidy payment to the poor will simply insure a great degree of exploitation.
"Guaranteed annual income was not the only panacea offered in 1968. Talk of "black capitalism" tended to drown out discussion of hunger and inadequate housing, as well. It is disturbing to see the government shirk its responsibilities to its citizens by once again subsidizing profit making businesses to do its work. However, there is the feeling among conservatives as well as some radicals that "big government" has failed, and with conservatives in power the resulting belief is that
Last edit over 2 years ago by
Barbara Monroe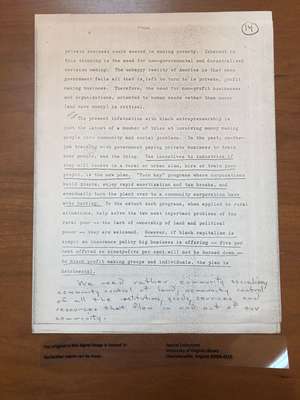 14
private business could succed in ending poverty. Inherent in this thinking is the need for non-governmental and decentralized decision making. The unhappy reality of America is that when government fails all that is left to turn to is private, profit making business. Therefore, the need for non-profit businesses and organizations, oriented to human needs rather than money (and more money) is critical.
The present infatuation with black entrepreneurship is just the latest of a number of tries at involving money making people into community and social problems. In the past, on-thejob training with government paying private business to train poor people, was the thing. Tax incentives to industries if they will locate in a rural or urban slum, hire or train poor people, is the new plan. "Turn key" programs where corporations build plants, enjoy rapid amortization and tax breaks, and eventually turn the plant over to a community corporation have wide backing. To the extent such programs, when applied to rural situations, help solve the two most important problems of the rural poor -- the lack of ownership of land and political power -- they are welcomed. However, if black capitalism is simply an insurance policy big business is offering -- five per cent offered so ninety-five per cent will not be burned down -to black profit making groups and individuals, the plan is detrimental.
We need rather community socialism, community control of law, community control of all the institutions, goods, services and resources that flow in and out of our community.
Last edit 3 months ago by
Jannyp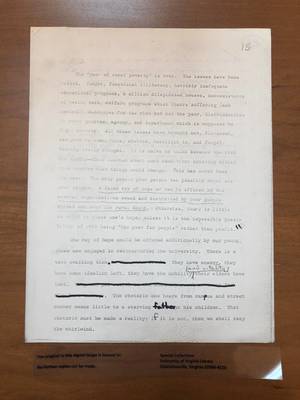 15
The "year of rural poverty" is over. The issues have been raised. Hunger, functional illiteracy, horribly inadequate educational programs, a million dilapidated houses, non-existence of health care, welfare programs which insure suffering (and control), subsidies for the rich but not the poor, discrimination in every program, agency, and department which is supposed to fight poverty. All these issues were brought out, discussed, assigned to committees, shelved, testified to, and forgot. Nothing really changed. It is naive to think because the rich and middle-class learned about such conditions existing within this country that things would change. This has never been the case. The only people poor people can possibly trust are poor people. A faint ray of hope or two is offered by the several organizations owned and controlled by poor people spread out over the rural South. Otherwise, there is little in which to place one's hope, unless it is the impossible possibility of 1969 being "the year for people" rather than profit.
One ray of hope could be offered additionally by our young, those now engaged in restructuring the university. There is a task awaiting them. They have energy, they have some idealism left, they have the mobility and vitality their elders have lost. The rhetoric one hears from campus and street corner means little to a starving father or his children. That rhetoric must be made a reality; if it is not, then we shall reap the whirlwind.
Last edit 3 months ago by
Jannyp
Displaying Page 11 - 15 of 17 in total