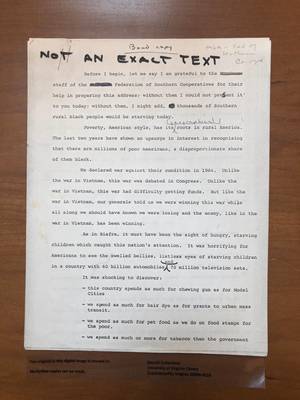 Bond copy 1969 - Fed of Souther Co-ops
NOT AN EXACT TEXT
Before I begin, let me say I am grateful to the staff of the Federation of Southern Cooperatives for their help in preparing this address; without them I could not present it' to you today; without them, I might add, thousands of Southern rural black people would be starving today.
Poverty, American style, has its geographical roots in rural America. The last two years have shown an upsurge in interest in recognizing that there are millions of poor Americans, a disproportionate share of them black.
We declared war against their condition in 1964. Unlike the war in Vietnam, this war was debated in Congress. Unlike the war in Vietnam, this war had difficulty getting funds. But like the war in Vietnam, our generals told us we were winning this war while all along we should have known we were losing and the enemy, like in the war in Vietnam, has been winning.
As in Biafra, it must have been the sight of the hungry, starving children which caught this nation's attention. It was horrifying for Americans to see the swelled bellies, listless eyes of starving children in a country with 60 billion automobiles and 70 million television sets.
It was shocking to discover:
- this country spends as much for chewing gum as for Model Cities
- we spend as much for hair dye as for grants to urban mass transit.
- we spend as much for pet food as we do on food stamps for the poor.
- we spend as much or more for tabacco than the government
Last edit 5 months ago by
Jannyp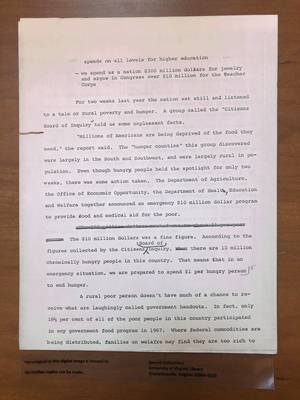 spends on all levels for higher education
- we spend as a nation $300 million dollars for jewelry and argue in Congress over $10 million for the Teacher Corps
For two weeks last year the nation sat still and listened to a tale or rural poverty and hunger. A group called the "Citizens Board of Inquiry" told us some unpleasant facts.
"Millions of Americans are being deprived of the food they need," the report said. The "hunger counties" this group discovered were largely in the South and Southwest, and were largely rural in population. Even though hungry people held the spotlight for only two weeks, there was some action taken. The Department of Agriculture, the Office of Economic Opportunity, the Department of Health, Education and Welfare together announced an emergency $10 million dollar program to provide food and medical aid for the poor.
The $10 million dollars was a fine figure. According to the figures collected by the Citizens Board of Inquiry, there are 10 million chronically hungry people in this country. That means that in an emergency situation, we are prepared to spend $1 per hungry person to end hunger.
A rural poor person doesn't have much of a chance to receive what are laughingly called government handouts. In fact, only 18 1/2 per cent of all of the poor people in this country participated in any government food program in 1967. Where federal commodities are being distributed, families on welafre may find they are too rich to
Last edit 5 months ago by
Jannyp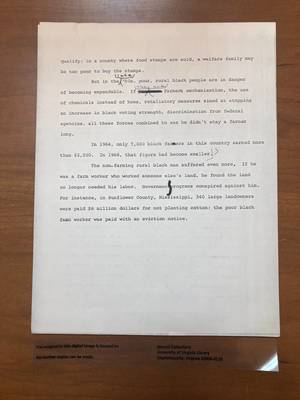 qualify; in a country where food stamps are sold, a welfare family may be too poor to buy the stamps.
But in the late "60s, poor, rural black people are in danger of becoming expendable. If they are farmers, mechanization, the use of chemicals instead of hoes, retaliatory measures aimed at stopping an increase in black voting strength, discrimination from federal agencies, all these forces combined to see he didn't stay a farmer long.
In 1964, only 7,000 black farmers in this country earned more than $2,500. In 1968, that figure had become smaller.
The non-farming rural black man suffered even more. If he was a farm worker who worked someone else's land, he found the land no longer needed his labor. Government programs conspired against him. For instance, in Sunflower County, Mississippi, 340 large landowners were paid $6 million dollars for not planting cotton; the poor black farm worker was paid with an eviction notice.
Last edit over 2 years ago by
JohnModica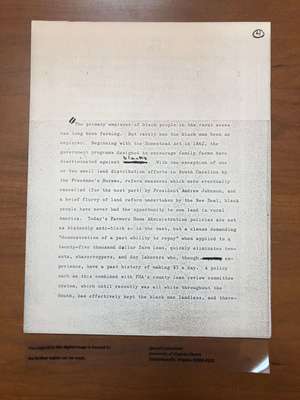 "The primary employer of black people in the rural areas has long been farming. But rarely has the black man been an employer. Beginning with the Homestead Act in 1862, the government programs designed to encourage family farms have discriminated against blacks. With the exception of one or two small land distribution efforts in South Carolina by the Freedman's Bureau, reform measures which were eventually cancelled (for the most part) by President Andrew Johnson, and a brief flurry of land reform undertaken by the New Deal, black people have never had the opportunity to own land in rural America. Today's Farmers Home Administration policies are not as blatantly anti-black as in the past, but a clause demanding "demonstration of a past ability to repay" when applied to a twenty-five thousand dollar farm loan, quickly eliminates tenants, sharecroppers, and day laborers who, though experience, have a past history of making $3 a day. A policy such as this combined with FHA's county loan review committee system, which until recently was all white throughout the South, has effectively kept the black man landless, and there-
Last edit over 2 years ago by
JohnModica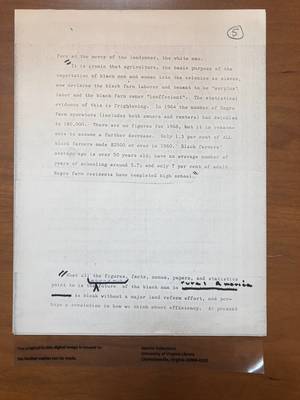 5
-fore at the mercy of the landowner, the white man.
"It is ironic that agriculture, the basic purpose of the importation of black men and women into the colonies as slaves, now declares that black farm laborer and tenant to be "surplus" labor and the black farm owner "inefficient." The statistical evidence of this is frightening. In 1964 the number of Negro farm operators (includes both owners and renters) had dwindled to 180,000. There are no figures for 1968, but it is reasonable to assume a further decrease. Only 1.3 per cent of ALL black farmers made $2500 or over in 1960. Black farmers' average age is over 50 years old; have an average number of years of schooling around 5.7; and only 7 per cent of adult Negro farm residents have completed high school."
"What all the figures, facts, memos, papers, and statistics point to is the economic future of the black man in rural America is bleak without a major land reform effort, and perhaps a revolution in how we think about efficiency. At present
Last edit over 2 years ago by
JohnModica
Displaying Page 1 - 5 of 17 in total