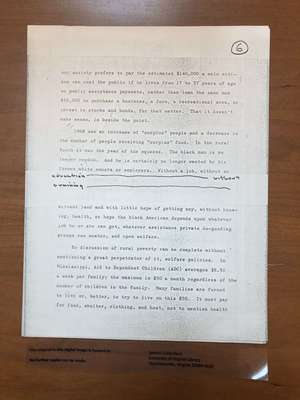 6
our society prefers to pay the estimated $140,000 a male citizen cant cost the public if he lives from 17 to 57 years of age on public assistance payments, rather than loan the same man $50,000 to purchase a business, a farm, a recreational area, or invest in stocks and bonds, for that matter. That it doesn't make sense, is beside the point.
"1968 saw an increase of "surplus" people and a decrease in the number of people receiving "surplus" food. In the rural South it was the year of the squeeze. The black man is no longer needed. And he is certainly no longer wanted by his former white owners or employers. Without a job, without an education-------------------------------------------------------without training-------------------------------------------------------------------- without land and with little hope of getting any, without housing, health, or hope the black American depends upon whatever job he or she can get, whatever assistance private do-gooding groups can muster, and upon welfare.
No discussion of rural poverty can be complete without mentioning a great perpetrator of it, welfare policies. In Mississippi, Aid to Dependent Children (ADC) averages $8.50 a week per family; the maximum is $50 a month regardless of the number of children in the family. Many families are forced to live or, better, to try to live on this $50. It must pay for food, shelter, clothing, and heat, not to mention health
Last edit over 2 years ago by
JohnModica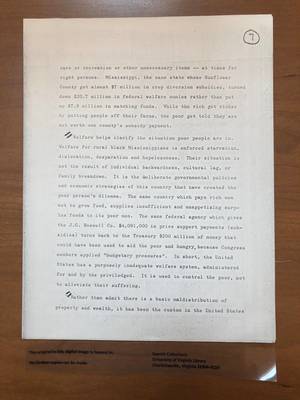 7 care or recreation or other unnecessary items -- at times for eight persons. Mississippi, the same state whose Sunflower County got almost $7 million in crop diversion subsidies, turned down $20.7 million in federal welfare monies rather than put up $7.9 million in matching funds. While the rich get richer by putting people off their farms, the poor get told they are not worth one county's subsidy payment.
"Welfare helps clarify the situation poor people are in. Welfare for rural black Mississippians is enforced starvation, dislocation, desparation and hopelessness. Their situation is not the result of individual backwardness, cultural lag, or family breakdown. It is the deliberate governmental policies and economic strategies of this country that have created the poor person's dilemma. The same country which pays rich men not to grow food, supplies insufficient and unappetizing surplus foods to its poor men. The same federal agency which gives the J.G. Boswell Co. $4,091,000 in price support payments (subsidies) turns back to the Treasury $200 million of money that could have been used to aid the poor and hungry, because Congress members applied "budgetary pressures". In short, the United States has a purposefully inadequate welfare system, administered for and by the privileged. It is used to control the poor, not to alleviate their suffering.
"Rather than admit there is a basic maldistribution of property and wealth, it has been the custom in the United States
Last edit over 2 years ago by
JohnModica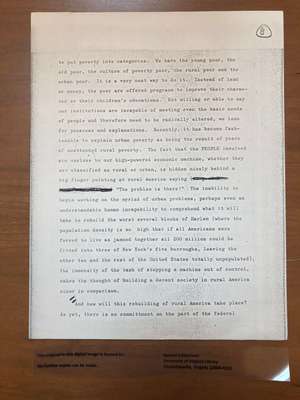 8
to put poverty into categories. We have the young poor, the old poor, the culture of poverty poor, the rural poor and the urban poor. It is a very neat way to do it. Instead of land or money, the poor are offered programs to improve their character or their children's educations. Not willing or able to say our institutions are incapable of meeting even the basic needs of people and therefore need to be radically altered, we look for panaceas and explanations. Recently, it has become fashionable to explain urban poverty as being the result of years of unattended rural poverty. The fact that the PEOPLE involved are useless to our high-powered economic machine, whether they are classified as rural or urban, is hidden nicely behind a big finger pointing at rural America saying "The problem is there!" The inability to begin working on the myriad of urban problems, perhaps even an understandable human incapability to comprehend what it will take to rebuil the worst several blocks of Harlem (where the population density is so high that if all Americans were forced to live as jammed together all 200 million could be fitted into three of New York's five burroughs, leaving the other two and the rest of the United States totally unpopulated), the immensity of the task of stopping a machine out of control, makes the thought of builing a decent society in rural America minor in comparison.
"And how will this rebuilding of rural America take place? As yet, there is no committment on the part of the federal
Last edit over 2 years ago by
JohnModica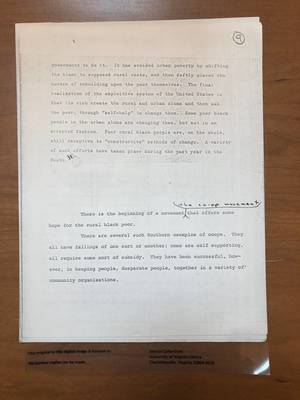 9
government to do it. It has avoided urban poverty by shifting the blame to suppposed rural roots, and then deftly placed the burden of rebuilding upon the poor themselves. The final realization of the exploitive system of the United States is that its rich create the rural and urban slums and then ask the poor, through "self-help" to change them. Some poor black people in the urban slums are changing them, but not in an accepted fashion. Poor rural black people are, on the whole, still receptive to "constructive" methods of change. A variety of such efforts have taken place during the past year in the South."
There is the beginning of a movement the co-op movementthat offers some hope for the rural black poor.
There are several such Southern examples of coops. They all have failings of one sort or another; none are self supporting, all require some sort of subsidy. They have been successful, however, in keeping people, desparate people, together in a variety of' community organizations.
Last edit over 2 years ago by
JohnModica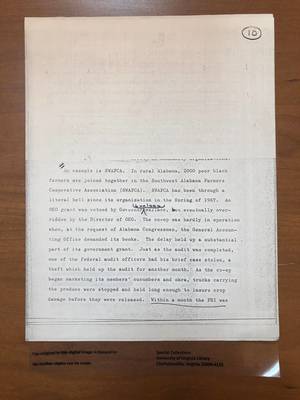 An example is SWAFCA. In rural Alabama, 2000 poor black farmers are joined together in the Southwest Alabama Farmers Cooperative Association (SWAFCA). SWAFCA has been through a literal hell since its organization in the Spring of 1967. An OEO grant was vetoed by Governor Lurleen Wallace, but eventually overridden by the Director of OEO. The co-op was hardly in operation when, at the request of Alabama Congressmen, the General Accounting Office demanded its books. The delay held up a substantial part of its government grant. Just as the audit was completed, one of the federal audit officers had his brief case stolen, a theft which held up the audit for another month. As the co-op began marketing its members' cucumbers and okra, trucks carrying the produce were stopped and held long enough to insure crop damage before they were released. Within a month the FBI was
Last edit over 2 years ago by
Heather Higgins
Displaying Page 6 - 10 of 17 in total