Remarks of Ray Wilkins of New York, N.Y., executive director of the National Association for the Advancement of Colored Poeple, at the symposium on Civil Rights at the Lyndon Baines Johnson Library at the University of Texas, Austin, Texas. December 11, 1972. 9:00 a.m. EST
The Decade, 1960 - 1970
As this symposium topic suggests, the civil rights period includes the principal events covered by the years from 1960 to 1970. I am grateful to the symposium sponsors for the invitation to make this contribution to the discussion.
It is easy, after even a casual review of the events of this decade, to conclude that this period is one of those constituting a great leap forward for our nation in this civil rights field.
It was a time of significant history. It was a time of excitement. It was a time of satisfying achievement. It was a time of sadness, a period marked by assassination, used as a weapon to try to halt social progress.
Who now living can forget the striking down, in 1963, of a young and vital President of the United States? Or the healing words and acts of his strong successor, striving to keep the nation on an even keel during the turbulent years?
The time was one of significant history. It was best said, perhaps by President Lyndon B. Johnson in his memorable speech in the Spring of 1965:
"In our time we have come to live with moments of great crisis. Our lives have been marked with debate about great issues;
Last edit about 1 year ago by
Ronda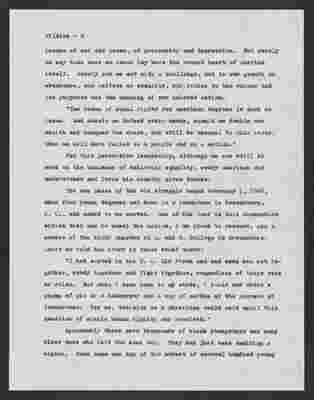 Wilkins - 2
issues of war and peace, of prosperity and depression. But rarely in any of time does an issue lay bare the secret heart of America itself. Rarely are we met with a challenge, not to our growth or abundance, our welfare or security, but rather to the values and the purposes and the meaning of our beloved nation.
"The issue of equal rights for American Negroes is such an issue. And should we defeat every enemy, should we double our wealth and conquer the stars, and still be unequal to this issue, then we will have failed as a people and as a nation."
For this perceptive leadership, although we are still at work on the business of achieving equality, every American who understands and loves his country gives thanks.
This new phase of the old struggle began on February 1, 1960, when four young Negroes sat down in a lunchroom in Greensboro, N. C., and asked to be served. One of the four in this Greensboro sit-in that was to sweep the nation, I am proud to recount, was a member of the NAACP chapter at A. and T. College in Greensboro. Later he told his story in these brief words:
"I had served in the U. S. Air Force and had seen men eat together, study together and fight together, regardless of their race or color. But when I came home to my state, I could not order a piece of pie or a hamburger and a cup of coffee at the poorest of lunchrooms. For me, training as a physician could wait until this question of simple human dignity was resolved."
Apparently there were thousands of black youngsters and many older ones who felt the same way. They had just been awaiting a signal. News came one day of the arrest of several hundred young
Last edit about 1 year ago by
Ronda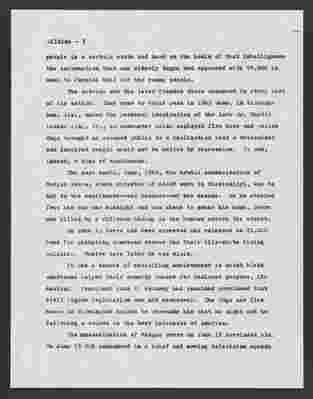 Wilkins - 3
people in a certain state and hard on the heels of that intelligence the information that one elderly Negro had appeared with $4,000 in cash to furnish bail for the young people.
The sit-ins and the later Freedom Rides occurred in every part of the nation. They rose to their peak in 1963 when, in Birmingham, Ala., under the personal inspiration of the late Dr. Martin Luther King, Jr., an encounter which employed fire hose and police dogs brought an aroused public to a realization that a determined and inspired people could not be halted by repression. It was, indeed, a time of excitement.
The next month, June, 1963, the brutal assassination of Medgar Evers, state director of NAACP work in Mississippi, was to add to the excitement--and sadness--of the decade. As he stepped from his car one midnight and was about to enter his home, Evers was killed by a rifleman hiding in the bushes across the street.
On June 1, Evers had been arrested and released on $1,000 bond for picketing downtown stores for their lily-white hiring policies. Twelve days later, he was slain.
It was a decade of satisfying achievement in which black Americans helped their country toward its declared purpose, its destiny. President John F. Kennedy had remained convinced that civil rights legislation was not necessary. The dogs and fire hoses in Birmingham helped to persuade him that he might not be following a course in the best interests of America.
The assassination of Medgar Evers on June 12 convinced him. On June 19 JFK announced in a brief and moving television speech
Last edit about 1 year ago by
Carla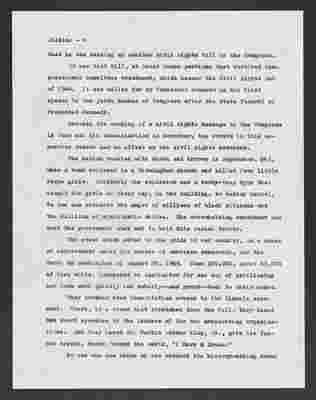 that he was sending an omnibus civil rights bill to the Congress.
It was that bill, at least those portions that survived Congressional committee treatment, which became the Civil Rights Act of 1964. It was called for by President Johnson in his first speech to the joint houses of Congress after the state funeral of President Kennedy.
Between the sending of a civil rights message to the Congress in June and his assassination in November, two events in this momentous decade had an effect on the civil rights movement.
The nation reacted with shock and horror in September, 1963, when a bomb exploded in a Birmingham church and killed four little Negro girls. Evidently the explosion was a booby-trap type that caught the girls on their way, in the building, to Sunday School. No one can estimate the anger of millions of black citizens and the millions of sympathetic whites. The overwhelming sentiment was that the government must set to halt this racial terror.
The event which added to the pride in our country, in a sense of achievement under the system of American democracy, was the March on Washington of August 28, 1963. Some 220,000, about 40,000 of them white, journeyed to Washington for one day of petitioning and then went quietly and soberly--and proud--back to their homes.
They marched down Constitution avenue to the Lincoln monument. There, in a crowd that stretched down the Mall, they heard ten short speeches by the leaders of the ten cooperating organizations. And they heard Dr. Martin Luther King, Jr., give his famous speech, heard 'round the world, "I Have a Dream."
No one who was there or who watched the history-making event
Last edit about 1 year ago by
Chris Ruotolo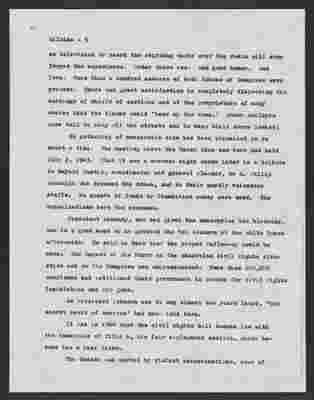 Wilkins - 5
on television or heard the stirring words over the radio will ever forget the experience. Order there was. And good humor. And love. More than a hundred members of both Houses of Congress were present. There was great satisfaction in completely disproving the warnings of chiefs of sections and of the proporetors of many stores that the blacks would "tear up the town." Women employes were told to stay off the streets and to keep their doors locked!
No gathering of comparable size has been organized in so short a time. The meeting where the March idea was born was held July 2, 1963. That it was a success eight weeks later is a tribute to Bayard Rustin, coordinator and general planner, to A. Philip Randolph who dreamed the dream, and to their mostly volunteer staffs. No grants of funds or foundation money were used. The organizations bore the expenses.
President Kennedy, who had given the enterprise his blessing, was in a good mood as he greeted the ten leaders at the White House afterwards. He said he knew that the proper follow-up would be made. the impact of the March on the unsettled civil rights situation and on the Congress was unprecedented. More than 200,000 Americans had petitioned their government in person for civil rights legislation and for jobs.
As President Johnson was to say almost two years later, "the secret heart of America" had been laid bare.
It was in 1964 that the civil rights bill became law with the exception of Title 6, the fair employment section , which became law a year later.
The decade was marked by violent assassinations, some of
Last edit about 1 year ago by
Christina Deane