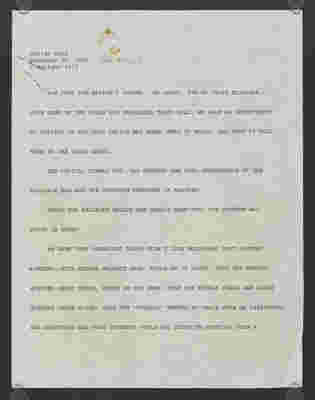 NOW THAT THE NATION'S VOTERS - AT LEAST, 54% OF THOSE ELIGIBLE - HAVE GONE TO THE POLLS AND EXPRESSED THEIR WILL, WE HAVE AN OPPORTUNITY TP REFLECT ON WHY THAT CHOICE WAS MADE, WHAT IT MEANT, AND WHAT IT WILL MEAN IN THE YEARS AHEAD.
THE CHOICE, SIMPLY PUT, WAS BETWEEN THE PAST PERFORMANCE OF ONE FALLIBLE MAN AND THE UNPROVED PROMISES OF ANOTHER.
THOSE WHO BELIEVED GALLUP AND HARRIS KNEW THAT THE OUTCOME WAS NEVER IN DOUBT.
WE KNEW THAT ORGANIZED LABOR DIDN'T LIKE MCGOVERN; THAT FACTORY WORKERS, WITH GEORGE WALLACE GONE, WOULD GO TO NIXON; THAT THE WEALTHY, WORRIED ABOUT TAXES, WOULD DO THE SAME; THAT THE MIDDLE CLASS SAW SAFER STREETS UNDER NIXON; THAT THE "ETHNICS" WANTED TO CRACK DOWN ON DISSENTERS AND DESERTERS AND THAT STUDENTS COULD NOT STICK TO ANYTHING OVER A
Last edit about 1 year ago by
Meredith Merna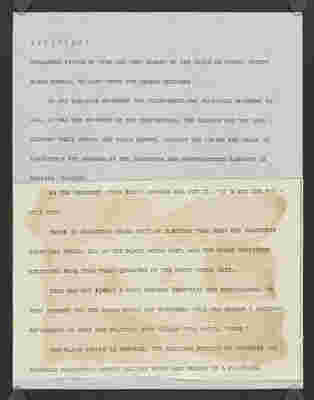 PROLONGED PERIOD OF TIME AND THAT ALMOST NO ONE COULD BE FOUND, EXCEPT BLACK PEOPLE; TO CAST VOTES FOR GEORGE MCGOVERN.
IF THE ELECTION NOVEMBER 7TH ILLUMINATED ANY POLITICAL MOVEMENT AT ALL, IT WAS THE MOVEMENT OF THE COMFORTABLE, THE CALLOUS AND THE SMUG CLOSING THEIR RANKS, AND THEIR HEARTS, AGAINST THE CLAIMS AND CALLS TO CONSCIENCE PUT FORWARD BY THE FORGOTTEN AND UNREPRESENTED ELEMENTS IN AMERICA SOCIETY.
AS THE REVEREND JESSE LOUIS JACKSON HAS PUT IT, "IT'S NOT THE BUS - IT'S US."
THERE IS SOMETHING WRONG WITH AN ELECTION THAT SEES ONE CANDIDATE RECIEVING NEARLY ALL OF THE BLACK VOTES CAST, AND THE OTHER CANDIDATE RECEIVING MORE THAN THREE-QUARTERS OF THE WHITE VOTES CAST.
THS WAS NOT SIMPLY A RACE BETWEEN DEMOCRATS AND REPUBLICANS, OR EVEN BETWEEN TWO MEN NAMED NIXON AND MCGOVERN- THIS WAS RATHER A NATIONAL REFERENDUM ON WHAT WAS POLITELY BEEN CALLED "THE SOCIAL ISSUE."
FOR BLACK PEOPLE IN AMERICA, THE ELECTION RESULTS ON NOVERMBER 7TH SIGNALED CONSIGNING NEARLY ALL OUR HOPES AND DREAMS TO A POLITICAL
Last edit about 1 year ago by
Meredith Merna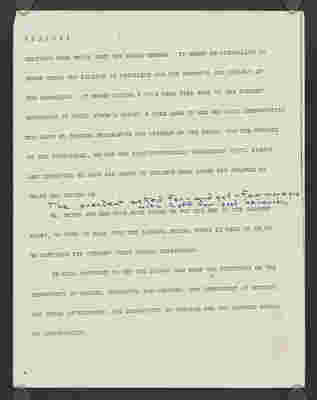 OBLIVION FROM WHICH THEY MAY NEVER EMERGE. IT MEANT RE-INSTALLING IN POWER THOSE WHO BELIEVE IN PRIVILEGE FOR THE POWERFUL AND NEGLECT OF THE POWERLESS. IT MEANT GIVING A FOUR YEAR FREE HAND TO THE CURRENT OCCUPANTS OF UNCLE STROM'S CABIN, A FREE HAND TO MEN WHO HAVE DEMONSTRATED THEY HAVE NO CONCERN WHATSOEVER FOR FREEDOM OF THE PRESS, FOR THE PRIVACY OF THE INDIVIDUAL, OR FOR THE CONSTITUTIONALLY GUARANTEED CIVIL RIGHTS AND LIBERTIES WE HAVE ALL BEGUN TO BELIEVE WERE TAKEN FOR GRANTED BY THOSE WHO GOVERN US.
THE PRESIDENT ASKED FOR - AND GOT - FOUR MORE YEARS WITH 2 OFF FOR GOOD BEHAVIOR. MR. NIXION NOW HAS FOUR MORE YEARS TO PUT HIS MEN ON THE SUPREME COURT, TO TURN IT BACK INTO THE LIBERAL SOCIAL FORCE IT USED TO BE OR TO CONTINUE ITS CURRENT TREND TOWARD REPRESSION.
HE WILL CONTINUE TO SET THE BUDGET AND NAME THE DIRECTORS OF THE DEPARTMENT OF HEALTH, EDUCATION AND WELFARE, THE DEPARTMENT OF HOUSING AND URBAN DEVELOPMENT, THE DEPARTMENT OF JUSTICE AND THE FEDERAL BUREAU OF INTIMIDATION.
Last edit about 1 year ago by
Meredith Merna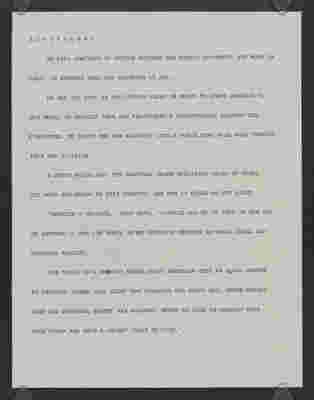 HE WILL CONTINUE TO DECIDE WHETHER OUR WEEKLY PAYCHECKS BUY MORE OR LESS, OR WHETHER THEY BUY ANYTHING AT ALL.
HE HAS GOT NOW, IN FACT, THREE YEARS IN WHICH TO SHAPE AMERICA TO HIS MOLD, TO RECRUIT FROM THE FRIGHTENED A CONSTITUENCY AGAINST THE FORGOTTEN, TO SHAPE THE NEW MAJORITY INTO A FORCE THAT WILL RULE THROUGH FEAR AND DIVISION.
A SHORT WHILE AGO, THE NATIONAL URBAN COALITION TRIED TO SPELL OUT WHAT WAS WRONG IN THIS COUNTRY, AND HOW IT COULD BE SET RIGHT.
"AMERICA'S MALAISE," THEY SAID, "--WHICH ALL OF US FEEL IN ONE WAY OR ANOTHER -- HAS ITS ROOTS IN THE DISTANCE BETWEEN NATIONAL IDEAL AND NATIONAL REALITY."
OUR IDEAL IS A COUNTRY WHERE EVERY AMERICAN GETS AN EQUAL CHANCE TO PERFORM, WHERE JOBS EXIST FOR EVERYONE WHO WANTS ONE, WHERE HEALTH CARE AND PERSONAL SAFETY ARE ASSURED, WHERE WE LIVE IN HARMONY WITH EACH OTHER AND HAVE A DECENT PLACE TO LIVE."
Last edit about 1 year ago by
Meredith Merna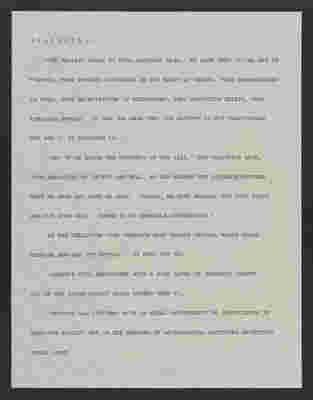 "OUR REALITY NEEDS NO FULL RECIATAL HERE. WE KNOW THAT CITIES ARE IN TROUBLE, THAT POVERTY CONTINUES IN THE MIDST OF WEALTH, THAT UNEMPLOYMENT IS HIGH, THAT MALNUTRITION IS WIDESPREAD, THAT INJUSTICE EXIST, THAT TENSIONS ENDURE. IN SUM, WE KNOW THAT OUR SOCIETY IS NOT FUNCTIONING THE WAY IT IS SUPPOSED TO."
"BUT IF WE SOLVE THE GREATEST OF OUR ILLS," THE COALITION SAID, "OUR PARALYSIS OF SPIRIT AND WILL, WE CAN NARROW THE DISTANCE BETWEEN WHAT WE HAVE AND WHAT WE WANT. INDEED, WE MUST MARSHAL OUR GOOD SENSE AND OUR GOOD WILL. THERE IS NO SENSIBLE ALTERNATIVE."
IN THE COALITION VIEW "AMERICA MUST PURSUE SEVERAL MAJOR GOALS BETWEEN NOW AND THE FUTURE." IT MUST TRY TO:
"ACHIEVE FULL EMPLOYMENT WITH A HIGH LEVEL OF ECONOMIC GROWTH: ALL OF OUR OTHER POLICY GOALS DEPEND UPON IT,
"PROVIDE ALL CITIZENS WITH AN EQUAL OPPORTUNITY TO PARTICIPATE IN AMERICAN SOCIETY AND IN THE SHAPING OF GOVERNMENTAL DECISIONS AFFECTING THEIR LIVES.
Last edit about 1 year ago by
Meredith Merna
Displaying Page 1 - 5 of 23 in total