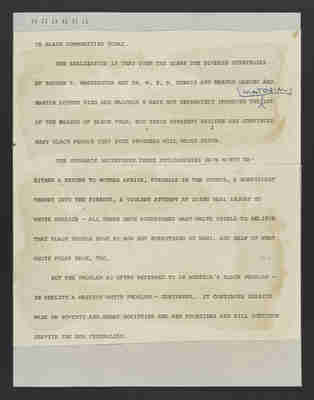 IN BLACK COMMUNITIES TODAY.
THE REALIZATION IS THAT OVER THE YEARS THE DIVERSE STRATEGIES OF BOOKER T. WASHINGTON AND DR. W. E. B. DUBOIS AND MARCUS GARVEY AND MARTIN LUTHER KING AND MALCOLM X HAVE NOT SEPARATELY IMPROVED THE MATERIAL LOT OF THE MASSES OF BLACK FOLK, BUT THEIR APPARENT FAILURE HAS CONVINCED MANY BLACK PEOPLE THAT SUCH PROGRESS WILL NEVER OCCUR.
THE SEPERATE AGITATIONS THESE PHILOSOPHIES GAVE BIRTH TO EITHER A RETURN TO MOTHER AFRICA, STRUGGLE IN THE COURTS, A NONVIOLENT THRUST INTO THE STREETS, A VIOLENT ATTEMPT AT DOING REAL INJURY TO WHITE AMERICA - ALL THESE HAVE ACCUSTOMED MANY WHITE PEOPLE TO BELIEVE THAT BLACK PEOPLE HAVE BY NOW GOT EVERYTHING WE WANT, AND HALF OF WHAT WHITE FOLKS HAVE, TOO.
BUT THE PROBLEM SO OFTEN REFFERED TO AS AMERICA'S BLACK PROBLEM IN REALITY A MASSIVE WHITE PROBLEM - CONTINUES. IT CONTINUES DESPITE WARS ON POVERTY AND GREAT SOCIETIES AND MEN FRONTIERS AND WILL CONTINUE DESPITE THE NEW FEDERALISM
Last edit 10 months ago by
Greer Moore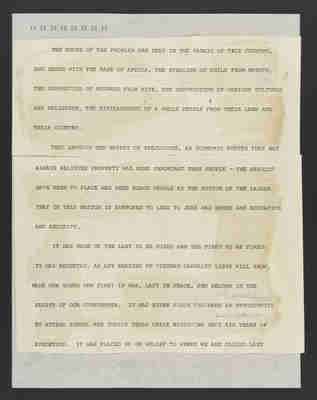 THE ROOTS OF THE PROBLEM ARE DEEP IN THE FABRIC OF THIS COUNTRY. AND BEGAN WITH THE RAPE OF AFRICA, THE STEALING OF CHILD FROM MOTHER, AND SEPERATION OF HUSBAND FROM WIFE, THE DESTRUXCTION OF VARIOUS CULTURES AND RELIGIONS, THE DISPLACEMENT OF A WHOLE PEOPLE FROM THEIR LAND AND THEIR COUNTRY.
THEY INVOLVE THE BASEST OF PREJUDICES, AN ECONOMIC SYSTEM THAT HAS ALWAYS BELIEVED PROPERTY WAS MORE IMPORTANT THAT PEOPLE - THE RESULTS HAVE BEEN TO PLACE AND KEEP BLACK PEOPLE AT THE BOTTOM OF THE LADDER THAT IN THIS NATION IS SUPPOSED TO LEAD TO JOBS AND HOMES AND EDUCATION AND SECURITY.
IT HAS MADE US THE LAST TO BE HIRED AND THE FIRST TO BE FIRED; IT . HAS RECENTLY, AS ANY READING OF VIETNAM CASUALTY LISS WILL SHOW, MADE OUR YOUNG MEN FIRST IN WAR, LAST IN PEACE, AND SELDOM IN THE HEARTS OF OUR COUNTRYMEN. IT HAS GIVEN BLACK CHILDREN AN OPPORTUNITY TO ATTEND SLCHOOL FOR TWELVE YEARS WHILE RECEIVING ONLY SIX YEARS OF EDUCATION. IT HAS PLACED US ON RELIEF TO WHERE WE ARE CALLED LAZY
Last edit 10 months ago by
Greer Moore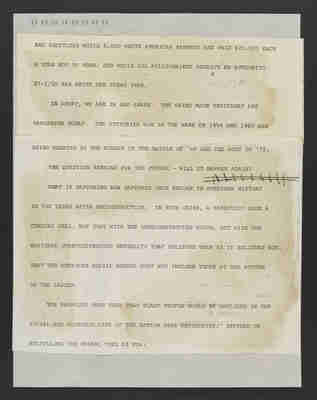 AND SHIFTLESS WHILE 6,000 WHITE AMERICAN FARMERS ARE PAID $25,000 EACH A YEAR NOT TO WORK, AND WHILE OIL MILLIONAIRES RECIEVE AN AUTOMATIC 27-1/2% TAX WRITE OFF EVERY YEAR.
IN SHORT, WE ARE IN BAD SHAPE. THE GAINS MADE YESTERDAY ARE VANISHING TODAY. THE VICTORIES WON IN THE WARS OF 1954 AND 1960 ARE BEING NEGATED BY THE WINNER OF THE BATTLE IN '68 AND THE ROUT OF '72.
THE QUESTION REMAINS FOR THE FUTURE - WILL IT HAPPEN AGAIN?
WHAT IS HAPPENING NOW HAPPENED ONCE BEFORE IN AMERICAN HISTORY IN THE YEARS AFTER RECONSTRUCTION. IN BOTH CASES, A PRESIDENT MADE A CYNICAL DEAL, NOT JUST WITH THE UNRESTRUCTURED SOUTH, BUT WITH THE NATIONAL UNRECONSTRUCTED MENTALITY THAT BELIEVED THEN AS IT BELIEVES NOW. THAT THE AMERICAN SOCIAL AGENDA MUST NOT INCLUDE THOSE AT THE BOTTOM OF THE LADDER.
THE PROMISES MADE THEN THAT BLACK PEOPLE WOULD BE INCLUDED IN THE SOCIAL AND ECONOMIC LIFE OF THE NATION WERE REPUDIATED. INSTEAD OF FUFILLING THE DREAM, THEN AS NOW:
Last edit 10 months ago by
Greer Moore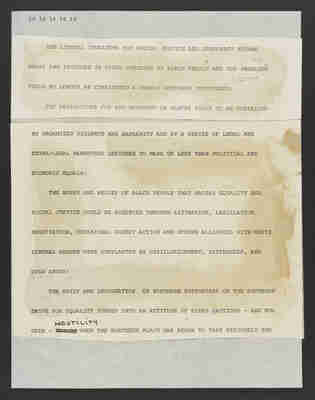 THE LIBERAL CRUSADERS FOR SOCIAL JUSTICE AND DEMOCRACY BECAME WEARY AND INVOLVED IN OTHER CONCERNS AS BLACK PEOPLE AND OUR PROBLEMS COULD NO LONGER BE CONSIDERED A PURELY SOUTHERN PHENOMENON;
THE ASPIRATIONS FOR AND MOVEMENT OF BLACKS BEGAN TO BE CURTAILED BY ORGANIZED VIOLENCE AND BARBARITY AND BY A SERIES OF LEGAL AND EXTRA-LEGAL MEANEUVERS DESIGNED TO MAKE US LESS THAN POLITICAL AND ECONOMIC EQUALS;
THE HOPES AND BELIEF OF BLACK PEOPLE THAT RACIAL EQUALITY AND SOCIAL JUSTICE COULD BE ACHIEVED THROUGH LITIGATION, LEGISLATION. NEGOTIATION, OCCASIONAL DIRECT ACTION AND STRONG ALLIANCES WITH WHITE LIBERAL GROUPS WERE SUPPLANTED BY DISILLUSIONMENT, BITTERNESS, AND OPEN ANGER;
THE GUILT AND INDIGNATION OF NOTHERN SUPPORTERS OF THE SOUTHERN DRIVE FOR EQUALITY TURNED INTO AN ATTITUDE OF FIRST CATIOUS - AND NOW OPEN - HOSTILITY WHEN THE NORTHERN BLACK MAN BEGAN TO TAKE SERIOUSLY THE
Last edit 10 months ago by
Greer Moore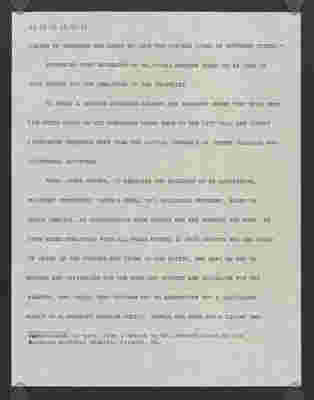 CLAIMS OF PROGRESS AND BEGAN TO LOOK FOR VISIBLE SIGNS IN NORTHERN CITIES.*
REVERSING THIS RECESSION OF POLITICAL CONCERN OUGHT TO BE PART OF YOUR AGENDA FOR THE REMAINDER OF THE SEVENTIES.
TO MOUNT A SERIOUS STRUGGLE AGAINST THE ARROGANT POWER THAT RUNS FROM THE WHITE HOUSE TO THE CORPORATE BOARD ROOM TO THE CITY HALL AND COUNTY COURTHOUSE REQUIRES MORE THAN THE PARTIAL PRESENCE OF SUMMER SOLDIERS AND OCCATIONAL AGITATORS.
AMONG OTHER THINGS, IT REQUIRES THE BUILDING OF AN AGGRESSIVE, MILITANT DEMOCRATIC (WITH A SMALL "D") POLITICAL MOVEMENT, BASED IN BLACK AMERICA, IN COORDINATION WITH OTHERS WHO ARE NOWHITE AND POORS, IN OPEN ENDED COALITION WITH ALL THOSE OTHERS IN THIS COUNTRY WHO ARE TIRED OF CRIME IN THE STREETS AND CRIME IN THE SUITES, WHO WANT TO END TO WELFARE AND CAPITALISM FOR THE POOR AND SUBSIDY AND SOCIALISM FOR THE WEALTHY, WHO INSIST THAT VIETNAM WAS NO ABBERATION BUT A CALCULATED RESULT OF ABANKRUPT FOREIGN POLICY, PEOPLE WHO WORK FOR A LIVING AND
Paraphrased, in part, from a speech by Dr. Kenneth Clark to the Southern Regional Council, Atlanta, Ga.
Last edit 10 months ago by
Greer Moore