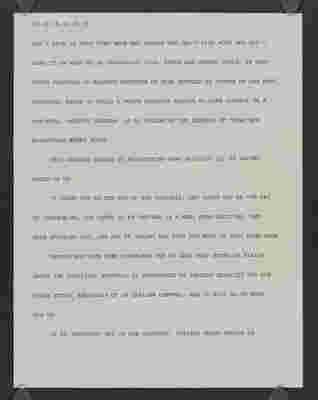 TOGETHER, BEGIN TO BUILD A FORCE POWERFUL ENOUGH TO TAKE CONTROL IN A PEACEFUL, ORDERLY FASHION, OR BY FOLLOWING THE EXAMPLE OF THOSE NOW EXERCISING GREAT POWER.
THIS PROCESS GEGINS BY RE-DEFINING WHAT POLFITICS IS, OR RATHER, OUGHT TO BE.
IT OUGHT NOT BE THE ART OF THE POSSIBLE, AND OUGHT NOT BE THE ART OF COMPROMISE, BUT OUGHT TO BE DEFINED AS A NEW, MORE EXCITING, AND MORRE EXACTING ART, THE ART OF SEEING WHO GETS HOW MUCH OF WHAT FROM WHOM.
PEOPLE WHO HAVE BEEN POWERLESS FOR SO LONG MUST NEVER BE NAIVE ABOUT THE POLITICAL PROCESS: IT GAURANTEED NO INSTANT EQUALITY FOR THE OTHER ETHNIC AMERICANS OF AN EARLIER CENTURY, AND IT WILL DO NO MORE FOR US.
IT IS IMPORTANT NOT IN THE ABSTRACT, PUTTING BLACK PEOPLE IN
Last edit 10 months ago by
Greer Moore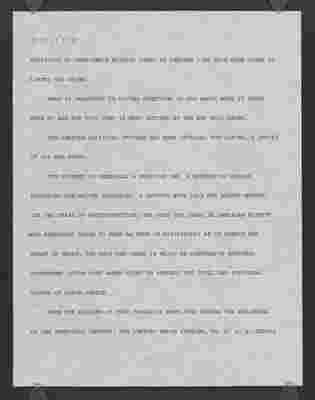 WHAT IS IMPORTANT IS HAVING SOMETHING TO SAY ABOUT WHAT IS BEING DONE TO AND FOR YOU: THAT IS WHAT SUCCESS AT THE ART WILL BRING.
THE AMERICAN POLITICAL PROCESS HAS BEEN CYCLICAL FOR BLACKS, A SERIES OF UPS AND DOWNS.
ITS HISTORY IS GENERALLY A NEGATIVE ONE, A HISTORY OF BLACKS, PROPOSING AND WHITES DISPOSING, A HISTORY WITH ONLY ONE BRIGHT MOMENT, THE TEN YEARS OF RECONSTRUCTION, THE ONLY TEN YEARS IN AMERICAN HISTORY WHEN DEMOCRACY BEGAN TO MEAN AS MUCH MISSISSIPPI AS IT ALWAYS HAS MEANT IN MAINE, THE ONLY TEN YEARS IN WHICH AN AGGRESSIVE NATIONAL GOVERNMENT ACTED WITH ARMED MIGHT TO PROTECT THE CIVIL AND POLITICAL RIGHTS OF BLACK PEOPLE.
FROM THE CLOSING OF THAT PERIOD OF HOPE JUST BEFORE THE BEGINNING OF THE TWENTIETH CENTURY: THE CENTURY WHOSE PROBLEM, DR. W. E. B. DUBOIS
Last edit 10 months ago by
Greer Moore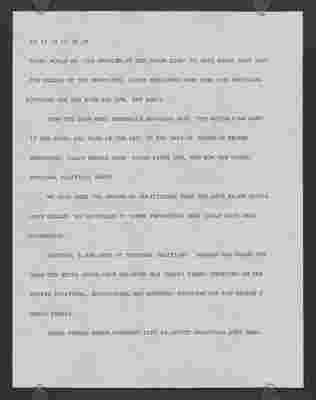 SAID, WOULD BE "THE PROBLEM OF HTE COLOR LINE" TO THIS POINT JUST PAST THE MIDDLE OF THE TWENTIETH, BLACK AMERICANS HAVE SEEN OUR POLITICAL FORTUNES EBB AND RISE AND NOW, EBB AGAIN.
FROM THE DAYS WHEN FREDERICK DOUGLASS SAID "THE REPUBLICAN PARTY IS THE SHIP: ALL ELSE IS THE SEA" TO THE DAYS OF FRANKLIN DELANO ROOSEVELT, BLACK PEOPLE HAVE TRIED FIRST ONE, AND NOW THE OTHER NATIONAL POLITICAL PARTY.
WE HAVE BEEN ILL SERVED BY POLITICIANS WHOM THE LATE RALPH MCGILL ONCE CALLED "SO GROTESQUE IT SEEMS IMPOSSIBLE THEY COULD HAVE BEEN INFLUENCTIAL."
INSTEAD, A NEW CROP OF NATIONAL POLITICAL LEADERS HAS BEGUN THE TASK THE WHITE SOUTH ONCE BELIEVED WAS THEIRS ALONE: DECIDING ON THE PROPER POLITICAL, EDUCATIONAL AND ECONOMIC POSTION FOR THE REGION'S BLACK PEOPLE.
THESE PEOPLE MARCH BACKWARD LIKE AN OFFKEY SALVATION ARMY BAND,
Last edit 10 months ago by
Greer Moore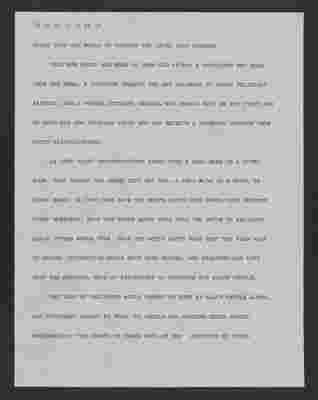 GOING INTO THE WORLD TO CONVERT THE SAVED INTO SINNERS.
THIS NEW GROUP WAS MADE OF SOME OLD FACES: A PRESIDENT WHO ROSE FROM THE DEAD, A SOUTHERN SENATOR WHO HAS BELONGED TO THREE POLITICAL PARTIES, AND A FORMER ATTORNEY GENERAL WHO SURELY MUST BE THE FIRST MAN TO HOLD HIS JOB INRECENT YEARS WHO CAN RECEIVE A SANDING OVATION FROM WHITE MISSISSIPPIANS.
AS THAT FIRST RECONSTRUCTION ENDED WITH A DEAL MADE IN A HOTEL ROOM, THIS SECOND ONE ENDED THAT WAY TOO: A DEAL MADE IN A HOTEL IN MIAMI BEACH IN 1968 THAT GAVE THE WHITE SOUTH VETO POWER OVER SUPREME COURT NOMINEES, GAVE THE WHITE SOUTH HOPE THAT THE DRIVE TO REGISTER BLACK VOTERS WOULD STOP, GAVE THE WHITE SOUTH HOPE THAT THE SLOW PACE OF SCHOOL INTEGRATION WOULD MOVE EVEN SLOWER, AND BREATHED NEW LIFE INTO THE NATIONAL MOOD OF RESISTANCE TO PROGRESS FOR BLACK PEOPLE.
THE TASK OF BEGINNING AGAIN CANNOT BE DONE BY BLACK PEOPLE ALONE, AND CERTAINLY CANNOT BE DONE BY PEOPLE WHO MEASURE THEIR SOCIAL RELEVANCE BY THE LENGTH OF THEIR HAIR OR THE INTRICACY OF THEIR
Last edit 10 months ago by
Greer Moore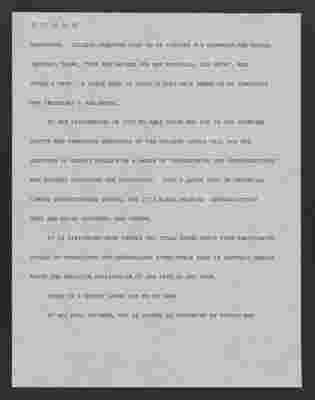 HANDSHAKE. COLLEGE CAMPUSES USED TO BE CENTERS FOR MOVEMENT AND SOCIAL PROTEST: TODAY, THEY ARE HAVENS FOR THE BOUGALOO, BIT WHIST, AND BOONE'S FARM. A GREAT DEAL OF TODAY'S LONG HAIR SEEMS TO BE CAMOFLAGE FOR YESTERDAY'S RED NECKS.
IT WAS FRIGHTENING IN 1972 TO HEAR THOSE WHO HID IN THE SOMETIME SAFETY AND TEMPORARY SANCTUARY OF THE COLLEGE CAMPUS CALL FOR THE ELECTION OF GEORGE WALLACE AS A MEANS OF "HAIGHTENING THE CONTRADICTIONS" AND THEREBY HASTENING THE REVOLUTION. THAT'S QUITE FINE IN INFANTILE CAMPUS REVOLUTIONARY THEORY, BUT IT'S BLACK PEOPLES' CONTRADICTIONS THAT ARE BEING HASTENED, NOT THEIRS.
IT IS DISTURBING WHEN PEOPLE WHO COULD SPEND THEIR TIME REGISTERING VOTERS OR ORGANIZING THE UNORGANIZED SPEND THEIR TIME IN ESOTERIC DEBATE ABOUT THE RELATIVE REVISIONISM OF THE LATE HO CHI MINH.
THERE IS A RATHER LARGE JOB TO BE DONE.
IT MAY WELL SUCCEED, BUT IT CANNOT BE ATTEMPTED BY PEOPLE WHO
Last edit 10 months ago by
Greer Moore