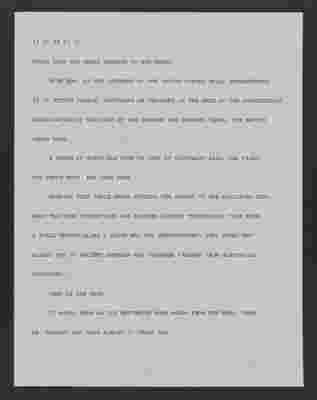 THINK THEY CAN SMOKE AMERICA TO HER KNEES.
EVEN NOW, AS THE CONGRESS OF THE UNITED STATES DAILY DEMONSTRATES IT IS EITHER UNABLE, UNWILLING OR IMPOTENT IN THE FACE OF THE PRESIDENTIAL EMASCULATION OF THE BEST OF THE KENNEDY AND JOHNSON YEARS, THE BATTLE COMES HOME.
A PEACE OF SORTS HAS COME TO PART OF SOUTHEAST ASIA: THE FIGHT FOR PEACE MUST NOW COME HOME.
WINNING THIS PEACE MEANS FINDING THE ANSWER TO THE DIVISIONS THAT MAKE THE POOR CONTENTIOUS AND DIVIDED AGAINST THEMSELVES; THAT MAKE A STEEL WORKER BLAME A BLACK MAN FOR UNEMPLOYMENT; THAT MAKES NEW ALLIES OUT OF ANCIENT ENEMIES AND STRONGER FRIENDS FROM HISTORICAL SUFFERERS.
THIS IS THE TASK.
IT MIGHT TAKE AS ITS WATCHWORD SOME WORDS FROM THE PAST, FROM DR. DUBOIS, WHO SAID ALMOST 70 YEARS AGO:
Last edit 10 months ago by
Greer Moore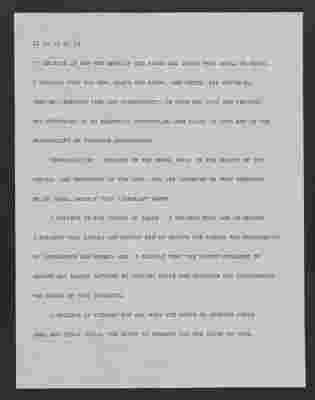 "I BELIEVE IN GOD WHO MADE OF ONE BLOOD ALL RACES THAT DWELL ON EARTH. I BELIEVE THAT ALL MEN, BLACK AND BRONW, AND WHITE, ARE BROTHERS, VARYING, THROUGH TIME AND OPPORTUNITY, IN FORM AND GIFT AND FEATURE, BUT DIFFERING IN NO ESSENTIAL PARTICULAR, AND ALIKE IN SOUL AND IN THE POSSIBILITY OF INFINITE DEVELOPMENT.
ESPECIALLY DO I BELIEVE IN THE NEGRO RACE; IN THE BEAUTY OF ITS GENIUS, THE SWEETNESS OF ITS SOUL, AND ITS STRENGTH IN THAT MEEKNESS WHICH SHALL INHERIT HTIS TURBULENT EARTH.
I BELIEVE IN THE PRINCE OF PEACE. I BELIEVE THAT WAR IS MURDER. I BELIEVE THAT ARMIES AND NAVIES ARE AT BOTTOM THE TINSEL AND BRAGGADICIO OF OPPRESSION AND WRONG; AND I BELIEVE THAT THE WICKED CONQUEST OF WEAKER AND DARKER NATIONS BY NATIONS WHITE AND STRONGER BUT FORSHADOWS THE DEATH OF THAT STRENGTH.
I BELIEVE IN LIBERTY FOR ALL MEN; THE SPACE TO STRETCH THEIR ARMS AND THEIR SOULS; THE RIGHT TO BREATH AND THE RIGHT TO VOTE,
Last edit 10 months ago by
Greer Moore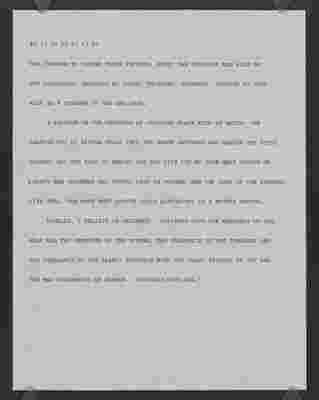 THE FREEDOM TO CHOOSE THEIR FRIENDS, ENJOY THE SUNSHINE AND RIDE ON THE RAILROADS, UNCURSED BY COLOR; THINKING, DREAMING, WORKING AS THEY WILL IN A KINGDOM OF GOD AND LOVE.
I BELIEVE IN THE TRAINNG OF CHILDREN BLACK EVEN AS WHITE; THE LEADING OUT OF LITTLE SOULS INTO THE GREEN PASTURES AND BESIDE THE STILL WATERS, NOT FOR PELF OR PEACE, BUT FOR LIFE LIT BY SOME LARGE VISION OF BEAUTY AND GOODNESS AND TRUTH; LEST WE FORGET, AND THE SONS OF THE FATHERS, LIKE ESAU, FOR MERE MEAT BARTER THEIR BIRTHRIGHT IN A MIGHTY NATION.
FINALLY, I BELIEVE IN PATIENC3 - PATIENCE3 WITH THE WEAKNESS OF THE WEAK AND THE STRENGTH OF THE STRONG, THE PREJUDICE OF THE IGNORANT AND THE IGNORANCE OF HTE BLIND; PATIENCE WITH THE TARDY TRIUMPH OF JOY AND THE MAD CHASTENING OF SORROW - PATIENCE WITH GOD."
Last edit 10 months ago by
Greer Moore