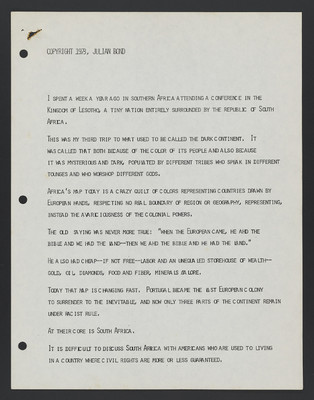 I SPENT A WEEK A YEAR AGO IN SOUTHERN AFRICA ATTENDING A CONFERENCE IN THE KINDGOM OF LESOTHO, A TINY NATION ENTIRELY SURROUNDED BY THE REPUBLIC OF SOUTH AFRICA.
THIS WAS MY THIRD TRIP TO WHAT USED TO BE CALLED THE DARK CONTINENT. IT WAS CALLED THAT BOTH BECAUSE OF THE COLOR OF ITS PEOPLE AND ALSPO BECAUSE IT WAS MYSTERIOUS AND DARK, POPULATED BY DIFFERENT TRIBES WHO SPEAK IN DIFFERENT TOUNGES AND WHO WORSHOP DIFFERENT GODS.
AFRICA'S MAP TODAY IS A CRAZY QUILT OF COLORS REPRESENTING COUNTRIES DRAWN BY EUROPEAN HANDS, RESPECTING NO REAL BOUNDARY OF REGION OR GEOGRAPHY, REPRESENTING, INSTEAD THE AVARICIOUSNESS OF THE COLONIAL POWERS.
THE OLD SAYING WAS NEVER MORE TRUE: "WHEN THE EUROPEAN CAME, HE AHD THE BIBLE AND WE HAD THE LAND--THEN WE AHD THE BIBLE AND HE HAD THE LAND."
HE ALSO HAD CHEAP-- IF NOT FREE-- LABOR AND AN UNEQUA STOREHOUSE OF WEALTH-- GOLD, OIL, DIAMONDS, FOOD AND FIBER, MINERALS GALORE.
TODAY THAT MAP IS CHANGING FAST, PORTUGAL BECAME THE LAST EUROPEAN COLONY TO SURRENDER TO THE INEVITABLE, AND NOW ONLY THREE PARTS OF THE CONTINENT REMAIN UNDER RACIST RULE.
AT THEIR CORE IS SOUTH AFRICA.
IT IS DIFFICULT TO DISCUSS SOUTH AFRICA WITH AMERICANS WHO ARE USED TO LIVING IN A COUNTRY WHERE CIVIL RIGHTS ARE MORE OR LESS GUARANTEED.
Last edit 9 months ago by
Meredith Merna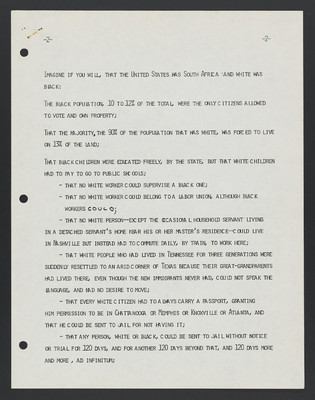 IMAGINE IF YOU WILL, THAT THE UNITED STATES WAS SOUTH AFRICA AND WHITE WAS BLACK:
THE BLACK POPULATION, 10 TO 12% OF THE TOTAL, WERE THE ONLY CITIZENS ALLOWED TO VOTE AND OWN PROPERTY;
THAT THE MAJORITY, THE 90% OF THE POPULATION THAT WAS WHITE, WAS FORCED TO LIVE ON 13% OF THE LAND;
THAT BLACK CHILDREN WERE EDUCATED FREELY, BY THE STATE, BUT THAT WHITE CHILDREN HAD TO PAY TO GO TO PUBLIC SCHOOLS; - THAT NO WHITE WORKER COULD SUPERVISE A BLACK ONE; -THAT NO WHITE WORKER COULD BELONG TO A LABOR UNION, ALTHOUGH BLACK WORKERS COULD; -THAT NO WHITE PERSON--EXCEPT THE OCCASIONAL HOUSEHOLD SERVANT LIVING IN A DETACHED SERVANT'S HOME NEAR HIS OR HER MASTER'S RESIDENCE--COULD LIVE IN NASHVILLE BUT INSTEAD HAD TO COMMUTE DAILY, BY TRAIN, TO WORK HERE; -THAT WHITE PEOPLE WHO HAD LIVED IN TENNESSEE FOR THREE GENERATIONS WERE SUDDENLY RESETTLED TO AN ARID CORNER OF TEXAS BECAUSE THEIR GREAT-GRANDPARENTS HAD LIVED THERE, EVEN THOUGH THE NEW IMMIGRANTS NEVER HAD, COULD NOT SPEAK THE LANGUAGE, AND HAD NO DESIRE TO MOVE; - THAT EVERY WHITE CITIZEN HAD TO ALWAYS CARRY A PASSPORT, GRANTING HIM PERMISSION TO BE IN CHATTANOOGA OR MEMPHIS OR KNOXVILLE OR ATLANTA, AND THAT HE COULD SENT TO JAIL FOR NOT HAVING IT; - THAT ANY PERSON, WHITE OR BLACK, COULD BE SENT TO JAIL WITHOUT NOTICE OR TRIAL FOR 120 DAYS, AND FOR ANOTHER 120 DAYS BEYOND THAT, AND 120 DAYS MORE AND MORE, AD INFINITUM;
Last edit 9 months ago by
Meredith Merna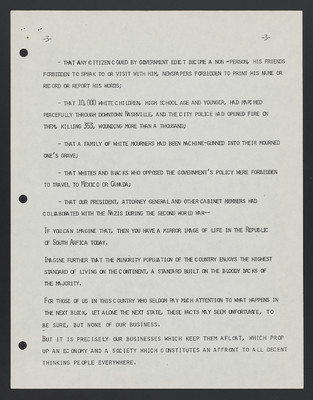 -THAT ANY CITIZEN COULD BY GOVERNMENT EDICT BECOME A NON-PERSON, HIS FRIENDS FORBIDDEN TO SPEAK TO OR VISIT WITH HIM, NEWSPAPERS FORBIDDEN TO PRINT HIS NAME OR RECORD OR REPORT HIS WORDS;
-THAT 10,000 WHITE CHILDREN, HIGH SCHOOL AGE AND YOUNGER, HAD MARCHED PEACEFULLY THROUGH DOWNTOWN NASHVILLE, AND THE CITY POLICE HAD OPENED FIRE ON THEM, KILLING 353, WOUNDING MORE THAN A THOUSAND;
-THAT A FAMILY OF WHITE MOURNERS HAD BEEN MACHINE-GUNNED INTO THEIR MOURNED ONE'S GRAVE;
-THAT WHITES AND BLACKS WHO OPPOSED THAT GOVERNMENT'S POLICY WERE FORBIDDEN TO TRAVEL TO MEXICO OR CANADA;
-THAT OUR PRESIDENT, ATTORNEY GENERAL AND OTHER CABINENT MEMBERS HAD COLABORATED WITH THE NAZIS DURING THE SECOND WORLD WAR--
IF YOU CAN IMAGINE THAT, THEN YOU HAVE A MIRROR IMAGE OF LIFE IN THE REPUBLIC OF SOUTH AFRICA TODAY.
IMAGINE FURTHER THAT THE MINORITY POPULATION OF THE COUNTRY ENJOUS THE HIGHEST STANDARD OF LIVING ON CONTINENT, A STANDARD BUILT ON THE BLOODY BACKS OF THE MAJORITY.
FOR THOSE OF US IN THIS COUNTRY WHO SELDOM PAY MUCH ATTENTION TO WHAT HAPPENS IN THE NEXT BLOCK, LET ALONE THE NEXT STATE, THESE FACTS MAY SEEM UNFORTUNATE, TO BE SURE, BUT NONE OF OUR BUSINESS.
BUT IT IS PRECISELY OUR BUSINESSES WHICH KEEP THEM AFLOAT, WHICH PROP UP AN ECONOMY AND A SOCIETY WHICH CONSTITUTES AN AFFRONT TO ALL DECENT THINKING PEOPLE EVERYWHERE.
Last edit 9 months ago by
Meredith Merna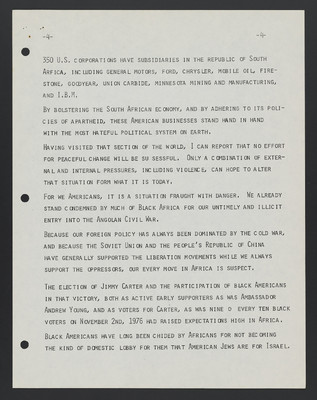 350 U.S. CORPORATIONS HAVE SUBSIDIARIES IN THE REPUBLIC OF SOUTH AFRICA, INCLUDING GENERAL MOTORS, FORD, CHRYSLER, MOBILE OIL, FIRE-STONE, GOODYEAR, UNION CARBIDE, MINNESOTA MINING AND MANUFACTURING, AND I.B.M.
BY BOLSTERING THE SOUTH AFRICAN ECONOMY, AND BY ADHERING TO ITS POLICIES OF APARTHEID, THESE AMERICAN BUSINESSES STAND HAND IN HAND WITH THE MOST HATEFUL POLITICAL SYSTEM ON EARTH.
HAVING VISITED THAT SECTION OF THE WORLD, I CAN REPORT THAT NO EFFORT FOR PEACEFUL CHANGE WILL BE SUCCESSFUL. ONLY A COMBINATION OF EXTERNAL AND INTERNAL PRESSURES, INCLUDING VIOLENCE, CAN HOPE TO ALTER THAT SITUATION FORM WHAT IT IS TODAY.
FOR WE AMERICANS, IT IS A SITUATION FRAUGHT WITH DANGER. WE ALREADY STAND CONDEMNED BY MUCH OF BLACK AFRICA FOR OUR UNTIMELY AND ILLICIT ENTRY INTO THE ANGOLAN CIVIL WAR.
BECAUSE OUR FOREIGN POLICY HAS ALWAYS BEEN DOMINATED BY THE COLD WAR, AND BECAUSE THE SOVIET UNION AND THE PEOPLE'S REPUBLIC OF CHINA HAVE GENERALLY SUPPORTED THE LIBERATION MOVEMENTS WHILE WE ALWAYS SUPPORT THE OPPRESSORS, OUR EVERY MOVE IN AFRICA IS SUSPECT.
THE ELECTION OF JIMMY CARTER AND THE PARTICIPATION OF BLACK AMERICANS IN THAT VICTORY, BOTH AS ACTIVE EARLY SUPPORTERS AS WAS AMBASSADOR ANDREW YOUNG, AND AS VOTERS FOR CARTER, AS WAS NINE O EVERY TEN BLACK VOTERS ON NOVEMBER 2ND, 1976 HAD RAISED EXPECTATIONS HIGH IN AFRICA.
BLACK AMERICANS HAVE LONG BEEN CHIDED BY AFRICANS FOR NOT BECOMING THE KIND OF DOMESTIC LOBBY FOR THEM THAT AMERICAN JEWS ARE FOR ISRAEL.
Last edit 9 months ago by
Meredith Merna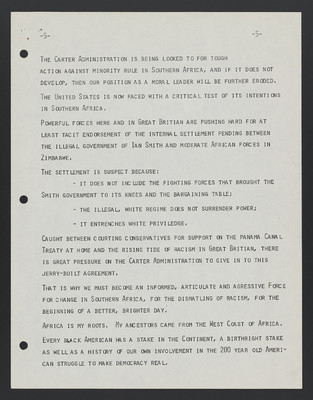 THE CARTER ADMINISTRATION IS BEING LOOKED TO FOR TOUGH ACTION AGAINST MINORITY RULE IN SOUTHERN AFRICA, AND IF IT DOES NOT DEVELOP, THEN OUR POSITIONS AS A MORAL LEADER WILL BE FURTHER ERODED.
THE UNITED STATES IS NOW FACED WITH A CRITICAL TEST OF ITS INTENTIONS IN SOUTHERN AFRICA.
POWERFUL FORCES HERE AND IN GREAT BRITIAN ARE PUSHING HARD FOR AT LEAST TACIT ENDORSEMENT OF THE INTERNAL SETTLEMENT PENDING BETWEEN THE ILLEGAL GOVERNMENT OF IAN SMIH AND MODERATE AFRICAN FORCES IN ZIMBABWE.
THE SETTLEMENT IS SUSPECT BECAUSE: - IT DOES NOT INCLUDE THE FIGHTING FORCES THAT BROUGHT THE SMITH GOVERNMENT TO ITS KNEES AND THE BARGAINING TABLE; - THE ILLEGAL, WHITE REGIME DOES NOT SURRENDER POWER; - IT ENTRENCHES WHITE PRIVILEDGE.
CAUGHT BETWEEN COURTING CONSERVATIVES FOR SUPPORT ON THE PANAMA CANAL TREATY AT HOME AND THE RISING TIDE OF RACISM IN GREAT BRITIAN, THERE IS GREAT PRESSURE ON THE CARTER ADMINISTRATION TO GIVE IN TO HIS JERR-BUILT AGREEMENT.
THAT IS WHY WE MUST BECOME INFORMED, ARTICULATE AND AGRESSIVE FORCE FOR CHANGE IN SOUTHERN AFRICA, FOR THE DISMANTLING OF RACISM, FOR THE BEGINNING OF A BETTER, BRIGHTER DAY.
AFRICA IS MY ROOTS. MY ANCESTORS CAME FROM THE WEST COAST OF AFRICA. EVERY BLACK AMERICAN HAS A STAKE IN THE CONTINENT, A BIRTHRIGHT STAKE AS WELL AS A HISTORY OF OUR WON INVOLVEMENT IN THE 200 YEAR OLD AMERI-
Last edit 5 months ago by
cnderah