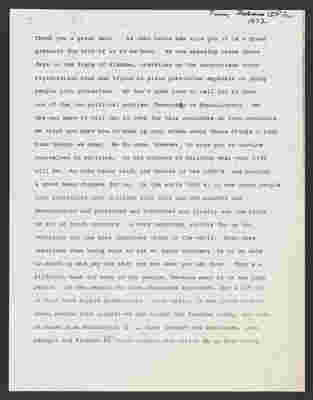 Thank you a great deal. As John Lewis has told you it is a great pleasure for both of us to be here. We are spending these three days in the State of Alabama, traveling on the nonpartisan voter registration tour and trying to place particular emphasis on young people like yourselves. We don't come here to tell you to join one of the two political parties, Democrans or Republicrats. We are not here to tell you to vote for this candidate or that candidate. We think you knew how to make up your minds about those things a long time before we came. We do come, however, to urge you to involve yourselves in politics, in the process of deciding what your life will be. As John Lewis said, the decade of the 1960's has brought a great many changes for us. In the early 1960's, it was young people like yourselves from colleges like this one who marched and demonstrated and protested and boycotted and finally won the right to sit at lunch counters. A very important victory for us but certainly not the most important thing in the world. Even more important than being able to sit at lunch counters is to be able to stand up and pay for what you ate when you sat down. That's a difficult task for many of our people, because many of us are poor people. We are people who have champagne appetites, but a lot of us only have Ripple pocketbooks. Once again, it was young people, young people like yourselves who worked the Freedom Rides, who rode on buses from Washington, D.C. down through the Carolinas, into Georgia and Alabama who faced violence and terror in this state
Last edit about 1 year ago by
Audrey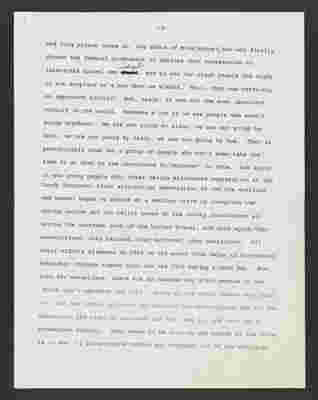 and long prison terms in the State of Mississippi, but who finally forced the federal government to declare that segregation in interstate travel was illegal, and to win for black people the right to sit anyplace on a bus that we wished. Well, that was certainly an important victory! But, again, it was not the most important victory in the world. Because a lot of us are people who aren't going anywhere. We are not going by plane, we are not going by boat, we are not going by train, we are not going by bus. That is particularly true for a group of people who won't even take the time to go down to the courthouse to register to vote. But again it was young people who, after having eliminated segregation at the lunch counters, after eliminating segregation at the bus stations and buses, began to embark on a serious drive to integrate the voting booths and the ballot boxes at the county courthouses all across the southern part of the United States, and once again they demonstrated, they marched, they suffered, they sacrificed. All their efforts climaxed in 1965 in the march from Selma to Montgomery. President Johnson signed into law the 1965 Voting Rights Act. Now, with few exceptions, there are no reasons why Black people in the South can't register and vote. Again it was young people who, over the last few years, agitated and marched and demonstrated and won for themselves the right to register and vote at 18, and that was a tremendous victory. What needs to be done in the decade of the 1970s is to see if young people cannot put together all of the victories
Last edit about 1 year ago by
Audrey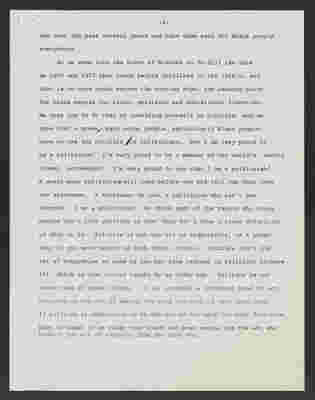 -3won over the past several years and make them real for Black people everywhere.
So we come into the State of Alabama to fufill the role in 1970 and 1972 that young people fufilled in the 1960's, and that is to once again become the cutting edge, the leading point for black people for civic, political and educational liberties. We urge you to do that by involving yourself in politics, and we know that a great many young people, particularly Black people, have no use for politics or politicians. Now I am very proud to be a politician! I'm very proud to be a member of the world's second oldest profession! I'm very proud to say that I am a politican! A great many politicians will come before you and tell you that they are statesmen. A statesman is just a politician who can't get elected. I am a politician! We think part of the reason why young people don't like politics is that they don't have a clear definition of what it is. Politics is not the art of the possible, as a great many of you were taught in high school civics. Politics isn't the art of compromise as some of you may have learned in Political Science 101, which is just civics taught by an older man. Politics is not either one of those things. It is, instead, a different kind of art. Politics is the art of seeing who gets how much of what from whom. If politics is understood to be the art of who gets how much from whom, then it ought to be clear that black and poor people are the who, who haven't got any of anything from you know who.
Last edit about 1 year ago by
JLG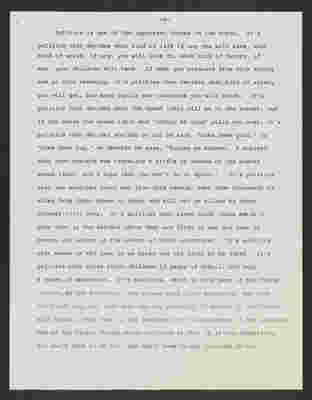 -4Politics is one of the most important forces in the world. It's politics that decides what kind of life if any you will have, what kind of world, if any, you will live in, what kind of future, if any, your children will have. If when you graduate from this school and go into teaching, it's politics that decides what kind of salary you will get, how many pupils per classroom you will teach. It's politics that decides what the speed limit will be on the street, and if you break the speed limit and "Johnny Be Good" pulls you over, it's politics that decides whether or not he says, "Come here girl," or "Come here boy," or whether he says, "Excuse me madamn. I noticed that your vehicle was traveling a trifle in excess of the posted speed limit, and I hope that you won't do it again." It's politics that has snatched young men from this campus, sent them thousands of miles from their homes to shoot and kill and be killed by other mothers' ????? sons. It's politics that takes black young men an d puts them in the service where they are first in war and last in peace, and seldom in the hearts of their countrymen. It's politics that makes us the last to be hired and the first to be fired. It's politics that gives black children 12 years of school, but only 6 years of education. It's politics, which in this part of the United States, the Southeast, has ruined many black educators, has made the black man, who last year was the principal of Booker T. Washington High School, this year is the assistant to the assistant to the assistant. One of the nicest things about politics is that it is not compulsory. You don't have to do it! You don't have to get involved in it!
Last edit about 1 year ago by
Audrey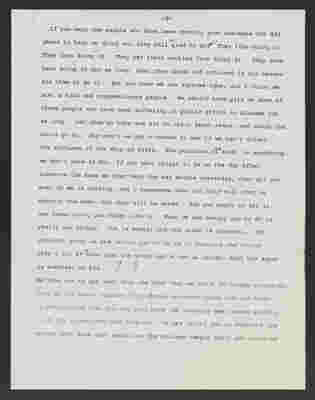 -5If you want the people who have been running your business for 352 years to keep on doing so, they will be glad to do so. They like doing it. They love doing it. They get their cookies from doing it. They have been doing it for so long, that they think God ordained in his heaven for them to do it. But you know we are suppose to be, and I think we are, a kind and compassionate people. We should have pity on some of these people who have been suffering in public office in Alabama for so long. Let them go home and sit on their front steps, and watch the world go by. Why can't we get a chance to see if we can't direct the fortunes of the ship of state.
Last edit about 1 year ago by
Audrey