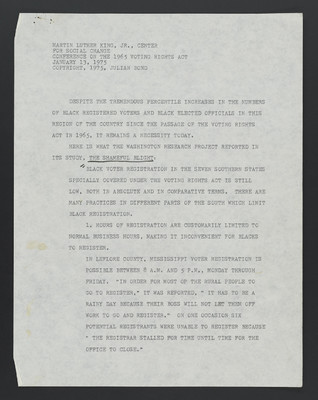 MARTIN LUTHER KING, JR., CENTER FOR SOCIAL CHANGE CONFERENCE ON THE 1965 VOTING RIGHTS ACT JANUARY 13, 1975 COPYRIGHT, 1975, JULIAN BOND
DESPITE THE TREMENDOUS PERCENTILE INCREASES IN THE NUMBERS OF BLACK REGISTERED VOTERS AND BLACK ELECTED OFFICIALS IN THIS REGION OF THE COUNTRY SINCE THE PASSAGE OF THE VOTING RIGHTS ACT IN 1965, IT REMAINS A NECESSITY TODAY.
HERE IS WHAT THE WASHINGTON RESEARCH PROJECT REPORTED IN ITS STUDY, THE SHAMEFUL NIGHT:
"BLACK VOTER REGISTRATION IN THE SEVEN SOUTHERN STATES SPECIALLY COVERED UNDER THE VOTING RIGHTS ACT IS STILL LOW, BOTH IN ABSOLUTE AND IN COMPARATIVE TERMS. THERE ARE MANY PRACTICES IN DIFFERENT PARTS OF THE SOUTH WHICH LIMIT BLACK REGISTRATION.
1. HOURS OF REGISTRATION ARE CUSTOMARILY LIMITED TO NORMAL BUSINESS HOURS, MAKING IT INCONVENIENT FOR BLACKS TO REGISTER.
IN LEFLORE COUNTY, MISSISSIPPI VOTER REGISTRATION IS POSSIBLE BETWEEN 8 A.M. AND 5 P.M., MONDAY THROUGH FRIDAY. "IN ORDER FOR MOST OF THE RURAL PEOPLE TO GO TO REGISTER," IT WAS REPORTED. " IT HAS TO BE A RAINY DAY BECAUSE THEIR BOSS WILL NOT LET THEM OFF WORK TO GO AND REGISTER." ON ONE OCCASION SIX POTENTIAL REGISTRANTS WERE UNABLE TO REGISTER BECAUSE " THE REGISTRAR STALLED FOR TIME UNTIL TIME FOR THE OFFICE TO CLOSE."
Last edit 3 months ago by
Allie Clarke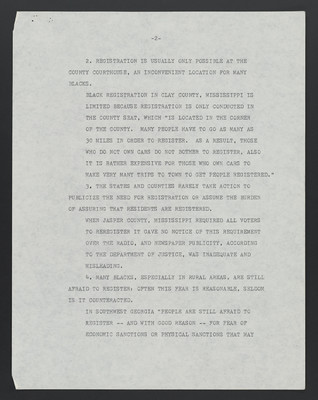 -2-
2. REGISTRATION IS USUALLY ONLY POSSIBLE AT THE COUNTY COURTHOUSE, AN INCONVENIENT LOCATION FOR MANY BLACKS.
BLACK REGISTRATION IN CLAY COUNTY, MISSISSIPPI IS LIMITED BECAUSE REGISTRATION IS ONLY CONDUCTED IN THE COUNTY SEAT, WHICH "IS LOCATED IN THE CORNER OF THE COUNTY. MANY PEOPLE HAVE TO GO AS MANY AS 30 MILES IN ORDER TO REGISTER. AS A RESULT, THOSE WHO DO NOT OWN CARS DO NOT BOTHER TO REGISTER, ALSO IT IS RATHER EXPENSIVE FOR THOSE WHO OWN CARS TO MAKE VERY MANY TRIPS TO TOWN TO GET PEOPLE REIGSTERED."
3. THE STATES AND COUNTIES RARELY TAKE ACTION TO PUBLICIZE THE NEED FOR REGISTRATION OR ASSUME THE BURDEN OF ASSURING THAT RESIDENTS ARE REGISTERED.
WHEN JASPER COUNTY, MISSISSIPPI REQUIRED ALL VOTERS TO REREGISTER IT GAVE NO NOTICE OF THIS REQUIREMENT OVER THE RADIO, AND NEWSPAPER PUBLICITY, ACCORDING TO THE DEPARTMENT OF JUSTICE, WAS INADEQUATE AND MISLEADING.
4. MANY BLACKS, ESPECIALLY IN RURAL AREAS, ARE STILL AFRAID TO REGISTER, OFTEN THIS FEAR IS REASONABLE, SELDOM IS IT COUNTERACTED.
IN SOUTHWEST GEORGIA "PEOPLE ARE STILL AFRAID TO REGISTER -- AND WITH GOOD REASON -- FOR FEAR OF ECONOMIC SANCTIONS OR PHYSICAL SANCTIONS THAT MAY
Last edit 3 months ago by
Allie Clarke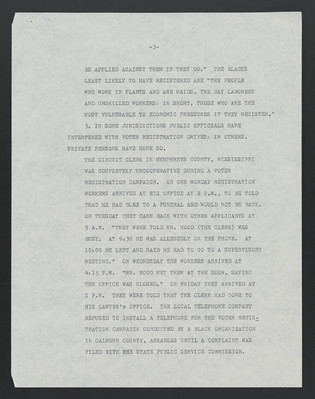 -3-
HE APPLIED AGAINST THEM IF THEY DO." THE BLACKS LEAST LIKELY TO HAVE REGISTERED ARE "THE PEOPLE WHO WORK IN PLANTS AND ARE MAIDS, THE DAY LABORERS AND UNSKILLED WORKERS: IN SHORT, THOSE WHO ARE THE MOST VULNERABLE TO ECONOMIC PRESSURES IF THEY REGISTER."
5. IN SOME JURISDICTIONS PUBLIC OFFICIALS HAVE INTERFERED WITH VOTER REGISTRATION DRIVES: IN OTHERS, PRIVATE PERSONS HAVE DONE SO.
THE CIRCUIT CLERK IN HYMPHREYS COUNTY, MISSISSIPPI WAS COMPLETELY UNCOOPERATIVE DURING A VOTER REGISTRATION CAMPAIGN. ON ONE MONDAY REGISTRATION WORKERS ARRIVED AT HIS OFFICE AT 2 P.M., TO BE TOLD THAT HE HAD GONE TO A FUNERAL AND WOULD NOT BE BACK. ON TUESDAY THEY CAME BACK WITH OTHER APPLICANTS AT 9 A.M. "THEY WERE TOLD MR. HOOD (THE CLERK) WAS BUSY. AT 9:30 HE WAS ALLEGEDLY ON THE PHONE. AT 10:00 HE LEFT AND SAID HE HAD TO GO TO A SUPERVISORY MEETING." ON WEDNESDAY THE WORKERS ARRIVED AT 4:15 P.M. "MR. HOOD MET THEM AT THE DOOR, SAYING THE OFFICE WAS CLOSED." ON FRIDAY THEY ARRIVED AT 1 P.M. THEY WERE TOLD THAT THE CLERK HAD GONE TO HIS LAWYER'S OFFICE. THE LOCAL TELEPHONE COMPANY REFUSED TO INSTALL A TELEPHONE FOR THE VOTER REGIS- TRATION CAMPAIGN CONDUCTED BY A BLACK ORGANIZATION IN CALHOUN COUNTY, ARKANSAS UNTIL A COMPLAINT WAS FILED WITH THE STATE PUBLIC SERVICE COMMISSION.
Last edit 3 months ago by
Allie Clarke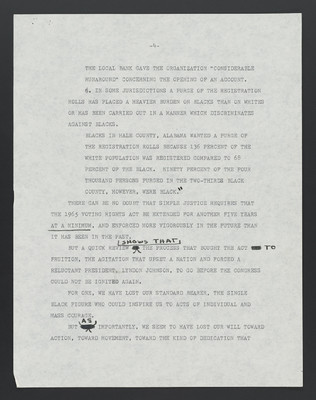 -4-
THE LOCAL BANK GAVE THE ORGANIZATION "CONSIDERABLE RUNAROUND" CONCERNING THE OPENING OF AN ACCOUNT.
6. IN SOME JURISDICTIONS A PURGE OF THE REGISTRATION ROLLS HAS PLACED A HEAVIER BURDEN ON BLACKS THAN ON WHITES OR HAS BEEN CARRIED OUT IN A MANNER WHICH DISCRIMINATES AGAINST BLACKS.
BLACKS IN HALE COUNTY, ALABAMA WANTED A PURGE OF THE REGISTRATION ROLLS BECAUSE 136 PERCENT OF THE WHITE POPULATION WAS REGISTERED COMPARED TO 68 PERCENT OF THE BLACK. NINETY PERCENT OF THE FOUR THOUSAND PERSONS PURGED IN THE TWO-THIRDS BLACK COUNTY, HOWEVER, WERE BLACK."
THERE CAN BE NO DOUBT THAT SIMPLE JUSTICE REQUIRES THAT THE 1965 VOTING RIGHTS ACT BE EXTENDED FOR ANOTHER FIVE YEARS AT A MINIMUM, AND ENFORCED MORE VIGOUROUSLY IN THE FUTURE THAN IT HAS BEEN IN THE PAST.
BUT A QUICK REVIEW SHOWS THAT THE PROCESS THAT BOUGHT THE ACT TO FRUITION, THE AGITATION THAT UPSET A NATION AND FORCED A RELUCTANT PRESIDENT, LYNDON JOHNSON, TO GO BEFORE THE CONGRESS COULD NOT BE IGNITED AGAIN.
FOR ONE, WE HAVE LOST OUR STANDARD BEARER, THE SINGLE BLACK FIGURE WHO COULD INSPIRE US TO ACTS OF INDIVIDUAL AND MASS COURAGE.
BUT AS IMPORTANTLY, WE SEEM TO HAVE LOST OUR WILL TOWARD ACTION, TOWARD MOVEMENT, TOWARD THE KIND OF DEDICATION THAT
Last edit 3 months ago by
Allie Clarke