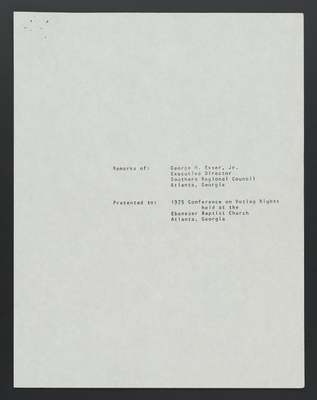 Remarks of: George H. Esser, Jr. Executive Director Southern Regional Council Atlanta, Georgia
Presented to: 1975 Conference on Voting Rights
held at the Ebenezer Baptist Church Atlanta, Georgia
Last edit about 1 year ago by
BettyJoyce Nash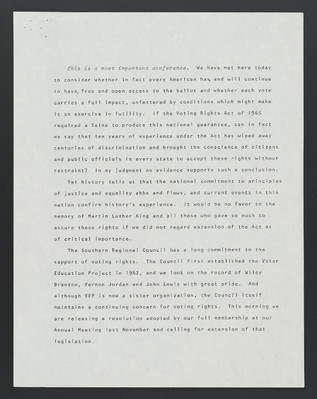 This is a most important conference. We have met here today to consider whether in fact every American has, and will continue to have, free and open access to the ballot and whether each vote carries a full impact, unfettered by conditions which might make it an exercise in futility. If the Voting Rights Act of 1965 required a Selma to produce this national guarantee, can in fact we say that ten years of experience under the Act has wiped away centuries of discrimination and brought the conscience of citizens and public officials in every state to accept these rights without restraint? In my judgment no evidence supports such a conclusion.
Yet history tells us that the national commitment to principles of justice and equality ebbs and flows, and current events in this nation confirm history's experience. It would be no favor to the memory of Martin Luther King and all those who gave so much to assure these rights if we did not regard extension of the Act as of critical importance.
The Southern Regional Council has a long commitment to the support of voting rights. The Council first established the Voter Education Project in 1962, and we look on the record of Wiley Branton, Vernon Jordan and John Lewis with great price. And although VEP is now a sister organization, the Council itself maintains a continuing concern for voting rights. This morning we are releasing a resolution adopted by our full membership at our Annual Meeting last November and calling for an extension of that legislation.
Last edit about 1 year ago by
LB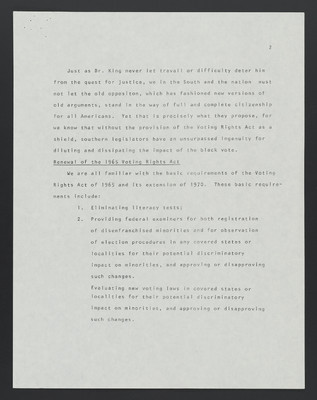 Just as Dr. King never let travail or difficulty deter him from the quest for justice, we in the South and the nation must not let the old opposition, which has fashioned new versions of old arguments, stand in the way of full and complete citizenship for all Americans. Yet that is precisely what they propose, for we know that without the provision of the Voting Rights Act as a shield, southern legislators have an unsurpassed ingenuity for diluting and dissipating the impact of the black vote.
Renewal of the 1965 Voting Rights Act We are all familiar with the basic requirements of the Voting Rights Act of 1965 and its extension of 1970. These basic requirements include:
1. Eliminating literacy tests; 2. Providing federal examiners for both registration of disenfranchised minorities and for observation of election procedures in any covered states or localities for their potential discriminatory impact on minorities, and approving or disapproving such changes. Evaluating new voting laws in covered states or localities for their potential discriminatory impact on minorities, and approving or disapproving such changes
Last edit about 1 year ago by
LB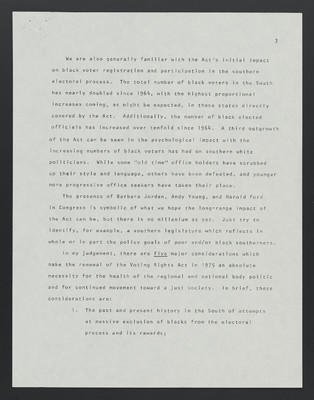 We are also generally familiar with the Act's initial impact on black voter registration and participation in the southern electoral process. The total number of black voters in the South has nearly doubled since 1964, with the highest proportional increases coming, as might be expected, in those states directly covered by the Act. Additionally, the number of black elected officials has increased over tenfold since 1964. A third outgrowth of the Act can be seen in the psychological impact with the increasing numbers of black voters has had on southern white politicians. While some "old time" office holders have scrubbed up their style and language, others have been defeated, and younger more progressive office seekers have taken their place.
The presence of Barbara Jordan, Andy Young, and Harold Ford in Congress is symbolic of what we hope the long-range impact of the Act can be, but there is no millenium as yet. Just try to identify, for example, a southern legislature which reflects in whole or in part the policy goals of poor and/or black southerners.
In my judgment, there are five major considerations which make the renewal of the Voting Rights Act in 1975 an absolute necessity for the health of the regional and national body politic and for continued movement toward a jsut society. In brief, these considerations are:
1. The past and present history in the South of attempts at massive exclusion of blacks from the electoral process and its rewards;
Last edit about 1 year ago by
LB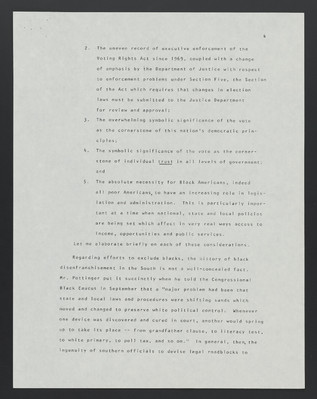 2. The uneven record of executive enforcement of the Voting Rights Act since 1969, coupled with a change of emphasis by the Department of Justice with respect to enforcement problems under Section Five, the Section of the Act which requires that changes in election laws must be submitted to the Justice Department for review and approval; 3. The overwhelming symbolic significance of the vote as the cornerstone of this nation's democratic principles; 4. The symbolic significance of the vote as the cornerstone of idividual trust in all levels of government; and 5. The absolute necessity for Black Americans, indeed all poor Americans, to have an increasing role in legislation and administration. This is particularly important at a time when national, state and local policies are being set which affect in very real ways access to income, opportunities and public services.
Let me elaborate briefly on each of these considerations.
Regarding efforts to exclude blacks, the history of black disenfranchisement in the South is not a well-concealed fact. Mr. Pottinger put it succinctly when he told the Congressional Black Caucus in September that a "major problem had been that state and local laws and procedures were shifting sands which moved and changed to preserve white political control. Whenever one device was discovered and cured in court, another would spring up to take its place -- from grandfather clause, to literacy test, to white primary, to poll tax, and so on." In general, then, the ingenuity of southern officials to devise legal roadblocks to
Last edit about 1 year ago by
LB