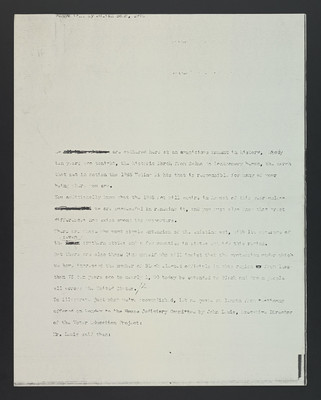 We are gathered here at an auspicious moment in history, exactly ten years ago tonight, the historic March from Selma to Montgomery began, the march that set in motion the 1965 Voting Rights that is responsible for many of your being where you are.
You additionally know that the 1965 Act will expire in August of this year unless we are successful in renewing it, and you must also know that great differences now exist among its supporters.
There are those who want simple extension of the existing act, with its coverage of the seven southern states and a few counties in states outside this region.
But there are also those like myself who will insist that the protection under which we have increased the number of Black elected officials in this region from less than 75 ten years ago to 1,500 today be extended to Black and Brown people all across the United States. /2
To illustrate just what we've acccomplished, let me quote at length from testimony offered on Monday to the House Judiciary Committee by John Lewis, Executive Director of the Voter Education Project:
Mr. Lewis said then:
Last edit 7 months ago by
Jannyp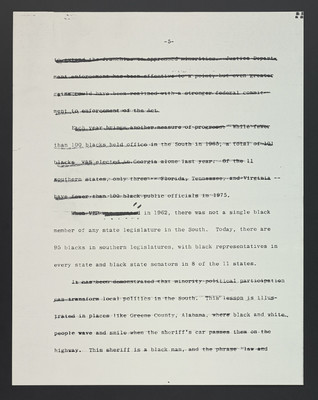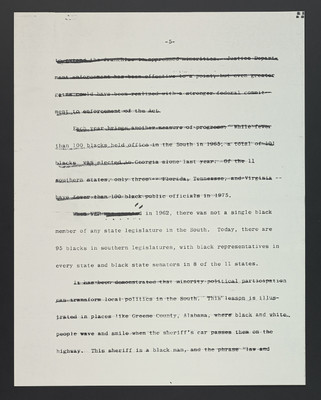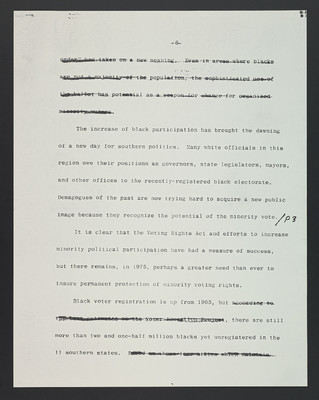 The increase of black participation has brought the dawning of a new day for southern politics. Many white officials in this region owe their positions as governors, state legislators, mayors, and other offices to the recently-registered black electorate. Demagogues of the past are now trying hard to acquire a new public image because they recognize the potential of the minority vote. /P3
It is clear that the Voting Rights Act and efforts to increase minority political participation have had a measure of success, but there remains, in 1975, perhaps a greater need than ever to insure permanent protection of minority voting rights.
Black voter registration is up from 1965, but , there are still more than two and one-half million blacks yet unregistered in the 11 sourthern states.
Last edit 10 months ago by
reganellis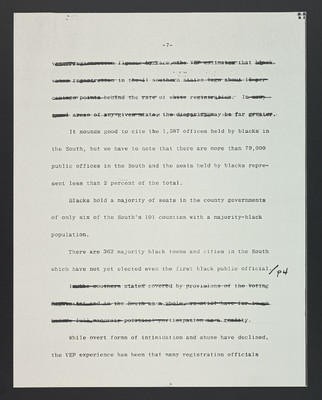 -7-
It sounds good to cite the 1,587 offices held by blacks in the South, but we have to note that there are more than 79,000 public offices in the South and the seats held by blacks represent less than 2 percent of the total.
Blacks hold a majority of seats in the county governments of only six of the South's 101 counties with a majority-black population.
There are 362 majority black towns and cities in the South which have not yet elected even the first black public official. /p4
While overt forms of intimidation and abuse have declined, the VEP experience has been that many registration officials
Last edit 7 months ago by
Jannyp
Displaying Page 1 - 5 of 16 in total