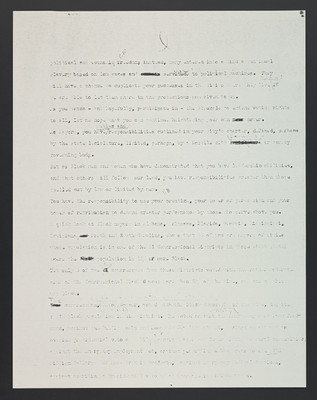 political and economic p.10 freedom; instead, many entered into a kind a continual slavery based on low wages and servitude to political machines. They will have a chance to duplicate your successes in the cities where they live now if we are able to let them share in the protections now given to us.
As you watch - and hopefully, participate in - the struggle to extend voting rights to all, let me hope that you can continue heightening your own power. As Mayors, you have duties and responsiblities outlined in your city's charter, defined, perhaps by the state legislature, limited, perhaps, by a hostile city council or county governing body.
But as Black men and women who have demonstrated that you have leadership abilities, and that others will follow your lead, you have responsibilities greater than those spelled out by law or limites by men.p.11
You have the responsibility to use your prestige, your power of persuasion and your power of retribution to demand greater performance by those who serve above you. A quick look at Black mayors in Alabama, Arkansas, Florida, Georgia, Mississippi, Louisiana, North and South Carolina, shows that [illegible] of you are mayors of cities whose population is in one of the 31 Congressional Districts in those eight states where the population is [illegible]% or more Black.
Yet only 3 of the 31 congressman from those districts voted with the rather moderate aims of the Congressional Black Caucus more than 50% of the time, and one of these was Black.
The congressman, [illegible] Mayor Cooper, voted with the Black Caucus only [illegible] of
Last edit 5 months ago by
Jannyp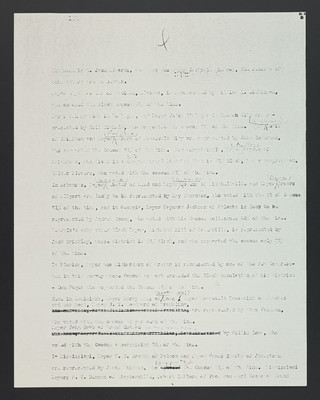 His name is W. Jack Edwards, and [illegible] you think I single him out, the records of some others are no better. Mayor [illegible] of Madison, Alabama, is repressed by [illegible] L. Dickinson, who opposed the Black Caucus 93% of the time. Mayor Johnny Ford in Tuskegee, and Mayor Judge Stringer in Hobsch City [illegible] - presented by Bill Michols, who supported the caucus 27% of the time. Mayor Richard of Brighton and Mayor Freddie Rogers of Roosevelt city are represented by John Buchanen, who supported the Caucus 24% of the time. Not surprisingly, Mayor A.M. Hayden of Uniontown, who lives in a Congressional District that is 37% Black, has a congressman, Walter Flowers, who voted with the caucus 37% of the time. In Arkansas, Mayor Lonnie Webster of reed and Mayor Arthur Bowens of Mitchellville and Mayor Dave Brooks of Allport are lucky to be represented by Ray Thornton, who voted with the Black Caucus 71% of the time, and in Georgia, Mayor Maynard Jackson of Atlanta is lucky to be represented by Andrew Young, who voted with his Caucus colleagues 98% of the time. Georgia's only other Black Mayor, Richmond Hill of Greenville, is represented by Jack Brinkley, whose district is 52% Black, and who supported the caucus only 27% of the time. In Florida, Mayor Gus Richardson of [illegible] is represented by one of the few Congressmen in this survey whose Caucus support exceeded the Black population of his district - Don Fugua who supported the Caucus 37% of the time. Here in Louisiana, Mayor Harry [illegible] of West Hodge and Mayor Roosevelt Toussaint of [illegible] and our host, Mayor B. T. Woodward of Grambling, are represented by Otto Passman,
who voted with the caucus 58 per cent of the time. Mayor John Bobb of Grand Coteau is represented by Gillis Long, who voted with the Caucus a surprising 78% of the time. In Mississippi, Mayor N. B. Brooks of Falcon and Mayor James Shanks of Jonestown are represented by Jamie Whitten, who supported the Caucus 27% of the time. Mississippi Mayors F. C. Benson of Winstonville, Robert LeFlore of Pace and Karl Lucas of Mound
Last edit 7 months ago by
zoemollner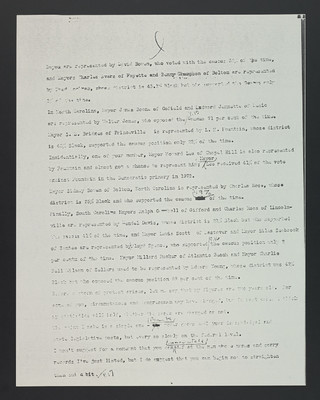 Bayou are represented by David Bowen, who voted with the caucus 32% of the time, and Mayors Charles Evers of Fayette and Benny Thomspon of BOlton are represented by Thad Cochren, whose district is 43.1% Black but who supported the Caucus only 2% of the time.
In North Carolina, Mayor James Boone of Cofield and Edward Jennette of Mosic are represented by Walter Jones, who opposed the Caucus 71 per cent of the time. Mayor S. E. Bridges of Princeville is represented by L. H. Fountain, whose district is 40% Black, supported the census position only 22% of the time.
Incidentally, one of your number, Mayor Howard Lee of Chapel Hill is also represented by Fountain and almost got a chance to represent him; Mayor Lee received 41% of the vote against Fountain in the Democratic primary in 1972.
Mayor Sidney Bowen of Bolton, North Carolina is represented by Charles Rose, whose district is 25% Black and who supported the caucus 19% of the time.
Finally, South Carolina Mayors Ralph Campbell of Gifford and Charles Ross of Lincolnville are represented by Mendel Davis, whose district is 22% Black but who supported the caucus 41% of the time, and Mayor Lewis Scott of Eastover and Mayor Silas Seebrook of Sentee are represented by Floyd Spence, who supported the caucus position only 2 per cent of the time. Mayor Millard Rucker of Atlantic Beach and Mayor Charlie Bell Wilson of Sellers used to be represented by Edward Young, whose district was 42% Black but who opposed the caucus position 88 per cent of the time.
Before a storm of protest arises, let me say that my figures are two years old. For some of you, circumstances and congressman may have changed, but in most cases I think my statistics will hold, whether the names are changed or not.
The point I make is a simple one - Black power grows each year in principal and state legislative posts, but every so slowlt on the federal level.
I won't suggest for a moment that you can immediately defeat the men whose names and sorry records I've just listed, but I do suggest that you can begin now to straighten them out a bit.
Last edit 7 months ago by
taybai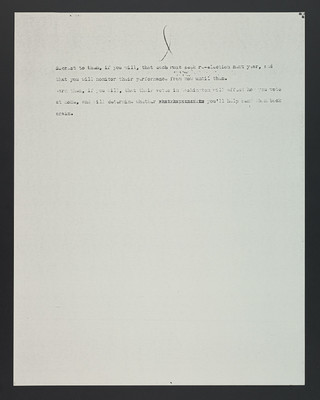 Suggest to them, if you will, that each must seek re-election next year, and that you will monitor their performance from now until then. Warn them, if you willm that their votes in Washington will affect how you vote at home, and will determine whether you'll help send them back again.
Last edit 7 months ago by
LashaeMickey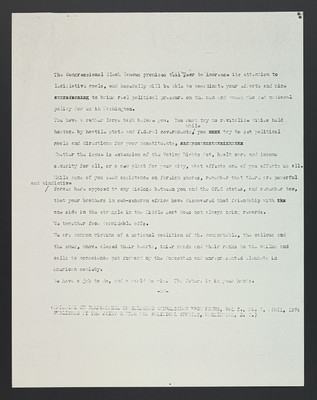 The Congressional Black Cacus promises to increase its attention to legislative goals, and hopefully will be able to coordinate you efforts and mine to bring real political pressure on the men and women who set national policy for us in Washington. You hace a rather large task before you. You must try to revitalize cities held hostage by hostile state and federal governments while you try to set political goals and directions for your constituents, Whether the issue is extension of the Voting Rights Act, healt care and income security for all, or a new plant for your city, what affects one of you affects us all. While some of you seek assistance on foreign shores, remember that there are powerful and vindictive forces here opposed to any dialoge between you and the OPEC states, and remember too, that your brothers in the sub-saharan africa have discovered that friendship with one side in the struggle in the Middle East does not always bring rewards. We together face formidable offs. We are common victims of a national coalition of the comfortable, the callous and the smug, whove closed their hearts, thier monds and their ranks to the cailms and calls to conscience put forward by the forgotten and unrepresented elements in American society. We have a job to do, and a world to win. The future is in your hands.
-30-
[illegible]
Last edit 7 months ago by
LashaeMickey
Displaying Page 11 - 15 of 16 in total