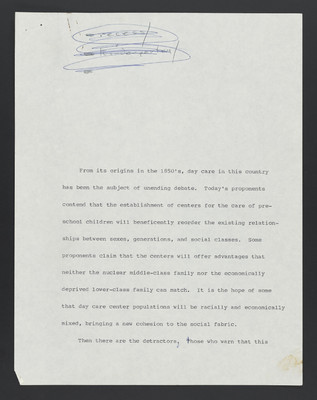 From its origins in the 1850's, day care in this country has been the subject of unending debate. Today's proponents contend that the establishment of centers for the care of preschool children will beneficently reoder the existing relationships between, sexes genrations, and social classes. Some proponents claim that the centers will offer advantages that neither the nuclear middle-class family nor the economically deprived lower-class family can match. It is the hope of some that day care center populations will be racially and economically mixed, bringing new cohesion to the social fabric.
Then there are the detractors, those who warn that this
Last edit 9 months ago by
Ali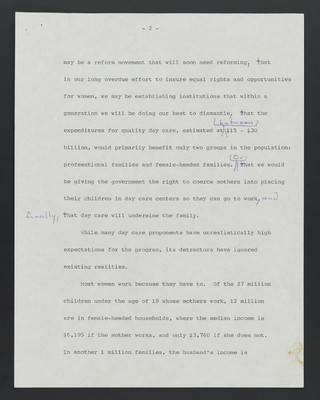 may be a reform movement that will soon need reforming, that in our long overdue effort to insure equal rights and opportunities for women, we may be establishing institutions that within a generation we will be doing our best to dismantle, that the expenditures for quality day care, estimated at between $15 - $30 billion, would primarily benefit only two groups in the population: professtional families and female-headed families. Or that we would be giving the goverment the right to coerce mothers into placing their children in day care centers so they can go to work, and finally that day care will undermine the family.
While many day care proponents have unrealistically high expectations for the program, its detractors have ignored existing realities.
Most women work because they have to. Of the 27 million children under the age of 18 whose mothers work, 12 million are in female-headed households, where the median income is $6,195 if the mother works, and only $3,760 if she does not. In another 1 million families, the husband's income is
Last edit 9 months ago by
Ali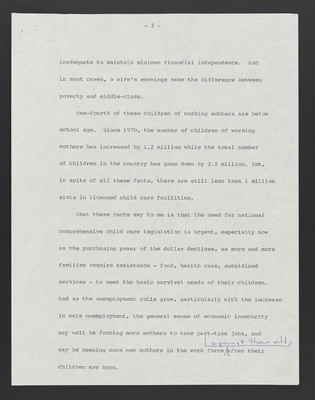 in most cases, a wife's earnings make the difference between poverty and middle-class.
One-fourth of these children of working mothers are below school age. Since 1970, the number of children of working mothers has increased by 1.2 million while the total number of children in the country has gone down by 2.2 million. Yet, in spite of all these facts, there are still less than 1 million slots in licensed child care facilities.
What these facts say to me is that the need for national comprehensive child care legislation is urgent, especially now as the purchasing power of the dollar declines, as more and more families require assistance - food, health care, subsidized services - to meet the basic survival needs of their children. And as the unemployment rolls grow, particularly with the increase in male unemployment, the general sense of economic insecurity may well be forcing more mothers to take part-time jobs, and may be keeping more new mothers in the work force against their will after their children are born
Last edit 9 months ago by
Ali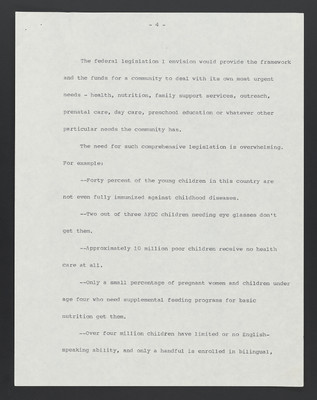 The federal legislation I envision would provide the framework and the funds for a community to deal with its own most urgent needs - health, nutrition, family support services, outreach, prenatal care, day care, preschool education or whatever other particular needs the community has.
The needs for such comprehensive legislation is overwhelming. For example:
--Forty percent of the young children in this country are not even fully immunized against childhood diseases.
--Two out of three AFDC children needing eye glasses don't get them.
--Aproximately 10 million poor children receive no health care at all.
--Only a small percentage of pregnant women and children under age four who need supplemental feeding programs for basic nutrition get them.
--Over four million children have limited or no English- speaking ability, and only a handful is enrolled in bilingual,
Last edit 9 months ago by
Ali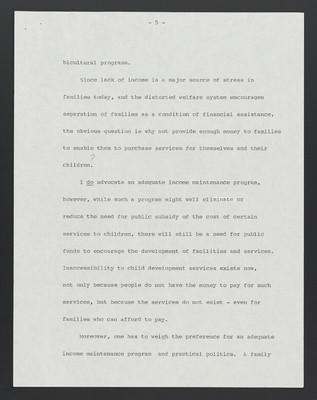 bicultural programs.
Since lack of incomes is a major source of stress in families today, and the distorted welfare system encourages separation of families as a condition of financial assistance, the obvious question is why not provide enough money to families to enable them to purchase services for themselves and their children ?
I do an adequate income maintenance program, however, while such a program might well eliminate or reduce the need for public subsidy of the cost of certain services to children, there will still be a need for public funds to encourage the development of facilities and services. Inaccessibility to child development services exists now, not only because people do not have the money to pay for such services, but because the services do not exist - even for families who can afford to pay.
Moreover, one has to weigh the preference for an adequate income maintenance program and practical politics. A family
Last edit 9 months ago by
reganellis
Displaying Page 1 - 5 of 12 in total