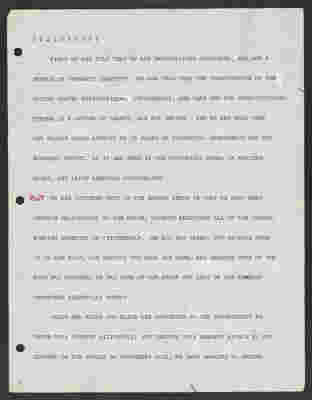 2 2 2 2 2 2 2 2 2 2
FIRST WE ARE TOLD THAT WE ARE NATIONALIZED AMERICANS, AND NOT A PEOPLE OF SEPARATE IDENTITY. WE ARE TOLD THAT THE CONSTITUTION OF THE UNITED STATED SUPPORTS EQUAL CITIZENSHIP, AND THAT OUR CONSTITUTIONAL STATUS IS A MATTER OF CHANCE, AND NOT DESIGN. AND WE ARE TOLD THAT THE RACISM WHICH AFFECTS US IS BASED ON HISTORICAL PREFERENCE AND NOT ECONOMIC PROFIT, AS IT HAS BEEN IN THE HISTORICAL MODEL OF AFRICAN, ASIAN, AND LATIN AMERICAN COLONIALISM.
BUT WE ARE CITIZENS ONLY IN THE NARROW SENSE IN THAT WE MUST MEET CERTAIN OBLIGATIONS TO THE STATE, WITHOUT RECEIVING ALL OF THE CORRESPONDING BENEFITS OF CITIZENSHIP. WE ALL PAY TAXES, BUT BECAUSE MORE OF US ARE POOR, AND BECAUSE THE POOR PAY MORE, AND BECAUSE SOME OF THE RICH PAY NOTHING, WE PAY MORE OF OUR SHARE FOR LESS OF THE REWARDS TAXPAYERS RIGHTFULLY EXPECT.
BLACK AND WHITE MEN ALIKE ARE SUBJECTED TO THE OPPORTUNITY TO SERVE THIS COUNTRY MILITARILY, BUT THROUGH THIS PRESENT ATTACK BY OUR COUNTRY ON THE PEOPLE OF SOUTHERN ASIA, WE HAVE MANAGED TO BECOME
Last edit 8 months ago by
Richard Will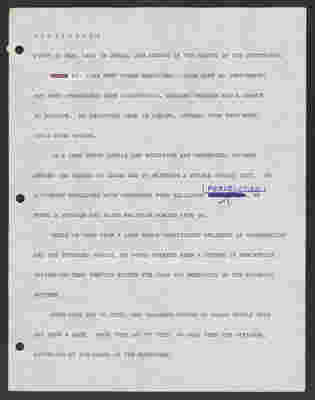 3 3 3 3 3 3 3 3 3 3
FIRST IN WAR, LAST IN PEACE, AND SELDOM IN THE HEARTS OF OUR COUNTRYMEN.
WE - LIKE MOST OTHER AMERICANS - CAME HERE AS IMMIGRANTS, BUT MOST IMMIGRANTS CAME VOLUNTARILY, SEEKING FREEDOM AND A CHANCE TO SURVIVE. MY ANCESTORS CAME IN CHAINS, HUSBAND TORN FROM WIFE, CHILD FROM MOTHER.
IN A LAND WHERE FAMILY AND EDUCATION ARE VENERATED, WE WERE DENIED THE CHANCE TO LEARN AND TO MAINTAIN A STABLE FAMILY UNITY. IN A COUNTRY POPULATED WITH SUFFERERS FROM RELIGIOUS PERSECUTION , WE FOUND A STRANGE AND ALIEN RELIGION FORCED UPON US.
WHILE WE CAME FROM A LAND WHOSE INHABITANTS BELIEVED IN COMMUNALISM AND THE EXTENDED FAMILY, WE FOUND CREATED HERE A SYSTEM OF MERCANTILE CAPITALISM THAT EXACTLY FITTED THE CASH BOX MENTALITY OF THE FOUNDING FATHERS.
FROM THAT DAY TO THIS, THE SEPARATE STATUS OF BLACK PEOPLE HERE HAS BEEN A FACT. FROM THAT DAY TO THIS, WE HAVE BEEN THE AFRICANS, SUFFERING AT THE HANDS OF THE EUROPEANS.
Last edit 8 months ago by
Richard Will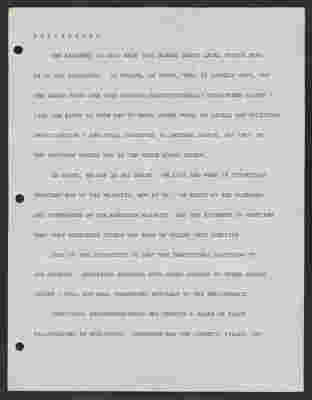 THE ARGUMENT IS ALSO MADE THAT BLACKS ENJOY LEGAL STATUS HERE AS DO ALL AMERICANS. OF COURSE, ON PAPER, THAT IS LARGELY TRUE, BUT THE PLAIN FACTS ARE THAT CERTAIN CONSTITUTIONALLY GUARANTEED RIGHTS - LIKE THE RIGHT TO VOTE AND TO ENJOY OTHER FORMS OF SOCIAL AND POLITICAL PARTICIPATION - ARE STILL SUBJECTED TO INTENSE DEBATE, NOT ONLY IN THE SOUTHERN STATES BUT IN THE WHITE HOUSE ITSELF.
IN SHORT, WE ARE IN A BAD SHAPE. WE LIVE AND WORK IN SITUATIONS PROVIDED FOR BY THE MAJORITY, NOT BY US. WE EXIST AT THE PLEASURE AND SUFFERENCE OF THE AMERICAN MAJORITY, AND THE EVIDENCE IS MOUNTING THAT THAT EXISTENCE ITSELF MAY SOON BE CALLED INTO QUESTION.
PART OF THE DIFFICULTY IS THAT THE TRADITIONAL SOLUTIONS TO OUR DILEMMA - SOLUTIONS EMPLOYED WITH GREAT SUCCESS BY OTHER ETHNIC GROUPS - WILL NOT MOLD THEMSELVES ENTIRELY TO OUR DELIVERANCE.
INDIVIDUAL ENTREPRENEURSHIP HAS CREATED A CLASS OF BLACK MILLIONAIRES IN PUBLISHING, INSURANCE AND THE COSMETIC FIELDS, BUT
Last edit 6 months ago by
Dan Vo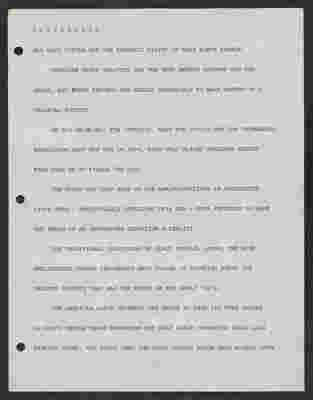 HAS DONE LITTLE FOR THE ECONOMIC UPLIFT OF MOST BLACK PEOPLE.
PRESSURE GROUP POLITICS HAS NOW WON MANY NEEDED REFORMS FOR OUR GROUP, BUT THESE REFORMS ARE NEARLY IMPOSSIBLE TO MAKE SECURE IN A CONLONIAL SOCIETY.
WE HAD BELIEVED, FOR INSTANCE, THAT THE BATTLE FOR THE INTEGRATED SCHOOLROOM SEAT WAS WON IN 1954, WITH ONLY SLIGHT PRESSURE NEEDED FROM THEM ON TO FINISH THE JOB.
THE TRUTH WAS THAT NONE OF THE ADMINISTRATIONS IN WASHINGTON SINCE THEN - PARTICULARLY INCLUDING THIS ONE - EVEN INTENDED TO MAKE THE DREAM OF AN INTEGRATED EDUCATION A REALITY.
THE TRADITIONAL COALITIONS OF BLACK PEOPLE, LABOR, THE MORE ENLIGHTENED CHURCH LEADERSHIP HAVE FAILED IN BRINGING ABOUT THE BELOVED SOCIETY THAT WS THE DREAM OF THE EARLY '60'S.
THE AMERICAN LABOR MOVEMENT HAS BEGUN TO SHOW ITS TRUE COLORS AS BLACK PEOPLE BEGAN DEMANDING NOT ONLY LABOR CONNECTED GOALS LIKE MINIMUM WAGE, BUT ENTRY INTO THE CRAFT UNIONS WHICH HAVE ALWAYS BEEN
Last edit 6 months ago by
Dan Vo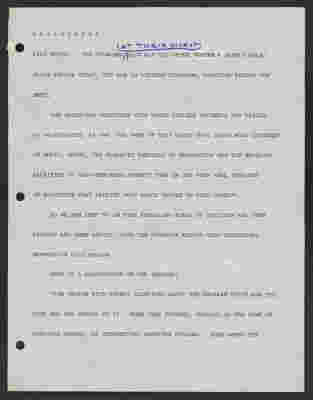 LILY WHITE. THE CHURCHES AT THEIR WORST HAVE ALL TOO OFTEN PLAYED A GADFLY ROLE: BLACK PEOPLE TODAY, THE WAR IN VIETNAM TOMORROW, ABORTION REFORM THE NEXT.
THE HOPED-FOR COALITION WITH WHITE COLLEGE STUDENTS HAS FAILED TO MATERIALIZE, AS FAR TOO MANY OF THIS GROUP HAVE SHOWN MORE INTEREST IN MUSIC, DRUGS, THE ROMANTIC RHETORIC OF REVOLUTION AND THE ENOBLING SACRIFICE OF SELF-ENFORCED POVERTY THAN IN THE VERY REAL PROBLEMS OF EXISTENCE THAT AFFLICT MOST BLACK PEOPLE IN THIS COUNTRY.
SO WE ARE LEFT TO AN EVER SPIRALING SCALE OF POLITICS AND THEN PROTEST AND THEN REVOLT, WITH THE PROBABLE RESULT THAT INCREASING REPRESSION WILL FOLLOW.
HERE IS A DESCRIPTION OF THE PROCESS:
"THE PEOPLE WITH FEWEST ILLUSIONS ABOUT THE WELFARE STATE ARE THE POOR WHO ARE SERVED BY IT. WHEN THEY PROTEST, USUALLY IN THE NAME OF AMERICAN DREAMS, AN INTERESTING REACTION FOLLOWS. SOME ALONG THE
Last edit 6 months ago by
Dan Vo