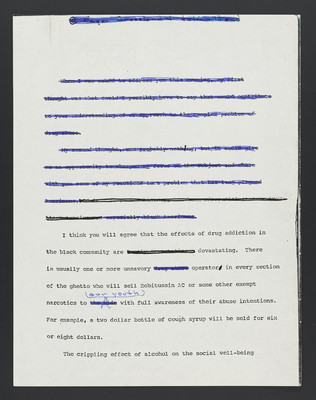 I think you will agree that the effects of drug addiction in the black community are devastating. There is usually one or more unsavory operator in every section of the ghetto who will sell Robitussin AC or some other exempt narcotics to our youth with full awareness of their abuse intentions. For examples, a two dollar bottle of cough syrup will be sold for six or eight dollars.
The crippling effect of alcohol on the social well-being
Last edit 7 days ago by
Jannyp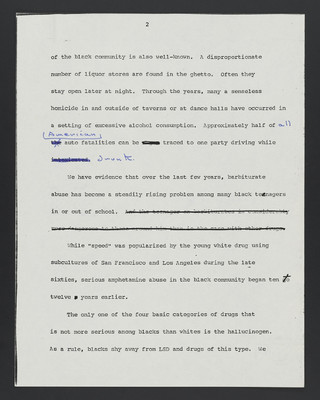 of the black community is also well-known. A disproportionate number of liquor stores are found in the ghetto. Often they stay open later at night. Through the years, many a senseless homicide in and outside of taverns or at dance halls have occured in a setting of excessive alcohol consumption. Approximately half of all American auto fatalities can be traced to one party driving while drunk.
We have evidence that over the last few years, barbiturate abuse has become a steadily rising problem among many black teenagers in or out of school.
Whie "speed" was popularized by the young white drug using subcultures of San Francisco and Los Angeles during the late sixties, serious amphetamine abuse in the black community began ten to twelve years earlier.
The only one of the four basic categories of drugs that is not more serious among blacks than whites is the hallucinogen. As a rule, blacks shy away from LSD and drugs of this type. We
Last edit 8 months ago by
Emily Guice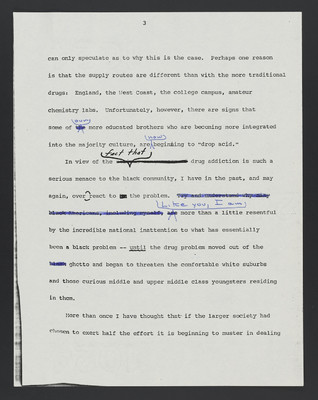 3
can only speculate as to why this is the case. Perhaps one reason is that the supply routes are different than with the more traditional drugs, England, the West Coast, the college campus, amateur chemistry labs. Unfortunately, however, there are signs that some of our more educated brothers who are becoming more integrated into the majority culture, are now beginning to "drop acid."
In view of the fact that drug addiciton is such a serious menace to the black community, I have in the past, and may again overreact to the problem. Like you, I am more than a little resentful by the incredible national inattention to what has essentially been a black problem -- until the drug problem moved out of the ghetto and began to threaten the comfortable white suburbs and those curious middle and upper middle class youngsters residing in them.
More than once I have thought that if the larger society had chosen to exert half the effort it is beginning to muster in dealing
Last edit 7 days ago by
Jannyp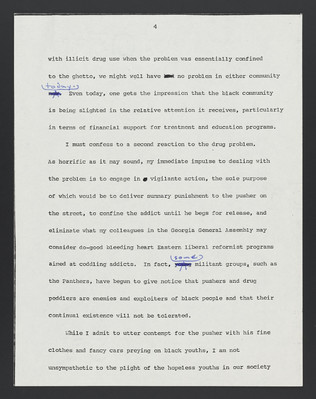 4
with illicit drug use when the problem was essentially confined to the ghetto, we might well have no problem in either community today. Even today, one gets the impression that the black community is being slighted in the relative attention it receives, particularly in terms of financial support for treatment and education progress.
I must confess to a second reaction to the drug problem. As horrific as it may sound, my immediate impulse to dealing with the problem is to engage in vigilante action, the sole purpose of which would be to deliver summary punishment to the pusher on the street, to confine the addict until he begs for release, and eliminate what my colleagues in the Georgia General Assembly may consider do-good bleeding heart Eastern liberal reformist progress aimed at coddling addicts. In fact, some militant groups, such as the Panthers, have begun to give notice that pushers and drug peddlers are enemies and exploiters of black people and that their continual existence will not be tolerated.
While I admit to utter contempt for the pusher with his fine clothes and fancy cars preying on black youths, I am not unsympathetic to the plight of the hopeless youths in our society
Last edit 7 days ago by
Jannyp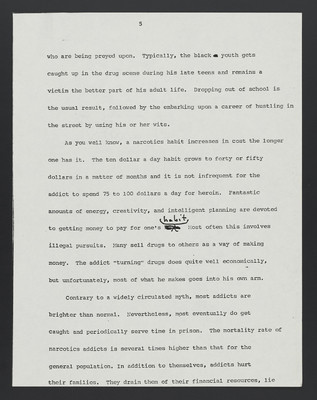 5
who are being preyed upon. Typically, the black youth gets caught up in the drug scene during his late teens and remains a victim the better part of his adult life. Dropping out of school is the usual result, followed by the embarking upon a career of hustling in the street by using his or her wits.
As you well know, a narcotics habit increases in cost the longer one has it. The ten dollar a day habit grows to a forty or fifty dollars in a matter of months and it is not infrequent for the addictto spend 75 to 100 dollars a day for heroin. Fantastic amounts of energy, creativity, and intelligent planning are devoted to getting money to pay for one's habit. Most often this involves illegal pursuits. Many sell drugs to others as a way of making money. The addict "turning" drugs does quite well economically, but unfortunately, most of what he makes goes into his own arm.
Contrary to a widely circulated myth, most addicts are brighter than normal. Nevertheless, most eventually do get caught and periodically serve time in prison. The morality rate of narcotics addicts is several times higher than that for the general population. In addition to themselves, addicts hurt their families. They drain them of their financial resources, lie
Last edit 7 days ago by
Jannyp