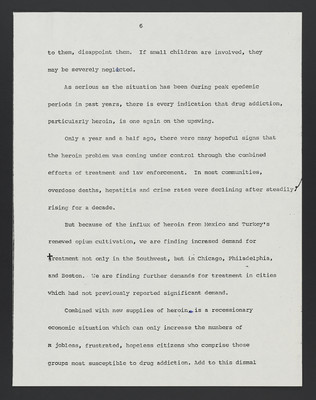 to them, disappoint them. If small children are involved, they may be severely neglected.
As serious as the situation has been during peak epedemic periods in past years, there is every indication that drug addiciton, particularly heroin, is one again on the upswing.
Only a year and a half ago, there were many hopegul signs that the heroin problem was coming under control through the combined efforts of treatment and law enforcement. In most communities, overdose deaths, hepatitis and crime rates were declining after steadily rising for a decade.
But because of the influx of heroin from Mexico and Turkey's renewed opium cultivation, we are finding increased demand for treatement not only in the Southwest, but in Chicago, Philadelphia, and Boston. We are finding further demands for treatment in cities which had not previously reported significant demand.
Combined with new supplies of heroin is a recessionary economic situtation which can only increase the numbers of jobless, frustrated, hopeless citizens who comprise those groups most suscpetible to drug addiction. Add to this dismal
Last edit 7 months ago by
Emily Guice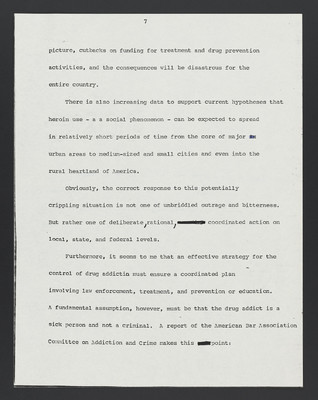 picture, cutbacks on funding for treatment and drug prevention activities, and the consequences will be disastrous for the entire country.
There is also increasing data to support current hypotheses that heroin use - a a social phenomenon - can be expected to spread in relatively short periods of time from the core of major urban areas to medium-sized and small cities and even into the rural heartland of America.
Obviously, the correct response to this potentially crippling situation is not one of unbriddled outrage and bitterness. But rather one of deliberate, rational, coordinated action on local, state, and federal levels.
Futhermore, it seems to me that an effective strategy for the control of drug addicition must ensire a coordinated plan involving law enforcement, treatment, and prevention or education. A fundamental assumption, however, must be that the drug addict is a sick perosn and not a criminal. A report of the American Bar Association Committee on Addiction and Crime makes this point:
Last edit 7 months ago by
Emily Guice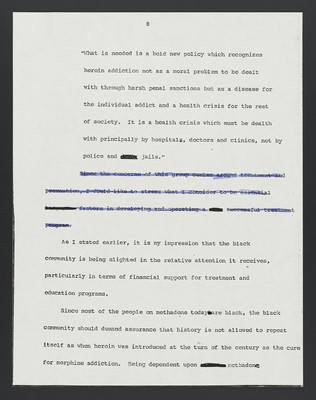 "What is needed is a bold new policy which recognizes heroin addicition not as a moral problem to be dealt with through harsh penal sanctions but as a disease for the individual addict and a health crisis for the rest of society. It is a health crisis which must be dealth with principally by hospitals, doctors and clinics, not by police and jails."
As I stated earlier, it is my impression that the black community is being slighted in the relative attention it recievves, particularly in terms of financial support for treatment and education programs.
Since most of the people on metadone today are black, the black community should demand assurance that history is not allowed to repeat itself as when heroin was introduced at the turn of the century as the cure for morphine addiction. Being dependent upon methadone
Last edit 7 months ago by
Emily Guice
(or worse, development on those who control its distribution) is not a permanently satisfactory state of affairs. The community, however, must exert pressure on practicioners and researchers to not be content with partial answers. The government must be forced to fund private community based programs at a level equal with the way it funds well-established state and university operated programs.
With regard to drug treatment centers, I would give greater attention to placing them in black communities, easily accessible to those neighborhoods with high concentrations of addicts and marginal youths.
Since drug abuse is a sympton of serious underlying problems, treatment programs must address the factors often recognized as related to drug abuse: unemployment, lack of education and training, and inadequate recreational facilities.
Related to this, is the need to coordinate treatment programs with other programs designed to combat related social programs.
I must also stress the importance of involving community
Last edit 7 months ago by
Emily Guice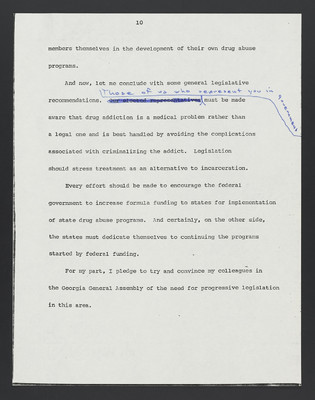 members themsleves in the development of their own drug abuse programs.
And now, let me conclude with some general legislative recommendations. Those of us who represent you in government must be made aware that drug addiciton is a medical problem rather than a legal one and is best handled by avoiding complications associated with criminalizing the addict. Legalization should stress treatment as an alternative to incarceration.
Every effort should be made to encourage the federal government to increase formula funding to sattes for implementation of state drug abuse programs. And certainly, on the other side, the states must dedicate themselves to continuing the programs started by federal funding.
For my part, I pledge to try and convince my collegues in the Georgia General Assembly of the need for progessive legislation in this area.
Last edit 7 months ago by
Emily Guice