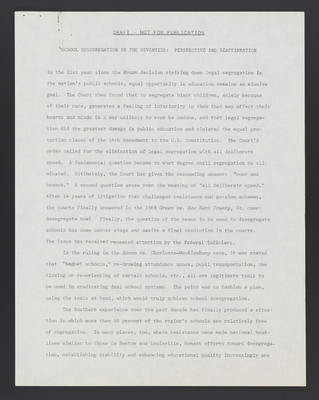 DRAFT - NOT FOR PUBLICATION
SCHOOL DESEGREGATION IN THE SEVENTIES: PERSPECTIVE AND REAFFIRMATION
In the 21st year since the Brown decision striking down legal segregation in the nation's public schools, equal opportunity in education remains an elusive goal. The Court then found that to segregate black children, solely because of their race, generates of feeling of inferiority in them that may affect their hearts and minds in a way unlikely to ever be undone, and that legal segregation did the greatest damage in public education and violated the equal protection clause of the 14th Amendment to the U.S. Constitution. The Court's order called for the elimination of legal segregation with all deliberate speed. A fundamental question became to what degree shall segregation be eli-minated. Ultimately, the Court has given the resounding answer: "root and branch." A second question arose over the meaning of "all deliberate speed." After 14 years of litigation that challenged resistance and go-slow schemes, the courts finally answered in the 1968 Green vs. New Kent County, Va. case: desegrate now! Finally, the question of the means to be used to desegregate schools has come center stage and awaits a final resolution in the courts. The issue has received repeated attention by the federal judiciary.
In the ruling in the Swann vs. Charlotte -Mecklenburg case, it was stated that "magnet schools," re-drawing attendance zones, pupil transportation, the closing or re-orienting of certain schools, etc., all are legitimate tools to be used in eradicating dual school systems. The point was to fashion a plan, using the tools at hand, which would truly achieve school desegregation.
The Southern experience over the past decade has finally produced a situation in which more than 50 percent of the region's schools are relatively free of segregation. In many places, too, where resistance once made national headlines similar to those in Boston and Louisville, honest efforts toward desegregation, establishing stability and enhancing educational quality increasingly are
Last edit about 1 year ago by
BettyJoyce Nash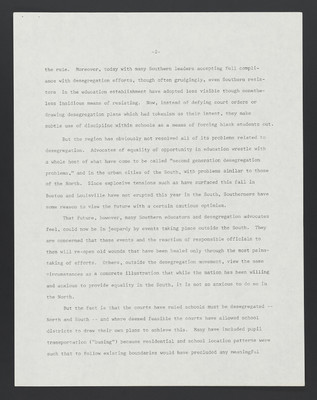 -2-
the rule. Moreover, today with many Southern leaders accepting full compliance with desegregation efforts, though often grudgingly, even Southern resistors in the education establishment have adopted less visible though nonetheless insidious means of resisting. Now, instead of defying court orders or drawing desegregation plans which had tokenism as their intent, they make subtle use of discipline within schools as a means of forcing black students out.
But the region has obviously not resolved all of its problems related to desegregation. Advocates of equality of opportunity in education wrestle with a whole host of what have come to be called "second generation desegregation problems," and in the urban cities of the South, with problems similar to those of hte North. Since explosive tensions such as have surfaced this fall in Boston and Louisville have not erupted this year in the South, Southerners have some reason to view the future with a certain cautious optimism.
That future, however, many Southern educators and desegregation advocates feel, could now be in jeopardy by events taking place outside the South. They are concerned that these events and the reaction of the responsible officials to them will re-open old wounds that have been healed only through the most painstaking of efforts. Others, outside the desegregation movement, view the same circumstances as a concrete illustration that while the nation has been willing and anxious to provide equality in the South, it is not so anxious to do so in the North.
But the fact is that the courts have ruled schools must be desegregated-North and South -- and where deemed feasible the courts have allowed school districts to draw their own plans to achieve this. Many have included pupil transportation ("busing") because residenetial and school location patterns were such that to follow existing boundaries would have precluded any meaningful
Last edit about 1 year ago by
BettyJoyce Nash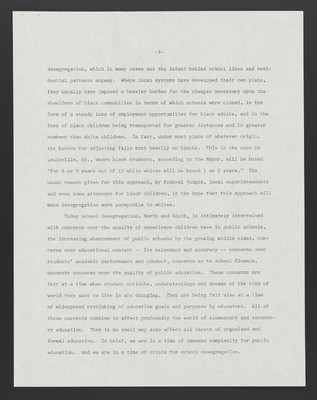 -3desegregation, which in many cases was the intent behind school lines and res-idential patterns anyway. Where local systems have developed their own plans, they usually have imposed a heavier burden for the changes necessary upon the shoulders of black communities in terms of which schools were closed, in the form of a steady loss of employment opportunities for black adults, and in the form of black children being transported for greater distances and in greater numbers than white children. In fact, under most plans of whatever origin, the burden for adjusting falls most heavily on blacks. This is the case in Louisville, Ky., where black students, according to the Mayor, will be bused "for 8 or 9 years out of 12 while whites will be bused 1 or 2 years." The usual reason given for this approach, by federal jduges, local superintendents and even some attorneys for black children, is the hope that this approach will make desegregation more acceptable to whites.
Today school desegregation, North and South, is intimately intertwined with concerns over the quality of experience children have in public schools, the increasing abandonment of public schools by the growing middle class, concerns over educational content -- its relevancy and accuracy -- concerns over students' academic performance and conduct, concerns as to school finance, concrete concerns over the quality of public education. These concerns are felt at a time when student outlooks, understandings and dreams of the kind of world they want to live in are changing. They are being felt also at a time of widespread rethinking of education goals and purposes by educators. All of these currents combine to affect profoundly the world of elementary and secondary education. They in no small way also affect all facets of organized and formal education. In brief, we are in a time of immense complexity for public education. And we are in a time of crisis for school desegregation.
Last edit about 1 year ago by
BettyJoyce Nash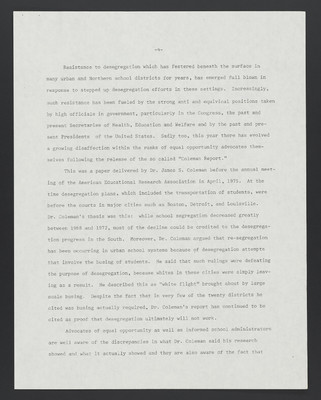 -4-
Resistance to desegregation which has festered beneath the surface in many urban and Northern school districts for years, has emerged full blown in response to stepped up desegregation efforts in these settings. Increasingly, such resistance has been fueled by the strong anti and equivical positions taken by high officials in government, particularly in the Congress, the past and present Secretaries of Health, Education and Welfare and by the past and present Presidents of the United States. Sadly too, this year there has evolved a growing disaffection within the ranks of equal opportunity advocates themselves following the release of the so called "Coleman Report."
This was a paper delivered by Dr. James S. COleman before the annual meeting of the American Educational Research Association in April, 1975. At the time desegregation plans, which included the transportation of students, were before the courts in major cities such as Boston, Detroit, and Louisville. Dr. Coleman's thesis was this: while school segregation decreased greatly between 1968 and 1972, most of the decline could be credited to the desegregation progress in the South. Moreover, Dr. Coleman argued that re-segregation has been occurring in urban school systems because of desegretation attempts that involve the busing of students. He said that such rulings were defeating the purpose of desegregation, because white sin these cities were simply leaving as a result. He described this as "white flight" brought about by large scale busing. Despite the fact that in very few of the twenty districts he cited was busing actually required, Dr. Coleman's report has continued to be cited as proof that desegregation ultimately will not work.
Advocates of equal opportunity as well as informed school administrators are well aware of the discrepancies in what Dr. Coleman said his research showed and what it actually showed and they are also aware of the fact that
Last edit about 1 year ago by
BettyJoyce Nash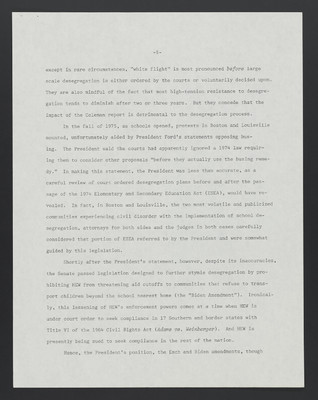 -5-
except in rare circumstances, "white flight" is most pronounced before large scale desegregation is either ordered by the courts or voluntarily decided upon. They are also mindful of the fact that most high-tension resistance to desegregation tends to diminish after two or three years. But they concede that the impact of the Coleman report is detrimental to the desegregation process.
In the fall of 1975, as schools opened, protests in Boston and Louisville mounted, unfortunately aided by President Ford's statements opposing busing. The president said the courts had apparently ignored a 1974 law requiring them to consider other proposals "before they actually use the busing remedy." In making this statement, the President was less than accurate, as a careful review of court ordered desegregation plans before and after the passage of the 1974 Elementary and Secondary Education Act (ESEA), would have revealed. In fact, in Boston and Louisville, the two most volatile and publicized communities experiencing civil disorder with the implementation of school desegregation, attorneys for both sides and the judges in both cases carefully considered that portion of ESEA referred to by the President and were somewhat guided by this legislation.
Shortly after the President's statement, however, despite its inaccuracies, the Senate passed legislation designed to further stymie desegregation by pro-hibiting HEW from threatening aid cutoffs to communities that refuse to transport children beyind the school nearest home (the "Biden Amendment"). Ironically, this lessening of HEW's enforcement powers comes at a time when HEW is under court order to seek compliance in 17 Southern and border states with TItle VI of the 1964 Civil Rights Act (Adams vs. Weinberger). And HEW is presently being sued to seek compliance in the rest of the nation.
Hence, the President's position, the Esch and Biden amendments, though
Last edit about 1 year ago by
BettyJoyce Nash