Pages That Need Review
(Scholars' Lab) Draft of an article for Playboy for their Holiday Anniversary Issue, "Bring Us Together," September 1969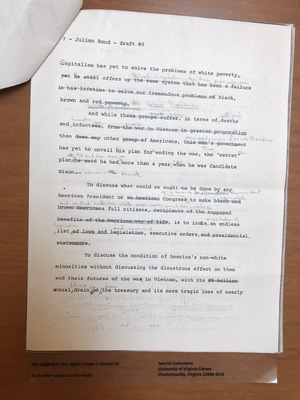 7 - Julian Bond - draft #2
capitalism has yet to solve the problems of white poverty, yet he still offers up the same sytem that has been a failure in his lifetime to solve our tremendous problems of black, brown and red poverty.
And while these groups suffer, in terms of deaths and inductees, from the war in Vietnam in greater proportion than does any other group of Americans, this man's government has yet to unveil his plan for ending the war the "secret" plan he said he had more than a year when he was Candidate Nixon.
To discuss what could or ought to be done by any American President or an Americal Congress to make black and brown Americans full citizens, recipients of the supposed benefits of the American way of life, is to invite an endless list of laws and legislation, executive ordes and presidential statements.
To discuss the condition of America's non-white minorities without discussing the disastrous effect on them and their futures of the was in Vietnam, with its $3 billion annual drain on the treasury and its more tragic loss of nearly
Last edit 5 days ago by
Elissasass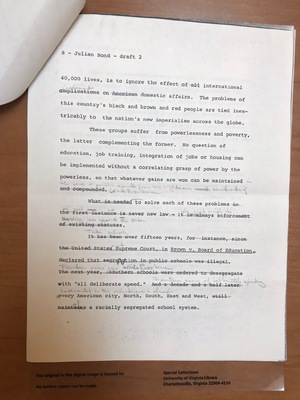 8 - Julian Bond - draft 2
40,000 lives, is to ingore the effect of all international complications on American domestic affairs. The problems of this country's black and brown and red people are tied inextricably to the nation's new imperialism across the globe.
These groups suffer from powerlessness and poverty, the latter complementing the former. No question of education, job training, integration of jobs or housing can be implemented without a correlating grasp of power by the powerless, so that whatever gains are won can be maintained and compounded.
What is needed to solve each of these problems in the first instance is never new law - it is always enforcement of existing statues.
It has been over fifteen years, for instance, since the United States Supreme Court, in Brown v. Board of Education, declared that segreagtion in public schools was illegal. The next year, Southern schools were ordered to desegregate with "all deliberate speed." And a decade and a half later every American city, North, South, East and West, still maintains a racially segragated school system.
Last edit 5 days ago by
Elissasass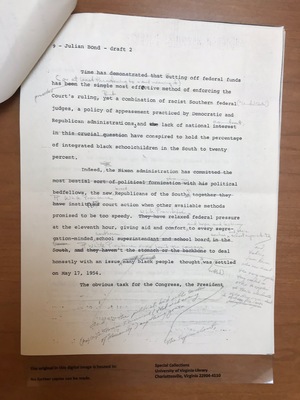 9 - Julian Bond - draft 2
Time has demonstrated that cutting off federal funds has been the single most effective method of enforcing the Court's ruling, yet a combination of racist Southern federal judges, a policy of appeasement practiced by Democratic and Republican administrations and lack of national interest in this crucial question have conspired to hold the percentage of integrated black schoolchildren in the South to twenty percent.
Indeed, the Nixon administration has committed the most bestial sort of political fornication with his political bedfellows, the new Republicans of the South together they have instittued court action when other available methods promised to be too speedy. They have relaxed federal pressure at the eleventh hour, giving aid and comfort to every segregation-minded school superintendant and school board in the South, and they haven't the stomach or the backbone to deal honestly with an issue many black people thought was settled on May 17, 1954.
The obvious task for the Congress, the President
Last edit about 2 years ago by
Billy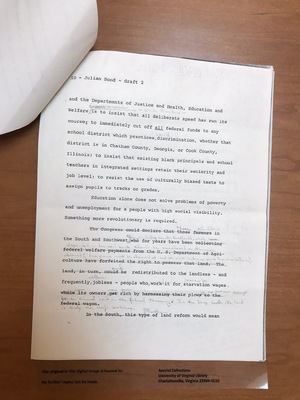 10 - Julian Bond - draft 2
and the Departments of Justice and Health, Education and Welfare is to insist that all deliberate speed has run its course: to immediately cut off all federal funds to any school district which practices discrimination, whether that district is in Chatham Country, Georgia, or Cook County, Illinois; to insist that existing black principals and school teachers in interegrated settings retain their seniority and job level; to resist the use of culturally biased tests to assign pupils to tracks of grades.
Education alone does not solve problems of poverty and unemployment for a people with high social visibility. Something more revolutionary is required.
The Congress could declare that those farmers in the South and Southwest who for years have been collecting fedeal welfare payments from the U. S. Department of Agriculture have forfeited the right to possess that land. The land, in turn could be redistributed to the landless - and frequently jobless - people who work it for starvation wages while it owners get rich by harnessing their plows to the federal wagon.
In the South, this type of land reform would mean
Last edit 18 days ago by
JanayaMott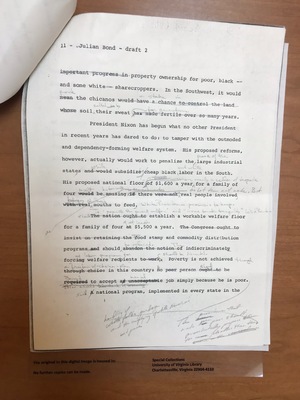 11 - Julian Bond - draft 2
important progress in property ownership for poor, black and some white - sharecroppers. In the Southwest, it would mean the chicanos would have a chance to control the land whose soil their sweat has made fertile over so many years.
President Nixon has begun what no other President in recent years has dared to do: to tamper with the outmoded and dependency-forming welfare system. His proposed reforms, however, actually would work to penalize the large industrial states and would subsidize cheap black labor in the South. His proposed national floor of $1,600 a year for a family of four would be amusing if there were not real people involved with real mouths to feed.
The nation ought to establish a workable welfare floor for a family of four at $5,500 a year. The Congress ought to insist on retaining fhe food stamp and commodity distribution programs and should abandon the notion of indiscriminately forcing welfare recipients to work. Poverty is not achieved through choice in this country; no peer person ought to be required to accept an unacceptable job simply because he is poor.
A national program, implemented in every state in the
Last edit about 2 years ago by
Billy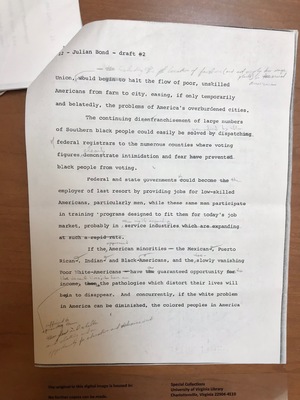 12 - Julian Bond - draft #2
Union, would begin to halt the flow of poor, unskilled Americans from farm to city, easing, if only temporarily and belatedly, the problems of America's overburdened cities.
The continuing disenfranchisement of large numbers of Southern black people could easily be selved by dispatching federal registrars to the numerous counties where voting figures demonstrate intimidation and fear have prevented black people from voting.
Federal and state governments could become the employer of last resort by providing jobs for low-skilled Americans, particular men, while these same men participate in training programs designed to fit them for today's job market, probably in service industries which are expanding at such a rapid rate.
If the American minorities - the Mexican- Puerto Rican-, Indian- and Black-Americans, and the slowly vanishing Poor White-Americans - have the guaranteed opportunity for income, then, the pathologies which distort their lives will begin to disappear. And concurrently, if the white problem in America can be diminished, the colored peoples in America
Last edit about 2 years ago by
Billy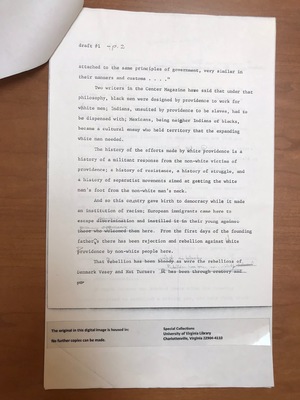 draft #1 - p. 2
attached to the same principles of government, very similar in their manners and customs . . ."
Two writer in the Center Magazine have said that under that philosophy, black men were designed by providence to work for white men; Indians, unsuited by providence to be slaves, had to be dispensed with; Mexicans, being neither Indians or blacks, became a cultural enemy who held territory that the expanding white man needed.
The history of the efforts made by white providence is a history of a militant response from the non-white victims of providence; a history of resistance, a history of struggle, and a history of separatist movements aimed at getting the white man's foot from the non-white man's neck.
And so this country gave birth to democracy while it made an institution of racism; European immigrants came here to escape oppressors and their young became oppressors here. From the first days of the founding fathers there has been rejection and rebellion against White Providence by non-white people here.
The Rebellion has been violent, as bloody as were the rebellions of Denmark Vesey and Nat Turner. Rebellion has been non-violently
Last edit about 2 years ago by
Carla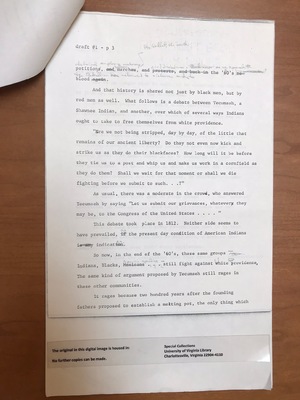 draft #1 - p 3
rhetorical petitions, employing oratory, the ballot, the [illegible] the march, and civil disobedience. And now as we approach the 70's the Rebellion has returned to violence and to blood.
And that history is shared not just by black men, but by red men as well. What follows is a debate between Tecumseh, a Shawnee Indian, and another, over which of several ways Indians ought to take to free themselves from white providence.
"Are we not being stripped, day by day, of the little that remains of our ancient liberty? Do they not even now kick and strike us as they do their blackfaces? How long will it be before they tie us to a post and whip us and make us work in a cornfield as they do them? Shall we wait for that moment or shall we die fighting before we submit to such . . .?"
As usual, there was a moderate in the crowd, who answered Tecumseh by saying "Let us submit our grievances, whatever they may be, to the Congress of the United States . . . ."
This debate took place in 1812. Neither side seems to have prevailed, as the present day condition of American Indians indicates.
So now, in the end of the '60's, these same groups -- Indians, Blacks, Spanish speaking -- still fight against White Providence, The same kind of argument proposed by Tecumseh still rages in these other communities.
It rages because two hundred years after the founding father proposed to establish a melting pot, the only thing which
Last edit about 2 years ago by
Carla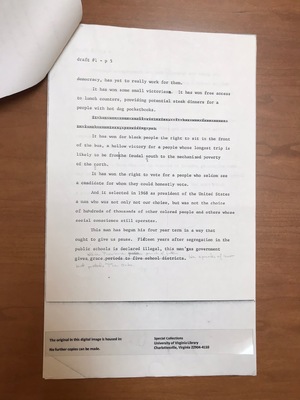 draft #1 - p 5
democracy, has yet to really work for them.
It has won some small victories. It has won free access to lunch counters, providing potential steak dinners for a people with hot dog pocketbooks.
It has won for black people the right to sit in the front of the bus, a hollow victory for a people whose logest trip is likely to fromthe feudal south to the mecanized poverty of the north.
It has won the right to vote for a people who seldom see a candidate for whom they could honestly vote.
And it selected in 1968 as president of the United States a man who was not only not our choice, but was not the choice of hundreds of thousands of other colored people and others whose social consience still operates.
This man has begun his four year term in a way that ought to give us pause. Fifteen years after segregation in the public schools is declared illegal, this man'gxs government gives White Providence periods of further grace. He speaks of law but protects The Order.
Last edit about 2 years ago by
Billy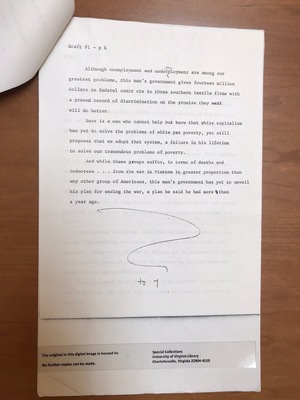 draft #1 - p 6
Although unemployment and underemployment are among our greatest problems, this man's government gives fourteen million dollars in federal contr cts to three southern textile firms with a proved record of discrimination on the promise they will do better.
Here is a man who cannot help but know that white capitalism has yet to solve the problems of white poverty, yet still proposes that we adopt that system, a failure in his lifetime to solve our tremendous problems of poverty.
And while these groups suffer, in terms of deaths and inductees . . . from the war in Vietnam in greater proportion than any other group of Americans, this man's government has yet to unveil his plan for ending the war, a plan he said he had more than a year ago.
Last edit about 2 years ago by
Billy