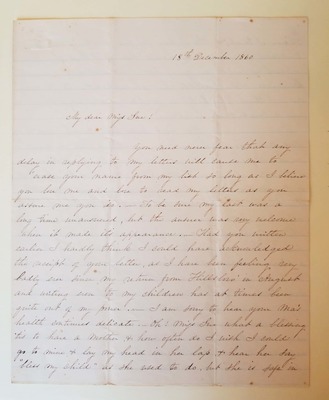 18th December 1860
My dear Miss Sue!
You need never fear that any delay in replying to my letters will cause me to erase your name from my list so long as I believe you love me and love to read my letters as you assure me you do. -- To be sure my last was a long time unanswered, but the answer was very welcome when it made it's appearance. -- Had you written earlier I hardly think I could have acknowledged the receipt of your letter, as I have been feeling very badly ever since my return from Hillsboro in August and writing even to my children has at times been quite out of my power. -- I am sorry to hear your Ma's health continues delicate. -- Oh! Miss Sue what a blessing 'tis to have a Mother & how often do I wish I could go to mine to lay my head in her lap & hear her say "bless my child" as she used to do, but she is safe in
Last edit 8 months ago by
Gaby Hale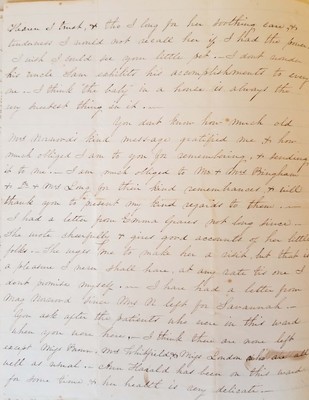 Heaven I trust, & tho I long for her soothing care, & tenderness I would not recall her if I had the power. I wish I could see your little pet. -- I don't wonder his uncle Sam exhibits his accomplishments to every one. -- I think "the lady" in a house is always the very sweetest thing in it. --
You don't know how much old Mrs. Normand's kind message gratified me & how much obliged I am to you for remembering, & sending it to me. -- I am much obliged to Mr. & Mrs. Bingham & Dr. & Mrs. Long for their kind rememberances, & will thank you to present my kind regards to them. -I had a letter from Emma Graves not long since. -She wrote cheerfully & gives good accounts of her little folks. -- She urges me to make her a visit, but that is a pleasure I never shall have, at any rate tis one I don't promise myself. -- I have had a letter from Mag Normand since Mrs. N left for Savannah. -You ask after the patients who were in this ward when you were here. -- I think there are none left except Miss Brown, Mrs. Whitfield, & Miss London who are all well as usual. -- Ann Harald has been on this ward for some time & her health is very delicate. --
Last edit 8 months ago by
Gaby Hale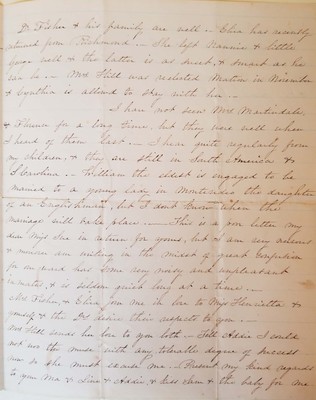 Dr. Fisher & his family are well. Elisa has recently returned from Richmond. -- She left Nannie & little George well & the latter is as sweet, & smart as he can be. -- Mrs. Hill was reelected Matron in November & Cynthia is allowed to stay with her. --
I have not seen Mrs. Martindale, & Florence for a long time, but they were well when I heard of them last. -- I hear quite regularly from my children. -- William the eldest is engaged to be married to a young lady in [Monterideo?] the daughter of an Englishman, but I don't know when the marriage will take place. -- This is a poor letter my dear Miss Sue in return for yours, but I am very nervous & moreover am writing in the midst of great confusion for our ward has some very noisy and unpleasant inmates, & is seldom quiet long at a time. -Mrs. Fisher, & Elisa join me in love to Miss Henrietta & yourself & the Drs. desire their respects to you. -Mrs. Hill sends her love to you both. -- Tell Addie I could not [illegible] the muse with any tolerable degree of success now so she must excuse me. Present my kind regards to your Ma & Line & Addie, & kiss Sam & the baby for me.
Last edit 8 months ago by
Gaby Hale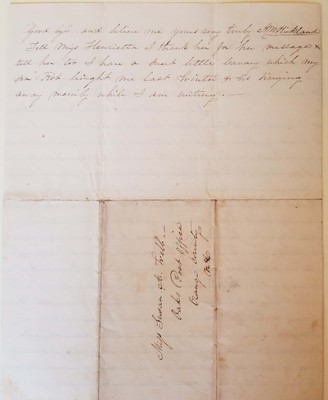 Good bye and believe me your very truly A.M. Kirkland. Tell Miss Henrietta I thank her for her message & tell her too I have a sweet little canary which my son Rob bought me last winter, & to he's singing away merrily while I am writing. --
Miss Susan A. Webb Oaks Post Office Orange Count N.C.
Last edit 8 months ago by
Gaby Hale