About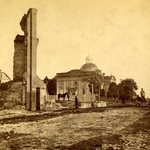 The Civil War & Reconstruction Governors of Mississippi project (CWRGM) is digitizing, transcribing, and annotating the nearly 20,000 documents in the state's governors' collections for the long Civil War era, and we're seeking your help. To meet our goals, we rely in part on volunteer transcribers and we've created a "Quick-Guide for Volunteer Transcribers" to show you just how easy and fun this work can be. You're welcome to follow our full Transcription Protocols, but these are more complex and involve more than some volunteers feel comfortable contributing. Either approach is fine!
If you'd like to learn more about what we're creating and see what your efforts help make possible, check out our official website at
cwrgm.org
CWRGM is a partnership between the Mississippi Department of Archives and History (MDAH), the Mississippi Digital Library (MDL), and the History program at the University of Southern Mississippi (USM). It receives significant grant funding from the National Endowment for the Humanities, the National Historical Publications and Records Commission (National Archives), and the Watson-Brown Foundation, with additional support provided by the USM Office for Research, MDAH, MDL, and the USM Dale Center for the Study of War & Society.
If you have any questions, don't hesitate to
contact us
Works
Displaying entries 401 - 400 of 65 in total
Subject Categories
Events, Military Units, Occupations, Organizations and Businesses, People, Places, Social Identifiers, Vital Statistics