codex002489-071v
Facsimile
Transcription
Status: Needs Review
I will not doubt; well anchored in the faith
Like some staunch ship, my soul braves every gale.
So Strong its courage, that it will not fail,
To breast the mighty unknown sea of Death
O may I cry when body parts with a spirit
I do not doubt, so listening workd my hear it . ..?
With my last breath.
Cast thy bread upon the waters
Waft it on - with praying breath
In some distant, doubtful moment
It may save a soul from death.
When you sleep in solemn silence
Neath the morn and evening dew
Stranger hands which you have strengthed
May strew lilies over you.
Cast your bread upon the waters
Far and wide your treasures store
Scatter it with willing fingers
Shout for joy to see it go.
Notes and Questions
Please sign in to write a note for this page
This page is complete - I don't know why it says incomplete. Did I hit the wrong button?
The quote ends on the next page though
This is my first time transcribing for you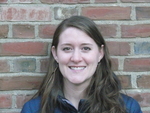 Thank you Anne! It may say incomplete just because it moves into review stage by one of the project managers. By selecting "save", your transcription work is saved, so it should be all set. Message us at the contact link below if you come across further concerns, or leaving notes in these fields is fine too!