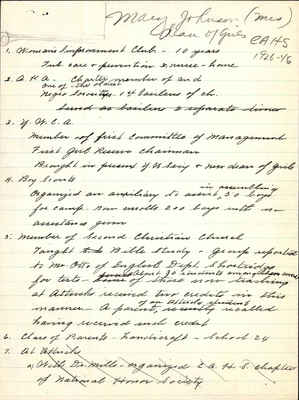 Mary Johnson (Mrs) dean of girls CAHS 1926-46
1. Woman's Improvement Club. - 10 years Tub.[erculosis] care & prevention [Sr.?] nurse - home
2. AKA- Charter member of and one of the oldest Negro Sororitys- 1st Basileus of ch. [Served as basileus 2 separate times]
3. Y. W. C. A. Member of first committees of management First girl Reserve Chairman Brought in present Y. W. Secy & new Dean of Girls
4. Boy Scouts Organized an auxiliary to assist in assembling 50 boys for camp. Now enrolls 200 boys with no assistance given
5. Member of Second Christian Church Taught [S.] Bible Study- group reported to Mr. Otto of English Dept. Shortridge for tests - About 30 students among them several [some] of those now teaching at Attucks received two credits in this manner - A parent of an Attucks student [recently] recalled having received such credit
6. Class of Parents - Handicraft - School 24
7. [At Attucks a. With Dr. Mills - organized C.A.H.S chapter of National Honor Society]
Last edit 5 months ago by
Rita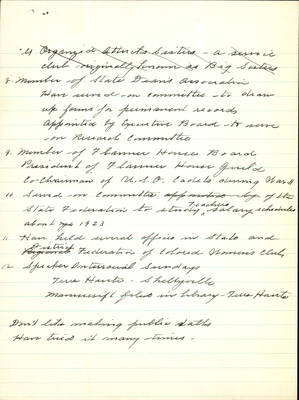 [...] [Organized Attucks Sisters - a service club orginally known as Big Sisters]
8. Member of State Dean's Association Have surved on committee to draw up forms for personnel records Appointed by Executive Board to serve on Research Committee
9. Member of Flanner House Board President of Flanner House guild Co-Chairman of U.S.O. Cadets during War.
10 Served on Committee [appointed by] of the State Federation to study teachers salary schedules about 1923
11 Have held several offices in State and [Regional] District Federation of Colored Women's Clubs.
12 Speaker International Sundays Terre Haute - Shelbyville Manuscript files in library - Terre Haute
Don't like making public [...] Have tried it many times.
Last edit about 1 year ago by
Caitlin D.