GW#2 - p3 (2)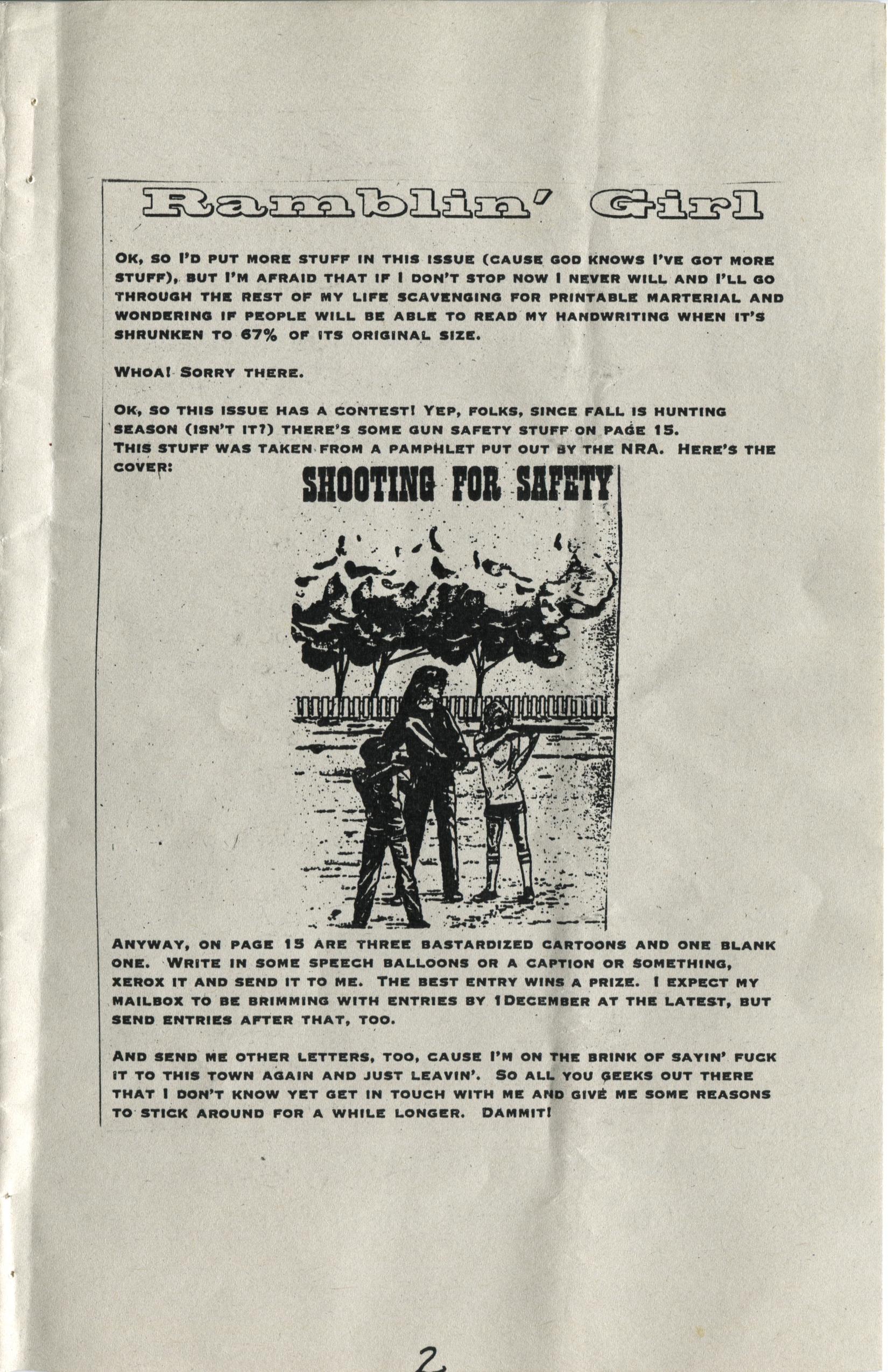 Ramblin' Girl
OK, SO I'D PUT MORE STUFF IN THIS ISSUE (CAUSE GOD KNOWS I'VE GOT MORE STUFF), BUT I'M AFRAID THAT IF I DON'T STOP NOW I NEVER WILL AND I'LL GO THROUGH THE REST OF MY LIFE SCAVENGING FOR PRINTABLE MATERIAL AND WONDERING IF PEOPLE WILL BE ABLE TO READ MY HANDWRITING WHEN IT'S SHRUNKEN TO 67% OF ITS ORIGINAL SIZE.
WHOA! SORRY THERE.
OK, SO THIS ISSUE HAS A CONTEST! YEP, FOLKS, SINCE FALL IS HUNTING SEASON (ISN'T IT?) THERE'S SOME SAFETY STUFF ON PAGE 15. THIS STUFF WAS TAKEN FROM A PAMPHLET PUT OUT BY THE NRA. HERE'S THE COVER:
[image: illustration, woman supervising two children shooting rifles]
[image text: SHOOTING FOR SAFETY]
ANYWAY, ON PAGE 15 ARE THREE BASTARDIZED CARTOONS AND ONE BLANK ONE. WRITE IN SOME SPEECH BALLOONS OR A CAPTION OR SOMETHING, XEROX IT AND SEND IT TO ME. THE BEST ENTRY WINS A PRIZE. I EXPECT MY MAILBOX TO BE BRIMMING WITH ENTRIES BY 1 DECEMBER AT THE LATEST, BUT SEND ENTRIES AFTER THAT, TOO.
AND SEND ME OTHER LETTERS, TOO, CAUSE I'M ON THE BRINK OF SAYIN' FUCK IT TO THIS TOWN AGAIN AND JUST LEAVIN'. SO ALL YOU GEEKS OUT THERE THAT I DON'T KNOW YET GET IN TOUCH WITH ME AND GIVE ME SOME REASONS TO STICK AROUND FOR A WHILE LONGER. DAMMIT!
Page Notes
Nobody has written a note for this page yet
Please sign in to write a note for this page