Royal Bensell letters 1877 Vol. 439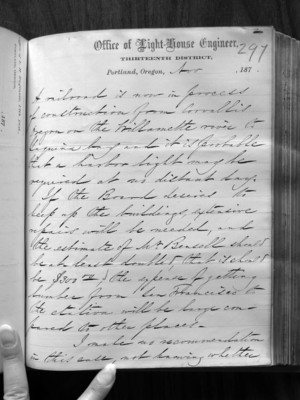 Office of Light-House Engineer, Thirteenth district, Portland, Oregon, ??? 187
A railroad is now in process of construction from Corvallis Oregon on the Willamette River to Yaquina bay and it is probable that a harbor light may be required at no??? distant day. If the board desires to keep up the buildings, extensive repairs will be needed, and the estimate of W. Bensell should be at least doubled, that is should be $300.00; the expense of getting lumber from San Francisco to the station will be large compared to other places.
I make no recommendation in this case, not knowing whether
Last edit over 2 years ago by
Wjhoward
p-1 1881 YH Descriptive Pamphlet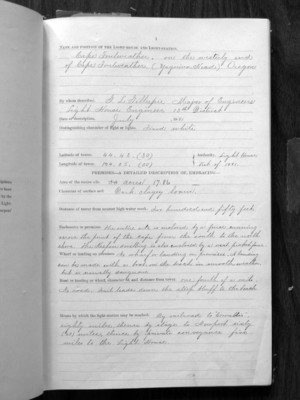 1 NAME AND POSITION OF THE LIGHT-HOUSE AND LIGHT-STATION. Cape Foulweather, on the westerly end of Cape Foulweather (Yaquina Head) Oregon
By whom described. G.L. Gillespie Major of Engineers Light-House Engineer 13th District
Date of description, July 1881
Distinguishing Character of light or lights. Fixed White Latitude of tower. 44.43. (30) Authority Light-House Longitude of tower, 124.05. (00) List of 1881
PREMISES- A DETAILED DESCRIPTION OF, EMBRACING—
Area of the entire site. 30 acres 17.86
Character of surface soil. Dark Clayey loam
Distance of tower from nearest high-water mark. Two hundred and fifty feet.
Enclosure to premises. The entire site is enclosed by a fence running across the point of the cape from the South to the North shore. The keepers dwelling is enclosed by a neat picket fence.
Wharf or Landing on premises. No wharf or landing on premises. A landing can be made with a boat, on the beach in smooth weather, but is usually dangerous.
Road to landing or wharf, character of, and distance from tower. One fourth of a mile. No road, trail leads down the steep bluff to the beach.
Means by which the light-station may be reached. By railroad to "Corvallis", eighty miles, thence by stage to Newport sixty (60) miles to the Light House.
Last edit over 2 years ago by
Wjhoward