p-1 District 13 Reports, Keeper Appointment Records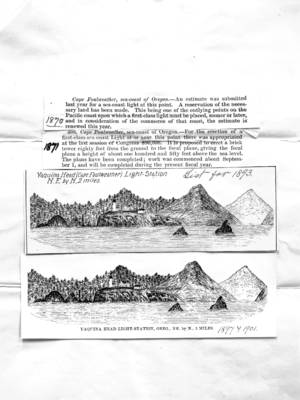 Cape Foulweather, sea-coast of Oregon.---An estimate was submitted last year for a sea-coast light at this point. A reservation of the necessary land has been made. This being one of the outlying points on the Pacific coast upon which a first-class light must be placed, sooner or later, and in consideration of the commerce of that coast, the estimate is renewed this year.
408. Cape Foulweather, sea-coast of Oregon.---For the erection of a first-class sea-coast Light at or near this point there was appropriated at the last session of Congress $90,000. It is proposed to erect a brick tower eighty feet from the ground to the focal plane, giving the focal plane a height of about one hundred and fifty feet above sea level. The plans have been completed; work was commenced about September 1, and will be completed during the present fiscal year.
Yaquina Head (Cape Foulweather) Light Station List for 1893 N.E. by N., 2 miles.
picture???
picture???
YAQUINA HEAD LIGHT-STATION, OREG., NE. by N., 2 MILES 1897 ??? 1901
Last edit over 2 years ago by
Wjhoward
Correspondence of LH board 1901-1910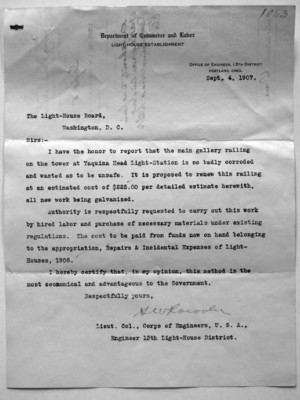 Department of Commerce and Labor LIGHTHOUSE ESTABLISHMENT OFFICE OF ENGINEER, 13TH DISTRICT PORTLAND,OREG. Sept. 4, 1907.
The Light-House Board, Washington, D.C.
Sirs: I have the honor to report that the main gallery railing on the tower at Yaquina Head Light-Station is so badly corroded and wasted as to be unsafe. It is proposed to renew this railing at an estimated cost of $225.00 per detailed estimate herewith, all new work being galvanized. Authority is respectfully requested to carry out this work by hired labor and purchase of necessary materials under existing regulations. The cost to be paid from funds no on hand belonging to the appropriation, Repairs & Incidental Expenses of Lighthouses, 1906. I hereby certify that, in my opinion, this method is the most economical and advantageous to the Government. Respectfully yours, SW Rocooler??? Lieut. Col., Corps of Engineers, U.S.A., Engineer 13th Light-House District.
Last edit over 2 years ago by
foyl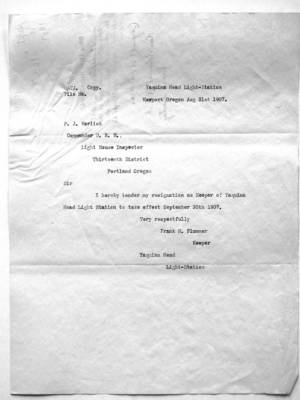 Last edit over 2 years ago by
foyl