Coast Guard District narrative histories 1945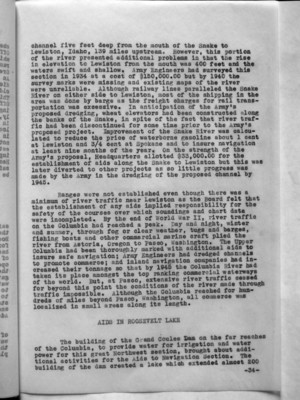 channel five feet deep from the mouth of the Snake to Lewiston, Idaho, 139 miles upstream. However, this portion of the river presented additional problems in that the rise in elevation to Lewiston from the mouth was 400 feet and the waters swift and shallow. Army Engineers had surveyed this section in 1934 at a cost of $150,000.00 but by 1940 the survey marks were missing and existing maps of the river were unreliable. Althought railway lines paralleled the Snake River on either side to Lewiston, most of the shipping in the area was done by barge as the freight charges for rail transportation was excessive. In anticipation of the Army's proposed dredging, wheat elevators had been constructed along the banks of the Snake, in spite of the fact that river traffic had been discontinued for some time prior to the Army's proposed project. Improvement of the Snake River was calculated to reduce the price of waterborne gasoline about 1 cent at Lewiston and 3/4 cent at Spokane and to insure navigation at least nine months of the year. On the strength of the Army's proposal, Headquarters allotted $33,000.00 for the establishment of aids along the Snake to Lewiston but this was later diverted to other projects as so little progress was made by the Army in the dredging of the proposed channel by 1945.
Ranges were not established even though there was a minimum of river traffic near Lewiston as the Board felt that the establishment of any aids implied responsibility for the safety of the courses over which soundings and chart data were incompleted. By the end of World War II, river traffic on the Columbia had reached a peak. Day and night, winter and summer, through fog or clear weather, tugs and barges, fishing boats and other commercial marine craft plied the river from Astoria, Oregon to Pasco, Washington. The Upper Columbia had been thoroughly marked with additional aids to insure safe navigation; Army Engineers had dredged channels to promote commerce; and inland navigation companies had increased their tonnage so that by 1945 the Columbia River had taken its place amongst the top ranking commercial waterways of the world. But, at Pasco, extensive river traffic ceased for beyond this point the conditions of the river made through traffic impossible. Although the Columbia reached for hundreds of miles beyond Pasco, Washington, all commerce was localized in small areas along its length.
AIDS IN ROOSEVELT LAKE
The building of the Grand Coulee Dam on the far reaches of the Columbia, to provide water for irrigation and water power for this great Northwest section, brought about additional activities for the Aids to Navigation Section. The building of the dam created a lake which extended almost 200
-34-
Last edit over 3 years ago by
Wjhoward