Coast Guard District narrative histories 1945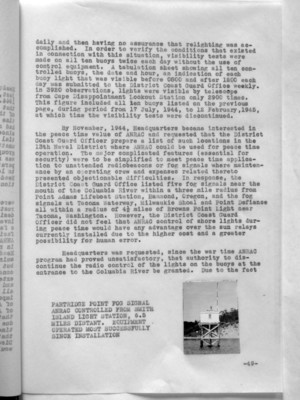 daily and then having no assurance that relighting was accomplished. In order to verify the conditions that existed in connection with this situation, visibility tests were made on all ten buoys twice each day without the use of control equipment. A tabulation sheet showing all ten controlled buoys, the date and hour, an indication of each buoy light that was visible before 0800 and after 1200 each day was submitted to the District Coast Guard Office weekly. In 3920 observations, lights were visible by telescope from Cape Disappointment Lookout Station only 2900 times. This figure included all ten buoys listed on the previous page, during period from 17 July, 1944, to 12 February, 1945, at which time the visibility tests were discontinued.
By November, 1944, Headquarters became interested in the peace time value of ANRAC and requested that the District Coast Guard Officer prepare a list of such locations in the 13th Naval District where ANRAC could be used for peace time operation. The major complicated features (essential for security) were to be simplified to meet peace time application to unattended radiobeacons or fog signals where maintenance by an operating crew and expenses related thereto presented objectionable difficulties. In response, the District Coast Guard Office listed five fog signals near the mouth of the Columbia River within a three mile radius from Point Adams Lifeboat Station, Hammond, Oregon, and the fog signals at Tacoma Waterway, Milwaukie Shoal and Point Defiance all within a radius of 4 1/2 miles of Browns Point Light near Tacoma, Washington. However, the District Coast Guard Officer did not feel that ANRAC control of shore lights during peace time would have any advantage over the sun relays currently installed due to the higher cost and a greater possibility for human error.
Headquarters was requested, since the war time ANRAC program had proved unsatisfactory, that authority to discontinue the radio control of the lights on the buoys at the entrance to the Columbia River be granted. Due to the fact
(image)
PARTRIDGE POINT FOG SIGNAL ANRAC CONTROLLED FROM SMITH ISLAND LIGHT STATION, 6.5 MILES DISTANT. EQUIPMENT OPERATED MOST SUCCESSFULLY SINCE INSTALLATION
-49-
Last edit about 3 years ago by
Wjhoward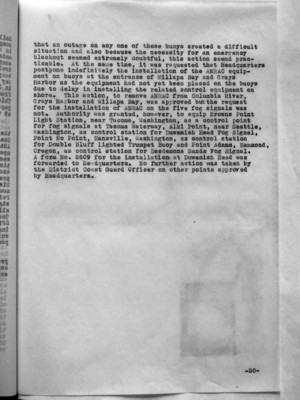 that an outage on any one of these buoys created a difficult situation and also because the necessity for an emergency blackout seemed extremely doubtful, this action seemed practicable. At the same time, it was requested that Headquarters postpone indefinitely the installation of the ANRAC equipment on buoys at the entrance of Willapa Bay and Grays Harbor as the equipment had not yet been placed on the buoys due to delay in installing the related control equipment on shore. This action, to remove ANRAC from Columbia River, Grays Harbor and Willapa Bay, was approved but the request for the installation of ANRAC on the five fog signals was not. Authority was granted, however, to equip Browns Point Light Station, newar Tacoma, Washington, as a control point for fog signals at Tacoma Waterway, Alki Point, near Seattle, Washington, as control station for Duwamish Head Fog Signal, Point No Point, Hansville, Washington, as control station for Double Bluff Lighted Trumpet Buoy and Point Adams, Hammond, Oregon, as control station for Desdemona Sands Fog Signal. A form No. 2609 for the installation at Duwamish Head was forwarded to Headquarters. No further action was taken by the District Coast Guard Officer on other points approved by Headquarters.
-50-
Last edit about 3 years ago by
Wjhoward