XM524_ICDMS_lowres Typed and handwritten notes about the Kurnai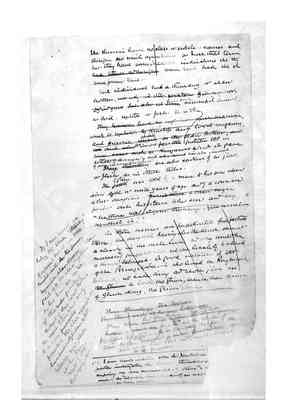 The Kurnai have no class or subclass names andtherefore no social organisation as I use that termbut they have unmistakable indications that they[had totems and therefore - crossed out] must have had that atsome former time.
Each individual had a thūndung or elderbrother, [not only in their sex totem Yürung or, - crossed out][Djütgun but also in some - crossed out] being some marsupial animal, or bird, reptile or fish. It is the [They however have no influence upon marriage - crossed out][which is regulated by kinship and local exogamy- crossed out][and survive as the merely as the elder brother and - crossed out][and also as in so far the -crossed out] protector that in[some cases such as Kangaroos + birds- crossed out] it gave[notice of - crossed out] danger, and [also -crossed out] was also invokedsongs in cases of sickness x
These [thundung - crossed out] are also spoken of as jiakor flesh as in other tribes.
The [jiak - crossed out] totem was told by a man to his son whenabout eight or nine years of age and by a womanto her daughters. [For instance a man might - crossed out]point out his totem to his son and say["see there that is your thundung; you must - crossed out][not kill it!" - crossed out]
As these names are perpetuated from fathersto sons, the daughter having also the same, descentis clearly in the male line, and they would benecessarily perpetuated in the locality to whicha man belonged. A good instance is thatof the Bunjil-baul who lived on RaymondIsland in Lake King and whose jiak was [the Gluin - crossed out] a bird the Gluin, whence their nameof Gluin-Kong, the Gluin's beak.
[The Australia - crossed out][These Thundung- crossed out][The totem and its human brother are - crossed out][These totems and their human "younger brother"- crossed out][which are younger - crossed out][brother - which are sill in the relative of- crossed out][protected + protector - they the form here the - crossed out][two classes with which we now I feel certain they- crossed out][have at one time I feel [??] [??] at where- crossed out][they preceeded - crossed out]
(1) I am much indebted to the Revd John Bulmerfurther investigating the Kurnai Thundungconfirming my own endeavours, by obtaining a[which - crossed out] of [the - crossed out] old people which abundantly establishedof male descent.
[written in left side margin]If I am correct in believing that these "thundung"were at one time[consistent with the two primary - crossed out][class divisions - crossed out]part of a two class system thenwe have here an instanceof the peculiardevelopment of these coast tribes.The [original - crossed out] totem which accordingto my view [preexisted - crossed out]preceeded the class agnate[have ended through the] still[changes - crossed out] exist, whileit has beenreplaced by rhelocal organization.
Last edit 26 days ago by
ALourie
XM98_ICDMS_lowres Information from John Bulmer, n.d.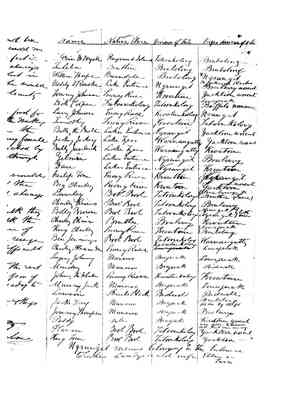 [Table]
Name, Native Place, Division of Tribe, Wife's division of tribe
William McDougall, Raymond Island, Tatoonkolong, BrabolongTuleba, Bruthen, Brabolong, BrabolongWilliam Thorpe, Bairnsdale, Brabrolong, *Ngrangit the entrancal Blacks.Neddy O'Rourke, Lakes Entrance, Ngrangit, Braberry worcutTommy Johnson, Snowy River, Kroathun, Yacktoon worcutDick Cooper, Tatoonkolong, Tatoonkolong, Lowajerak Buffalo womanLarry Johnson, Snowy River, Kroatunkoolong, NrangitTimothy, Snowy River, Kroathun, TatoonkolongBilly the Bull, Lake Entrance, Ngrangit, Yacktoon worcutJackey Jackey, Lake Tyers, Warrnangatty, Yacktoon worcutBilly Jumbuck, Lake Tyers, Warnangatty, KroatoonYelmi, Lake Entrance, Ngrangit, BraberryDan, Lakes Entrance, Ngrangit, KroatoonKerlip Tom Snowy River, Kroatun, NgrangitBig Charley, Snowy River, Kroatun, Yucktoon worcutLamby, Bool Bool, Tatoonkolong, Brabeerry Brathu (turee)*Charley Rivers, Bool Bool, Tatoonkolong, BraberryBobby Brown, Bool Bool, Tatoonkolong, Ngrangit Ngrangit (both wives)Charley Blair, Bruthen, Braberry, KroathunKing Charley, Snowy River, Kroatun, Lowajerak BrabolongBen Jennings, Bool Bool, Tatoonkolong, Warrangatty Charley Alexander, Snowy River, Kroatunkolong, LowajerakSinging Johnny, Maneroo, Brajerak, LowajerakMunday, Maneroo, Brajerak, BidwellJohnny the plater, Snowy River, Kroatunkolong, KroatunMurray Jack, Maneroo, Brajerak, LowerjerakLawson, Scrub black, Bidwell, Bidwell. Jack Hay, Maneroo, Brajerak, Brabrolong taken by theftJimmy Thompson, Maneroo, Brajerak, Braberry Paddy, Sale, Brajerak, Kroatun worcut has girls - to himdid not marryFlanner, Bool Bool, Tatoonkolong, Yacktoon worcutKing Tom, Bool Bool, Tatoonkolong, Yacktoon
Ngrangit means belonging to the Entrance to Lakes. Lambys +c and wife Ellen are Tara
Last edit about 2 months ago by
ALourie
XM690_ICDMS_lowres The organization of Australian tribes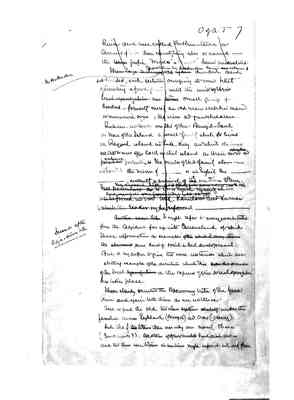 O of A.T. 7
River and were called [Kutbriu-taura?] or Carriers of 'fire' their country being also so named - the prefix "Wurk" = 'carried' being understood. For instance the Brabra clan [underlined] munji subdivision [crossed out - The large secondary] was [crossed out - again] divided and
[left margin note - the BraBra clan inserted after secondary]
subdivided, each section occupying its own tract of hunting and food ground until the unit [crossed out - of this] [crossed out - local organization] was a small group of kindred - frequently merely an old man with his married or unmarried sons; the wives and grandchildren.
Such an instance was that of the Bunjil-baul or men of the Island a small family which lived on Raymond Island in Lake King and which claimed all the swans eggs laid on that island as their own and exclusive property. The males of this family also - inherited the name of ---- or in English was -----------, evidently a survival of a onetime totem. [5 lines crossed out ]
[Left hand margin note - Insert after Adja-dūra tribe]
[Crossed out - Bruthen coast tribe] I might refer to every coast tribe from the Adjadura far up into Quensland of whichI have information as examples of these [crossed out - which and may term] the [crossed out - abnormal] same kind of social and local development. But it may suffice to give two more instances which are stretching examples of the direction which this development of the local [crossed out - organization] at the expense of the social organization has taken place.
I have already mentioned the Woeworung tribe of the Yarra River and again take them as an instance. Here we find the old two class system existing under the familiar names Eaglehawk (Bunjil) and crow (waang). but the of [crossed out - the] totems there was only one named Thar) (Eaglehawk?). All others if they ever existed had died out - and that these were totems at one time maybe inferred not only from
Last edit 2 months ago by
Christine
hw0404 Notes on Kurnai 150 pages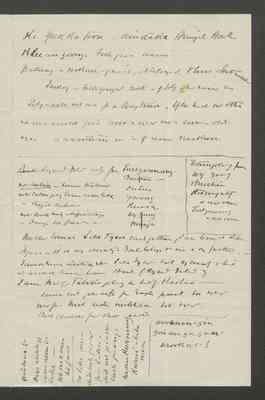 Ki yukka [??] - din dāka Bunjil BowlKhee an goong. Fath gave name.Pallung - nakun - gave it - it belonged to him- Sent name
Jackey - Father youngest north - of Toby - his name wasToby - will not use for a long time. If he had no othername would give him a new one - some oldman a [??] [??] if none narkun.
[Bowl - crossed out] Raymond Island wife from Turtgwunungnot Krotun - because Kūkun BruthenDrelinnot Tatun go by because same like Yowunga Bunjil [??] Kurranot [??] [?much?] - difficult to go Wy yungin [?Dargo?] [?the?] [??] Munju
Mother [??] Lake Tyers [?cast?] for them, [??] [??] LakeTyers - it is my country. Bowl belongs to me + my father.I could have visited at Lake Tyers but my country to livein would have been Bowl (Raymond Island)I am half Tatūngulung + half [?Kurtau?] -could not get wife from Eagle Point [??] [??][??] from West side [?milikea?] in [??]But could from this side.
[written at bottom of page]woornin-gingin an ga ganwrokut?
[written in box on right side of page]Tatūnguluna fromWy YungBruthenWūrungaltno [??]Tartgwunningno [??]
[written sideways at bottom of page]give [?wives?] to Dargo who alwayscame doe to Lakesnot old mentoo far
no lake men did not go farfrom lakes -did not go in thebush far away.
near KurnungKurni - [??]men
Last edit 5 months ago by
ALourie
hw0436 Notes by Howitt on Omeo 'tribe' and letter from Bulmer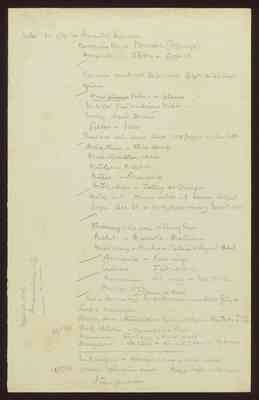 Notes 30/9/81 - Burial of [?Junorn?]curryjong tree - Poondin (Ngarego)Honeysuckle - Tarra - Gippsland
Tŭndūn made with tea tree wood [?Brt?] and stringngūrū.
Omeo [plains - crossed out] tribe - on plainsMetoko Head medicine manCockey Head Doctor Gibber = Joëa There were not more than 100 people in the tribeMŭk-than = thin speechMūk-Krauetan-thannūlet - Ralbutnūlet - Braiakamūk-than - Tatūng and Dairgonotes on the Omeo tribe - by Jenny Cooperbefore Dec 21 in book commencing Nov. 1881
Tharang-Kawai- Snowy Rivernūlet - Braiaka-Bratauamŭkthang - Brabra-Tatung-Raymond IslandBack water - Kau-ŭngEastwood Tūt-wŭrkMerriman's Sea song - note bookMay 17-1883East- Bo- móin- also naua-or Kraui - North = Woorunina - west=GūyaSouth = meringámTall boy name is Būnyūan = a Lagoon at Bega - totem Tiska = small owl20/5/83 Charley Brūpin - ngarrigan = BatMerriman - Ūmbara = black duckHarry Cook - Jarūat = an owl; name is ngangal
10/6/83In Wiradjuri - exchange of wives - whose sisteris called gŭn-gŭn-mur Bidga-bidga= old manJīr=ghost
[written in left side margin]Ngal-al-balDaramulun's wife
Last edit about 1 month ago by
ALourie