XM36_ICDMS_lowres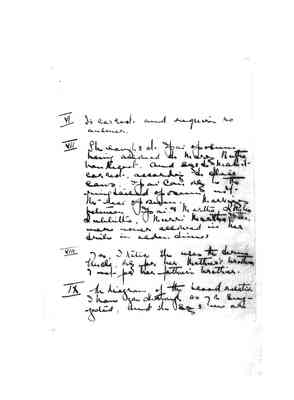 VI Is correct and requires no answer.VII She laughs at Ipai opossumbeing allowed to marry Buthabandicoot and says to make itcorrect according to theirlaws. Ipai can only be theringtailed opossum not thereal opossum. Marryingbetween Ipai & Martha KumboKubbitha, Murri Ipathawere never allowed in thetribe in recent times.VIII Yes, I notice she uses the termsUncle, only for her Mother's brother& not for her father's brothers.IX The diagram of the blood relativesI have gone through as you sug-gested and she says no also
Last edit 8 months ago by
Helen Gardner
XM37_ICDMS_lowres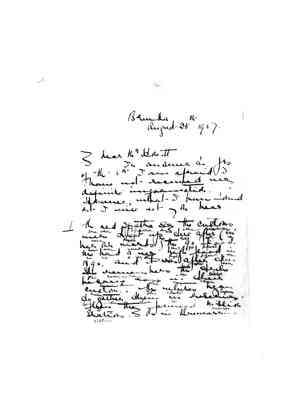 My dear Mr HowittIn answer to yoursof the 6th I am afraid Ihave not received anydefinite information.However, what I have found out I will let you hear
The old Ipatha says the customswere kept up till after (inher own words) the 90 floodWe had a very high flood in1890, and it was after thenshe remembers the tribebecame lax in theircustoms. The whites beganto gather them in reservesthen they [??] missionstations. Re in Brewarrina
Last edit 7 days ago by
ALourie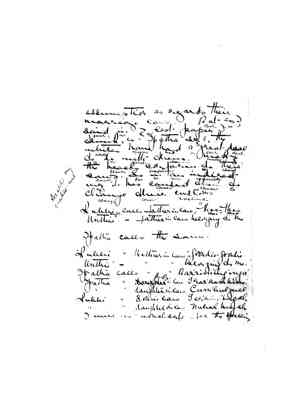 assumption as regards theirmarriage laws. But as Isaid in my last paper Ithink, as Ipatha says, thewhites have had a great dealto do with them makingthe blacks conform to theirlaws. So in an indirectway it has caused them tochange their customs.Kubbi calls father in law thao-thaoMuthie = father in law belonging to meIpatha calls the same.Kubbi [ditto] Mother in law = Goondie-Goondie Unthie = [ditto] [ditto] belonging to me Ipatha calls [ditto] [ditto] BarrimingingaIpatha [ditto] [daughter - crossed out] son in law Grarramhine[ditto] [ditto] daughter in law CumhulguelKubbi [ditto] son in law Gerringhugah[ditto] [ditto] daughter in law NuharhugahI will not vouchsafe for the spelling
Last edit 8 months ago by
ALourie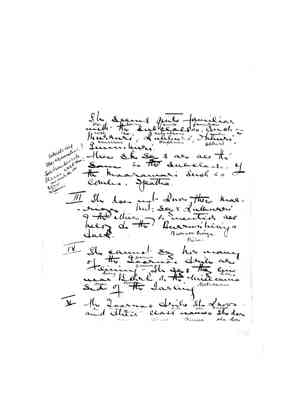 She seems quite familiarwith the subclasses such asMurruri, Kubburi, IbburiQummburi.These she says are all thesame as the subclasses of the Moorawari such asCombo, Ipatha.
[written in left side margin]Which are the equivalents? [get her to write - crossed out]Please write them:one under the otherIpaiMurrwuri
III She does not know these mar--riages but says Kulburri + the others you mention allbelong to the Burrumbinyatalk.
IV She cannot say how manyof the Goornoo tribe areliving. She says they livenear Bourke on the Wilcanniaside of the Darling
V The Goornoo tribe she knowsand their class names she does
Last edit 25 days ago by
ALourie
XM41_ICDMS_lowres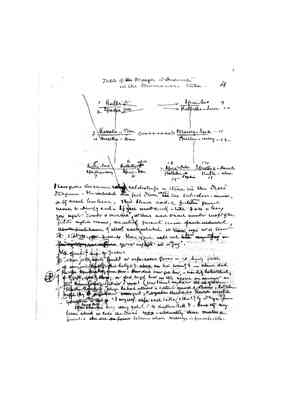 4Table of the Marriages and Descentsin the Moorawari tribe
1 Kubbi 'Bill Ipai 'Joe' 92 Ipatha 'Polly' Kubbitha - Jane 10
3 Kimbo - Tom Murry - Jack 114 Matha - Ann Butha - Mary 12
5 Kubbi - Paul 6Kubbitha - Alice 13 Ipai - Peter 14 Ipatha Sarah7 Ipatha - Mary 8 Ipai - John 15 Kabbitha - Sophie 16 Kubbi - Alex
I have given the same relationships as those in the Dieri Diagram. The individuals are put down with the sub-class - names,as they must have been. But I have added fictitous personal names to identify each. If you would kindly - take 3 + 4 as beingyour input "combo & martha", and then add to each number instead of the fictitious english name, the actual personal name [of each individual -crossed out][that to the personal names -crossed out] by which each individual is [known - crossed out] was or is known Then you will not be in ayour in fact in a "fog".The questions are as follows:(1) where did each husband or wife come from - ie. beginning withwhere did Kubbi Bill belong to? where was his country? where did his wife Ipatha Polly come from? How did he get her - was it by betrothal, or by gift, if so by whom; or did he get her in the same manner as the Kamilaroi get their wives? (now I must explain that one of theSouthern Kamilaroi, when he had attended a certain round of Boras, had theright [??] [??] girl, "Ngaia Kulade Kura mulaYaralla" that is "I myself wife will take (steal) by and bye")
Was Ipatha Polly in any way related to Kubbi Bill? Have they anyterm which is like the Dieri noa - indicating those males +females [who are perm - crossed out] between whom marriage is permissable.
Last edit 25 days ago by
ALourie