XM690_ICDMS_lowres The organization of Australian tribes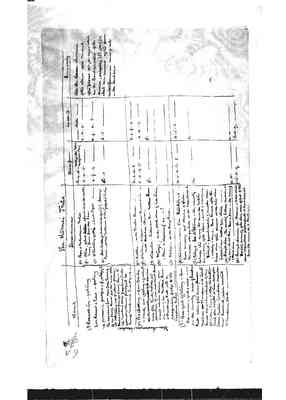 6A[Table][Title]The Kurnai Tribe
Column 1 - Clans, row 1(i) Krauat-ŭn-galŭngfrom Kanat = east; galŭng= a possessive [postfix?] = of or belonging to the sea coast from near Cape Everard to the Snowy River, all that river with its tributaries up to about [Willis?]; the sea coast from the Snowy River to the Entrance to the Gippsland Lakes with all streams flowing into Ewings Marsh and [Ru?yers?] -
[Column 1, row 2](2) [Brabralung?] - from Bra-bra manly and (ga)lung = if or belonging to all the [crossed out - country waters of the] drainage areas of the Tambo, Mitchell, and Nicholson Rivers with the [?] tributaries to their extreme sources, also to the weir on the Mitchell River to Providence Ponds, with a corresponding frontage to the Gippsland Lakes.
[Column 1, row 3](3) Bra-yak-(g)alŭng = him Bra = man, yak = west - all the country west of Providence Ponds watered by the Avon, [crossed out - River]] Macalister [crossed out - and] Thompson and Latrobe Rivers down to the junction of these into [?] & thence [?] valley the eastern bank of the Latrobe to Lake Wellington thence - eastward by the [?] to [somewhere?] near [?], thence northward to Providence Ponds.
Column 2 Title - Lesser [?]Row 1 - a) Ben – Sydenham Inletb) Dūra – 12 miles up the Snowy River from the seac) Wūrnŭng-gattung – Lake Tyersd) Brt-bitta (= a hollow in the ground)– Jimmy's Point – entrance to Gippsland Lakes
Row 2 - (e) Bruthen, in the Tambo River(f) Waiŭng = widgeon - near Bairnsdale in the Mitchell River(g) Wŭk-wŭk = Lindeman Flat. Mitchell River(h) Mŭnji = on the north shore of Lake Victoria= There! or "the place of" e.g. -?(i) Dairgo - on the Dargo River
Row 3(k) Kŭtbūn-baura from Kŭtbūn = to have or carry and baura = fire. The name also of a hill or the upper Avon River.(l) Bŭnjil Nŭlŭng - the country between the Avon River and the Eastern boundary of the clan, south of Stratford - Bŭnjil = personal appelates of the older men-Nŭlŭng = mud. Named after the Head man of the division at the time when Gippsland was settled by the whites -(m) Bunjil-clan - the country between the Avon and the Macalister Rivers. Dan = emu - the name of a Head man -(n) Bunjil-Kraura from Kraura = west wind [Northern?] country of the clan west of [north?] to them almost impenetrable forested scrub in west Gippsland from the name of the Headman.
Column 3 title Wives fromRow 1 a) wives from b c d and Mallagoota Inlet and Twofold Bayb) wives from c a t and [p. 13] Bina-jera (the long strip of sandy and swampy country lying between the Gippsland lakes and the sea as far as the Entrance to the Lakesc) Brüthen – on the Tambo River – Waiūng Widgeon – near Bairnsdale Mitchell River and Kŭbbūn laura – Upper Avon Riverd) b and Bina-jera (see b) or is it I = Būnjil Nŭlŭng – between Avon River and eastern boundary of clan south of the Stratford
wives toa) b c d k Twofold Bay Mallagoota Inletb) c e g t Bina-jerac) Bruthen Waiūng Widgeon Kŭbbūn laura and Bina-jerad) b or I and Bina-jera
Last edit about 2 months ago by
ALourie
XM188_ICDMS_lowres Hagenauer to Howitt 1 May 1880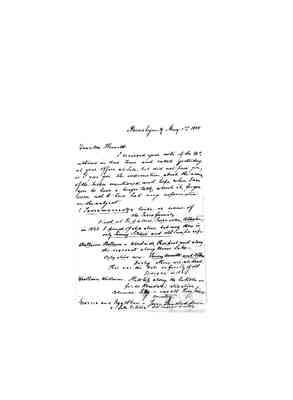 Dear Mr. HowittI received your note of the 26thultimo in due time and called yesterdayat your office at Sale, but didnot find you,so I give you the information about the nameof the tribes mentioned, andhope when I seeyou to have a longer talk about it, for youseem not to have had any informationon the subject.
I Tarrawarracka Tribe, or news ofthe Tarra family.lived at Port Albert, Tarraville, Alberton;in 1862 I found 17 still alive, but now there isonly Jimmy Fetched and old Lamfrie's wife
Bellum Bellum - Woodside, Prospect and alongthe seacoast along Reeves Lake.Only alive now: Tommy Arnott and AlbertDarby others are all dead.This was the tribe or family of oldMorgan in 1862.
Woollum Wullum, Hilltop along the Latrobe asfar as Rosedale; still aliveColeman, Lily - was old King Jimmycountry.
Moona and Ngattbau - from Stratford downto Lake Victoria old Ngary's country.
Last edit 13 days ago by
ALourie
hw0404 Notes on Kurnai 150 pages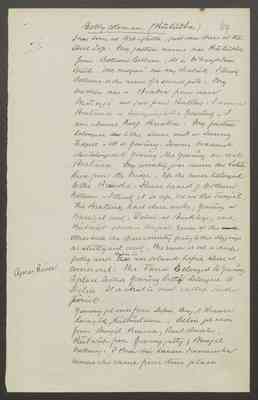 64Bobby Coleman (Kūlŭtba)I was born at Brt-gŭtta, just over there at theHill Top. My father's name was Kūlŭtbafrom Bellum Bellum, that is McNaughtensStraits. "Old Morgan" was my Babŭk. I thinkBellum is the name of a small fish. Mymother was a Brabra from nearMūnji not far from Butlers. I am aBrataua – belonging to the Yonŭng – Iam almost half Briaka. My fatherbelonged [the – crossed out] to the same mob as JemmyFidgett – that is Yonŭng. Tommy Hoddinotalso belonged to Yonŭng. The Yonŭng are realBrataua. My country goes down the LatrobeRiver from the bridge. Up the river belonged to the Briaka. I have heard of NollumNollum – I think it is up near the Tanjil.The Brataua had three mobs, Yonŭng atWarrigal creek, Delin at Buckleys, and Kŭtwŭt which is the first river at the [end – crossed out]other side the open country going to the diggingsat Sticky aid creek. The river is in a deepgully and [has – crossed out] there is an island before when itcomes out. The Tarra belonged to Yonŭng.A place called Yonŭng [?Gatti?] belonged to Delin. It is what is now called Tuckerpoint.Yonung get wives from Delin, Bunjil KrauraRamayŭk, [?Kŭtbrŭitaura?]. Delin got wivesfrom Bunjil Kraura, Baul Baul.Kūbwŭt from Yonung gatty, Bunjil Nellung. I know this because I remember women who came from these places.
[written in left side margin, next to line about Sticky aid creek]Agnes River
Last edit 13 days ago by
ALourie
hw0391 Notes by Howitt on Kulin from Barak
47
Called by Braiaka and Brabra Wea-wŭk the Bad countryThe Bad country called in the Woeˈwūrŭng language Márine Bek (Bek country)the flesh of game was Márine-qui-alp? (ji-ak of Kulin [crossed out] Kurnai] .The water was Márine barn (yarn of Kamai)
All the country between the Yarra River[from about Lilyd - crossed out] up as far as Gardner Ck - then by Gardner Ck up to Dandenong then by source of Dandenong Ck +c+c up to Latrobe River; thence by right bank of Latrobe to Lake then by Lake to Lakes Entrancethen by sea coast to mouth of Murraywas called "the bad country" ------------It included the Westernport blacks – the Bratawalung the Tatungalang (called by Tommy Hoddenot Katungal)This country was regarded as very injurious to strangers. If a strange black came onto it on a visit it was necessary that he should have some one to "look after him". It was necessary during this first visit that he should never be left alone without some one to see to him; if his guardian went hunting or fishing he deputed some one in his stead. The visitor was fed with [m - crossed out] food from the point of a stick [which - crossed out] and he took it in his teeth and not in his hands; this food of meat was smoked; water that he drank was stirred with a smoked stick; he was not allowed to sit or sleep on the ground except in a raised couch of branches and leaves which were also well smoked, to keep off the evil influence of the country. [This is - crossed out] The care of the visitor extended even to his being asleep and in calls of nature.
Last edit 21 days ago by
ALourie
XM514_ICDMS_lowres Notes from Field Inspector Roe, WA