XM21_ICDMS_lowres Charles Barrett to Howitt 28 September 1907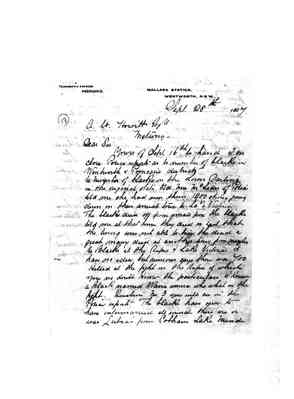 Telegraphic AddressPooncarieMallara StationWentworth, NSW
A W Howitt Esqr Metung
Dear SirYours of Sept 16th to hand I am close to Police reports as to numbers of blacks in Wentworth + Pooncarie districts i.e numbers of blacks on the Lower Darling in the original state. Old Mrs McLean of Poliatold me she had seen them 1200 strong going down on their annual tour to Lake Victoria. The blacks died off from small pox. The blacks told me at that time they died so fast that the living were not able to bury the dead a great many died at another time from measles. The Blacks at the Rufus + Lake Victoria Ihave no idea but rumour says there was 700killed at the fight on the Rufus of which you no doubt know the particulars. I know a Black named Warra wonna who what [sic] in the fight. Question No. 3 you will see in the Police reports. The blacks have seen to have intermarried all round. There are orwas Lubras from Cobham Lake Mundi
Last edit 22 days ago by
ALourie
XM705_ICDMS_lowres Handwritten notes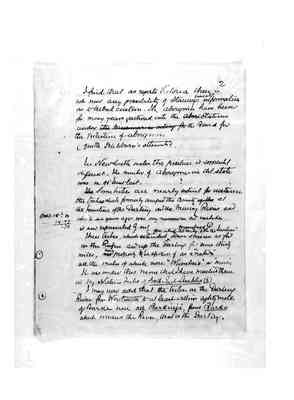 2I find that as regards Victoria there isnot now any possibility of obtaining [??] informationas to tribal custom. The aborigines have beenfor many years gathered into the [Abori- crossed out] Stationsunder [the Missionaries acting for - crossed out] the Board forthe Protection of Aborigines.(quote Ditchburn's statements).
In New South Wales the position is somewhat different. The number of Aborigines in that statewas on 30th June last- ?[The - crossed out] Some tribes are nearly extinct for instancethe tribes which formerly occupied the country [of the - crossed out] atthe junction of the Darling and Murray Rivers andwhich years ago was very numerous and warlikeis now represented by only members (1)
These tribes, which extended from aobut 20 miles above the Junction down stream as faras the Rufus and up the Darling for some thirty miles, [are - crossed out] may properly [t - crossed out] be spoken of as a "nation"all the males of which were "Wiimbaio" or "men"
It was under this name that I have mentioned themin my Native Tribes of South-East Australia [underlined] (2)
I may now add that the tribes on the DarlingRiver from Wentworth to at least within eighty milesof Burke were all Barkinji [underlined], from Barka [underlined]which means the River, that is the Darling.
Last edit about 1 month ago by
Budja07