XM759_ICDMS_lowres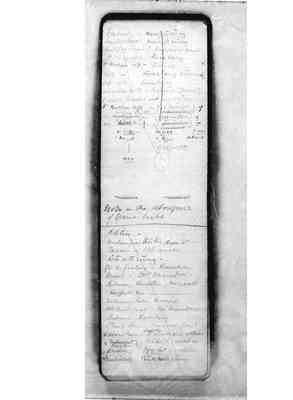 Last edit about 1 month ago by
ALourie
hw0391 Notes by Howitt on Kulin from Barak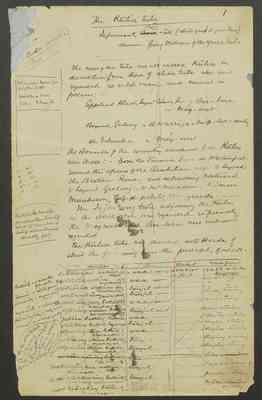 The Kulin TribeInformant Berūk (white grub in gum tree)otherwise King William of the Yarra tribe.
Mr Cameron learns fromKing David thatKubitche = WaaKroki = Bunjil
[Margin Note:] Avoka – or Boka Dick
The men of this tribe are all called Kūlin in distinction from those of alien tribes who are regarded as wild men and named as follows: -Gippsland blacks beyond Tarwin River = Bér-bira or Méy-metBeyond Geelong = B Warrije = Far off - Bek = countryat Echuca = Méy-metThe bounds of the country occupied by the Kulin were these: from the Tarwin River in Westernport round the spurs of the Australian alps to beyond the Broken River; and extending westward to beyond Geelong – to Mt Macedon, Kilmore Murchison and probably Wangaratta. ——[Margin note:]1 – W2 – W3 – B5 – W6 - BEach tribe has its particular locality which they consider a sort of inheritance - Buckley p. ?7]The Jajowurong tribe adjoining the Kūlin on the North west was regarded as friendly; The Mey met […] Ber-bira were not so regarded.The Kulin tribe was divided into Hordes of which the following […] the principal; of […][Marginal text:ballŭk = a number of peopleūrŭn = white gumjerrirŭk = mourning birdngarŭk = stonesKūrūng jang = red ground[?]Neera = a deep gullyalso the Nir-ballŭkfrom Nir = cavespoke Thagun wūrŭng fromThagun = No - lived on watershed of Campaspe down to [...] ]Hordes Class Wives to Wives from1. ūrŭndjeri ballŭk Kew waa wöe 6.3.4.8.10.1113.14.15 3.4.6.8.10.13.142. Būlūk willŭmCranbourne waa wöe woey wūrŭng language3. Ngárŭk willŭmDandenong būnjil wöe woey wūrŭng language4. Būnwūrŭng Mordiallok būnjil wöe boon-wūrŭng5. Kūrūng jang ballŭkWerribee waa woey wūrŭng6. gūnŭng willŭm ballŭk
Mt Macedon būnjil wöe woey wūrŭng7. Nira ballŭkKilmore Waa thagūng wūrŭng8. Būthera ballŭk Seymour būnjil thagūng wurung9. Yowŭng illŭm ballŭkAlexander waa thagūng wurung10. Waaring illŭm ballŭkMuddy Ck būnjil thagūng wurung11. Yeerŭn illŭm ballŭkBenalla būnjil thagūng wurung12. Būn mūrŭng ballŭk
Cape Schank Waa boon-wūrŭng12 13. Ballŭng Kara-mittŭng-būlaWangaratta būnjil (does not know) 13 14. Wŭdthowrŭng ballŭkGeelong bunjil Wadtha-wurung14 15. Ngūralŭng būlaMurchison Same Būnjil Ngur-ai- illŭm Ngūrai ilŭm wrūrung
Last edit 9 days ago by
ALourie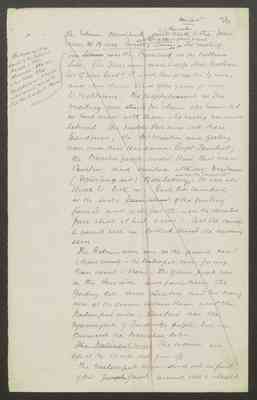 26ageBlood feud 2
The Echuca men had sent word to the Yarra men that they were coming down so that [they - crossed out] all had plenty of time in the winter to meet. The meeting was [between - crossed out] near the Merri creek on the Melbourne side. The Yarra men used to stop about Melbourne till they were tired of it and then go up the Yarra, and when they were tired of the Yarra go back to Melbourne. The people present at the meeting were [the E - crossed out] from Echuca who however had no head man with them – he having remained behind; the Western Port men with their headman; the Mt Macedon and Geelong men under their Headman Capt. Turnbull, the Werribee people under their head man Benbow, and ourselves with our Headman(Ngŭrŭng-eit) Billibellary who was my "Mameik". We were all there to look on. Each lot camped at the side [from which - crossed out] of the meeting ground and not far off - in the direction from what it had come. All the camps as usual with us looked towards the morning sun.
The Echuca men were on the ground nearest to their country - the Westernport men facing them nearest to theirs. The Yarra people were on the Kew side and facing them the Geelong lot and Benbow and his men,were at the corner between them and the Westernport men. Benbow was the ngurungeit of Sandridge people but he came with the Werribee lot. [The Westernport man - crossed out] The women were left at the camps not far off. The Westernport man stood out in front of his [people - crossed out] friends armed with a shield.
[written in left side margin]The message was sent by the Echuca people to the [??] blacks who told the Melbourne blacks who sent word to the Westernport blacks.
Last edit 6 months ago by
ALourie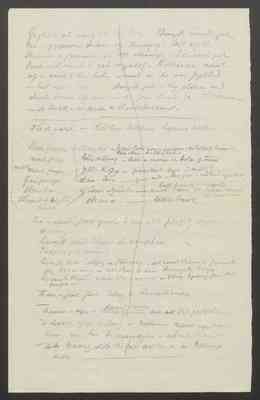 frightened at seeing the two boys. Bunjil "said get me a possum I am very hungry. All right"there is a possum in that stump - I cannot get him – I want to [?eat?] myself. Kokum went up – went to the hole - went in he was frightened- but went down - Bunjil got a big stone and shut him up and said you shall be Kokum – a bird – no more a blackfellow.________________Tádjeri – Kūlin brother najerak brother
Little finger = tadjeri - hair like young possum – in holes of trees – less than native cat.next finger - lŭrnŭng – like a mouse in holes of treesmiddle next finger – yū – kope – parakeet – green … musk? forefinger – dan – tŭn – goes in mobs – blue fan – red breast – green body thumb – djŭrt-djurt – buff hawk – migrates, another hawk that hovers over the gamethumb of right hand – thara – little Hawk
He - sends jurt-jurt to see all people aredoingBunjil sent them in couplesTadgeri git mūngBunjil [??] ladgery + tūrning - and sends them to [?finish?]the ngarang - all [??] are Bunjil's boyshe sends them to all the country - to keep nyang from thepeople -thara + jŭrl jŭrl belong to Bunjil side
Kurnai Kurnainarrin - nge - ganne ganne are [at - crossed out] the peopleto whom you belong - William narrin nge KunKurnai are his Ngourmajeri - about Kew[a n - crossed out] waang stole the fire and is on ngarrangsside
Last edit about 1 month ago by
ALourie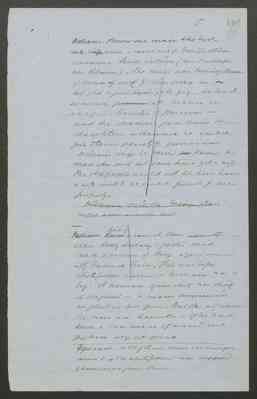 5 62William knew one man who had six [wife - crossed out] wives – some were from Yeerŭng illŭm and some Leuk willŭm (near Campaspe near Kilmore). The man was Waring illum (Muddy creek). This man was not old – just beginning to be grey – he had so many [promis - crossed out] wife because he was a great hunter of possums – and the old men gave him their daughters – because he could give them plenty of possums.William says he never [he - crossed out] knew a man who did not some time get a wife. The old people would not let him have a wife until he could provide for one properly.
[William calls the "message places" - crossed out][in the arm over the head - crossed out]
William [knew - crossed out] heard of a case at Kew [when they - crossed out]when Billy Billary's father died and a cousin of Billy's a young man – they burned him. This was before whitefellow came – William was a boy. A woman's yam stick was stuck in the ground – a man's murriwun was placed in his grave. But this only where the man was harmless – if he had been a bad man they would not give him any weapons___________________________________________________________________________Ngámat – is the place where the sun goes down to – the whitefellow was supposed to have come from there.
Last edit about 1 month ago by
ALourie